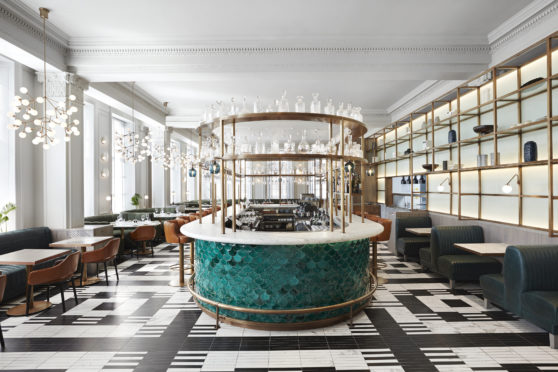 The hotel building was once the headquarters of the Royal Scottish Automobile Club and was one of eight official starting points of the 1955 Monte Carlo Rally.
Location
In the city-centre Kimpton Blythswood Square Hotel, just a stone's throw from major train stations and bus routes.
First impressions
The outside of the building is simply stunning, inside even more so. Bright and spacious, Bo & Birdy is a modern brasserie and is just gorgeous to look at. The contemporary light fittings are stunning and the brown leather chairs give a comfy, relaxed and welcoming vibe. The feature bar in the middle is a lovely addition.
Service
Warm and friendly. It's a busy lunch service but we feel like the only customers in the restaurant as our waitress is on hand throughout, making sure we have everything we need.
Menu
It's a small menu – but one with plenty of variety – and still hard to choose as everything sounds mouth-wateringly delicious. There's a traditional Scottish twist, with dishes such as pork pie and scallops on offer for starters and St Andrews farmhouse cheddar macaroni cheese and Scottish-caught fish on the mains list.
Taste
We opt for the Freedom Bakery sourdough with beef dripping, butter and olives to start. Both the bread and olives are huge and tasty. For mains, we go for the fillet steak with skin-on fries and peppercorn sauce. And it's simply sensational. The house salad on the side is crisp and fresh.
When it comes to dessert you'll be spoilt for choice. We try the bitter chocolate tart and the salted caramel pudding with fudge ice cream. Both are a delight.
Ambience
Cool, calm and sophisticated – but always busy. Make sure you book.
Something special
The Bo & Birdy cocktail is served with a huge peacock feather on the side. It looks great and tastes even better!
Price
At around £120 for two including drinks and a cocktail, prices are reasonable.
Toilets
Spotless and stunning. Definitely worth spending a penny.