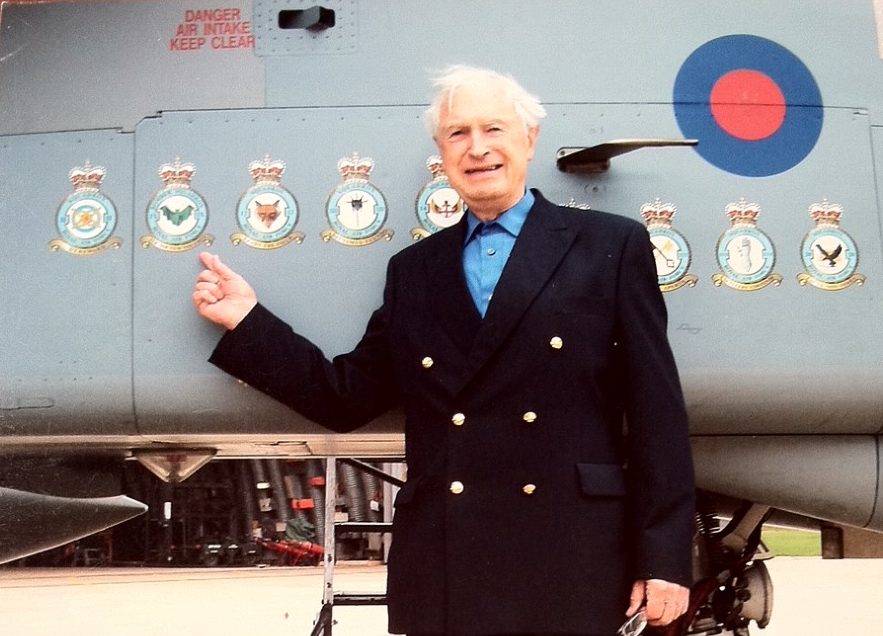 A REMARKABLE Scottish WW2 captain whose exploits included bombing Adolf Hitler's house and sinking the pride of the Nazi German navy has died, aged 96.
Captain Donald Macintosh went on to win the Distinguished Flying Cross for his remarkable achievements with the RAF in the Second World War.
Now tributes are being paid to the retired airline pilot, known mostly as "Mac."
Captain Macintosh, originally from Clydebank, joined the RAF in 1941, aged 19, and trained on Tiger Moth and Stearman biplanes in the UK and Florida.
His talent was first spotted when, still under training, he successfully landed a stricken Wellington bomber with empty fuel tanks. His crew was the first to have survived such an incident.
Captain Macintosh and his crew were posted to X1 (B) Squadron at Bardney, Lincolnshire, and under his leadership soon became renowned formation, pathfinder and windfinder leaders.
In his book Sink the Tirpitz – the Russian Connection, Capt Macintosh – who took part in all three attacks on the German battleship, wrote of being briefed on the target, which had been wreaking havoc on Allied shipping from her anchorage in a Norwegian fjord.
"The Air Marshall nodded to the Intelligence Officer, and the WAAFs whisked the dustsheet off. 'It's the Tirpitz!' someone exclaimed.
"Sitting on a relief map of fjords and mountains, lay a squat grey model of a battleship. 'That's what you'll see, gentlemen', intoned the Intelligence Officer. 'Sister ship of the Bismarck – 15 inch guns and just a shade under 60,000 tons.
'You probably know that just about everyone has had a go at her – the Navy with midget subs, and we've bombed her without any noticeable success.'
The first RAF attack on September 15, 1944 resulted in one hit, but none of the 23 Lancaster bombers could strike a fatal blow due to a German smokescreen.
Another raid on October 29 failed, but on November 12 the aircraft, using 12,000 lbs Tallboy bombs, scored two direct hits and Tirpitz capsized, a total loss.
Capt Macintosh wrote of the final attack: "I saw our quarry. There, squat, grey and massive even at 12 miles out, sat the Tirpitz, just like the model we saw months ago at Woodhall Spa.
"Not a cloud, not a ripple on the water and no smoke. I watched fascinated and saw the long sheets of flames as she fired her main armament of 15-inch guns towards us.
'Bomb doors open,' Peter called. 'Right, left, left a fraction, steady, steady.' Everyone else had gone. The sky was thick with brown smoke where flak had been thrown up but the fire had slackened.
'Bombs gone!' Peter shouted, and again we leapt into the air as the huge bomb dropped towards its target.
'She's turning over!' Geoff cried excitedly from his rear turret where he had a grandstand view. 'What a sight! It's terrific!'
Air minister Sir Archibald Sinclair told the successful crews: "You have shortened the war. You have kicked away the strongest single prop of the German military position in Northern Europe."
On April 25, 1945, Capt Macintosh took part in one of the most symbolic bombing raids of the war – the attack on the Berchtesgaden, Hitler's villa in the Bavarian Alps.
He wrote: "There were only a few planes ahead and, if there was any flak, I didn't see it. Perhaps they were having tea at the Eagle's Nest.
'Left, left – hard left! Bombs gone. Christ, we were on top of it before I saw it, Mac, and smoke from these other chaps' bombs had drifted over it.'
"Spring time in the Alps, fellas. Have a look," I said as we wheeled left in the traffic and saw the rest of the bomber stream flying in.
"On the way back, the ruins of Munich and Stuttgart lay peaceful and shattered beneath us, all their terrors gone."
The war over, Capt Macintosh was commissioned flying officer and awarded the DFC, having completed 40 operational missions. Most aircrew considered themselves lucky to survive the standard tour of 30 sorties.
He joined British South American Airways, flying stripped-out Lancasters from Nassau, until the airline merged with BOAC, then flew for British Airways and captained Comet 1s, Boeing 707s and 747s for more than 30 years.
In the 1980s, he worked in Hollywood for Miles Copeland, manager of Sting and The Police, before settling in Crieff, Perthshire, where he was an instructor on flight simulators at Scone.
The widowed father-of-five and grandfather, who was also awarded the French Legion d'Honneur, will be honoured at his funeral in Crieff on Wednesday (23 January) by serving and retired senior RAF officers from his old squadron and a flypast.
Former Squadron Leader Dicky James said: "Mac Macintosh was one of the most remarkable men I had the privilege to meet. He was clearly one of the most skilful pilots of his time."
Alastair Montgomery, an RAF pilot in the Falklands War, added: "For us it was weeks. For them it lasted years and in Don's case, raid after raid, night after night. He was beyond special."
His daughter, Allyson MacIntosh, said: "It was an absolute honour and privilege to have him as my father.
"I've not only lost my dearest father but my best friend. "