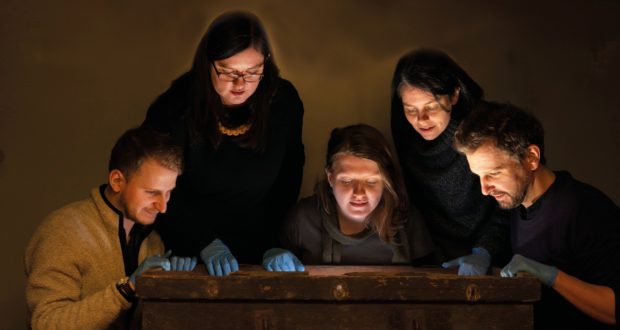 Some date back centuries, others are only a few months old. Some are pin-fresh, others are dusted with history.
Now an ambitious lockdown project will bring new life to 200,000 objects in the collections of Edinburgh's museums and galleries by uncovering the human stories behind many of them.
During the downtime brought about by the pandemic, a dedicated team at Museum & Galleries Edinburgh has been working its way through the collection in its biggest inventory project to date, with the intention of connecting the items with the city's residents past and present and telling their tales.
Auld Reekie Retold is, according to its project manager Nico Tyack, a chance to learn about where Edinburgh is today by looking to its past.
"It's all about the connections of the people of Edinburgh and we're hoping to spark some good conversations," explained Nico. "It's about making links and cutting across the collections.
"There's a lot of detective work involved and it's always satisfying to put things together and tell the personal stories. Sometimes we might draw a blank and other times it takes us in a direction we weren't expecting."
The project has a further two years to run and will lead to future exhibition programmes and projects. Eventually, the items will be stored in a new custom-built storage facility, rather than dotted around the city as they are currently.
"We have a unique collection to tell the story of Edinburgh," Nico continued. "And it's constantly evolving – we have an online exhibition of placards we collected at the Black Lives Matter protest in the summer.
"We are lucky to be able to access our object database remotely, which some other museums are unable to do. This is the sort of project we would never have had the opportunity to do in normal circumstances.
"We've already gone through tens of thousands of records, cleaning them up, linking them together with other items in our collection and building a story. We are creating a web of stories and it's all about the connections of the people of Edinburgh."
Here, Nico talks about some of the discoveries the team has made, and why they are so interesting.
---
Giddyup? Sorry, not this time
Billy Barnet grew up in the coastal community of Newhaven. We have in the collection a batch of photographs of his family. It's a great snapshot of everyday life in Edinburgh in the 1920s and '30s.
The images show Billy, his two brothers and sister on holiday in Fife and enjoying trips to the beach at Newhaven.
Billy went on to be ship cook on the HMS Hood, a battleship of the Royal Navy. He died when the ship was torpedoed while on service during the Second World War, on May 24, 1941.
We also have a poignant Christmas card from Billy to his aunt featuring the ship's crest, which he sent from the ship the Christmas before it sank.
---
Waxing chemical
Bearing the name and address of William Flockhart who, with his partner Duncan, were surgeon apothecaries who produced a number of drugs and medicines in the 1840s. Among the customers on their books were James Young Simpson, the inventor of anaesthetics, and Florence Nightingale.
---
Ticket to print money
For a play at the Lyceum Theatre entitled Tons Of Money, staged in 1925, a time when hyper-inflation in Germany had reached a point where money was no longer worth the paper it was printed on. While people were paying for loaves of bread with wheelbarrows of cash, in Edinburgh the banknote was used to advertise the ironically titled play.
---
Club for tall stories
There were a surprising number of secret and not-so-secret societies in Edinburgh in the 1830s, each with its own niche interest or membership rule. This club was dedicated to athleticism. To be a member you had to be a man and, oddly enough, six feet tall. Sir Walter Scott was made an honorary member despite not being that tall and having a limp due to a bout of childhood polio.
---
Cleaning up the streets
This act is re-publishing a previous act of council from 1714, but which had not been enforced or followed. The act forbids the practice of throwing out "foul water, filth, dirty and other nastiness" into the streets.
The notion that the people living in the Old Town used to throw their rubbish on to the streets to the warning calls of "Gardy Loo!" is well known, but this act was trying to do away with this. We also found images of a huge, water-filled street cleaning truck from the 1930s.
These items demonstrate how the collections we're uncovering during the Auld Reekie Retold project show a long span of Edinburgh's story. They show us how the city got to be where it is today, and also how people centuries ago had the same everyday concerns we do now.
---
Portable (with plug)
A "portable" hairdryer from the 1970s, designed to be used at home and worn like a satchel with a tube that connected to a shower cap-style hood that would allow the user to go about their day as they dried and set their hair (as long as their day was only two feet from a plug). This was aimed at the modern woman, leaving her hands free to get on with her day.
---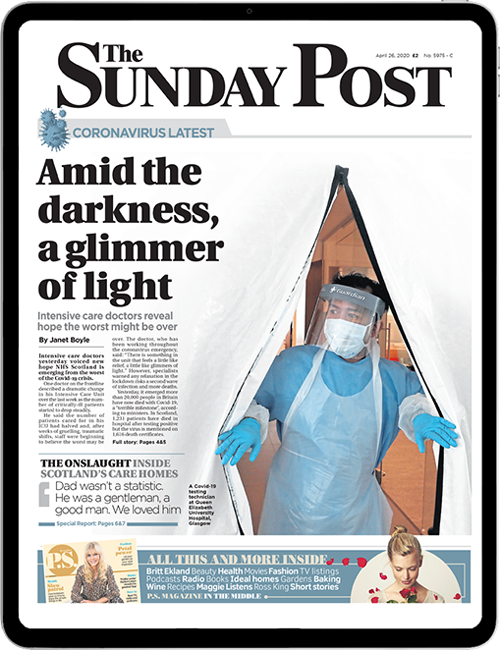 Enjoy the convenience of having The Sunday Post delivered as a digital ePaper straight to your smartphone, tablet or computer.
Subscribe for only £5.49 a month and enjoy all the benefits of the printed paper as a digital replica.
Subscribe