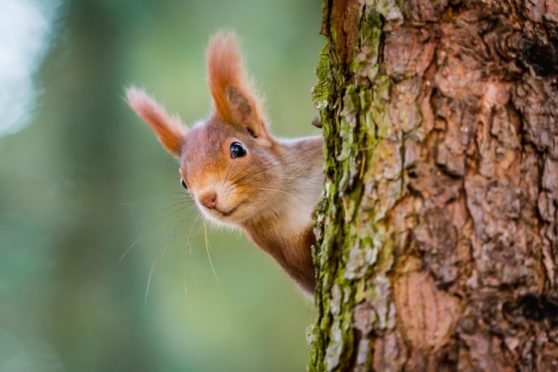 A May morning soon after dawn, woods smoked blue and stippled with white wood anemones and stitchwort.
At the beautiful Cluny House Gardens above the Tay Valley, near Aberfeldy, nature is awake. Squirrels stir in the canopy or race across grass twinkling with dew.
We stand beneath a vast sequoia with a girth of record-breaking proportions – where two hand-reared squirrels will experience their first taste of the wild.
They've spent winter in my care but are ready for freedom. In a tree close by, my partner Iomhair has put up a sleeping box, a haven until they make their dreys.
Release is the high point of my rehabilitation work, but my excitement is tinged with concern – so many hazards.
With its extraordinary trees, Cluny is a red squirrel's paradise. Dedicated owners Wendy and John Mattingley lay on a constant food supply for their treasured residents. For a hand-reared orphan, this is a vital for survival.
After more than 30 years of caring for kits, I feel privileged to know the red squirrel on a personal level. Writing a book on them, sprinkled with anecdotes and the other wildlife that shares my world, has been a joy.
Planting thousands of trees and hedges on my small farm has reaped results. Wildlife has returned.
Pests?
A Scurry Of Squirrels was mainly written during the first lockdown – I sat at a sunny desk in an outbuilding, a red deer calf peacefully chewing the cud at my feet.
Many people view wildlife as "good" or "bad", and categorise it accordingly. Increasingly, we fail to accept that we need predators as we need prey.
Our continual ruthless endeavours to remove certain species have contributed drastically to the catastrophic biodiversity crisis we now face. But the red squirrel is a fine example of a mammal in our "good" category – these beautiful arboreal gymnasts exude a mischievous charm.
What is shocking is that this was not always the case.
I have yet to find anyone who says anything negative about the red squirrel but, not so long ago, it was viewed as a woodland pest – a varmint that needed to be culled.
Coming from the species that invented clear-fell forestry and causes ecological havoc with indiscriminate tree-cutting and scrub clearance, this smacks of hypocrisy.
It was believed, too, that the squirrel existed mainly on a diet of songbird nestlings and eggs. The Farmer's Magazine of 1802 brands the squirrel "one of the most destructive animals which frequents our forests".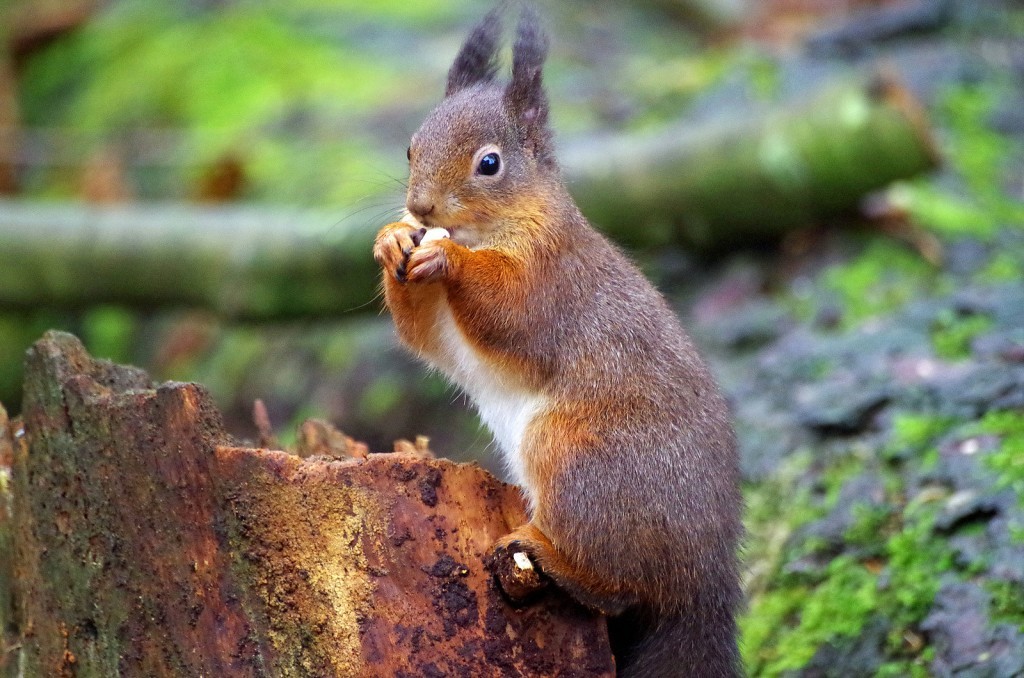 In The History Of The Squirrel In Great Britain, published in 1881, naturalist JA Harvie-Brown includes stories of the numbers of squirrels killed and the views of many of the sportsmen and countrymen of the day.
Harvie-Brown himself was one of the few in favour of the squirrel, but he was not their only friend. In 1775's History Of The Province Of Moray, Reverend Lachlan Shaw says, "The squirrel is a pretty, sportive harmless creature: it is a kind of a wood wesel (sic) – haunts the fir tree. If you toss chips or sticks at it, it will toss pieces of the bark back again, and thus sports with you.
"If it is driven out of a tree, and skipping into another, finds the distance too high, it turns back to its former lodge, its bushy tail serving as a sailor wing to it."
An incensed writer in The Field magazine of 1878 declared that squirrels attack firs, causing rot and leading to wind breaking them off. Other writers claimed to have found dreys filled with the heads of game birds.
It would have been most convenient to fabricate such accusations if you wanted your peers to vilify the squirrel, but Harvie-Brown says, "More likely that a weasel, or stoat, or other carnivorous animal slew the pheasant, and left the head lying, and that our little friend… descended afterwards from its arboreal perch, and pouncing on the pheasant's head, bore it away to its drey."
Reduced numbers
In the 1860s, squirrels were so plentiful on Cawdor Estate near Inverness that it was deemed necessary to cull them. There is a harrowing record from 1867 of 1,164 killed in that year alone. A bounty of 6d – six old pence – was paid per tail on some estates, a further incentive.
Some keepers are reputed to have caught squirrels, cut their tails off and set them free in the ridiculous belief they would grow another so they could be paid twice.
Landowners were also known to trap squirrels – sending them by train to markets in the south. These unfortunate animals were put in cages as a curiosity to grace the drawing rooms of grand dwellings. Squirrels are exceptionally susceptible to stress and disease – and if this didn't kill them first, they often bit their captors. Teeth designed to crack nuts can sink deep into flesh and bone, and those unlucky enough to be so wounded swiftly became less enamoured of their new purchase, thus sealing the fate of the squirrel.
During the late 1700s, several enlightened landowners – including the Duchess of Buccleuch and the Duke of Atholl – brought in red squirrels from Scandinavia. In the 1800s, Lady Lovat brought them to Argyllshire.
Even in the early 1900s, however, squirrel hunts continued. Between 1891 and 1903, Atholl Estates – having reintroduced the creatures earlier – accounted for 3,069 dead squirrels.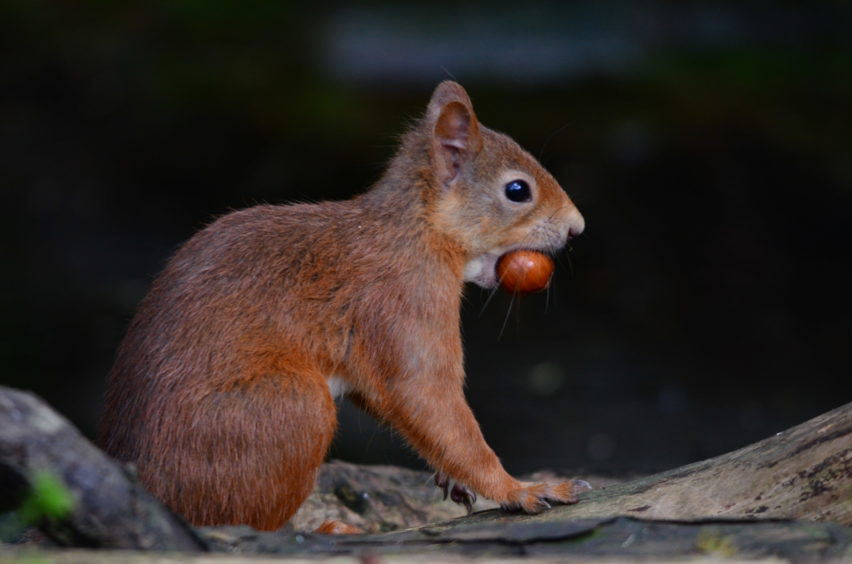 These killing sprees marked Saint's Days, Christmas Day and Boxing Day. Large groups were armed with poles to beat dreys. Petrified occupants exploded into the open, killed by guns or a battery of stones from catapults. A particularly high drey might be reached by cutting the tree down.
In a report from the Glasgow Herald in 1904, the Ross-shire Squirrel Club killed nearly 4,000 in that year and almost 5,000 in the previous year. Records claim the Highland Squirrel Club accounted for the deaths of more than 82,000 red squirrels between 1903 and 1929.
The red squirrel continued to be viewed as an enemy until 1981, when it received legal protection under Schedules 5 & 6 of the Wildlife and Countryside Act.
As we stand dwarfed by Cluny's record-breaking tree and watch two flashes of brilliance racing into its highest reaches, accompanied by the sound of claws clinging to bark, tiny heads turn to look at us. I wipe away a tear.
Blackcap and blackbird fill the moment with their songs. It's hard saying farewell but, back home, a new kit has arrived, found at Dewar's Aberfeldy Distillery.
We need to work tirelessly to repair our environment to save not only our precious red squirrels, but every living thing that shares their world.
Now is our final chance.
---
Polly's People: pollypullar.com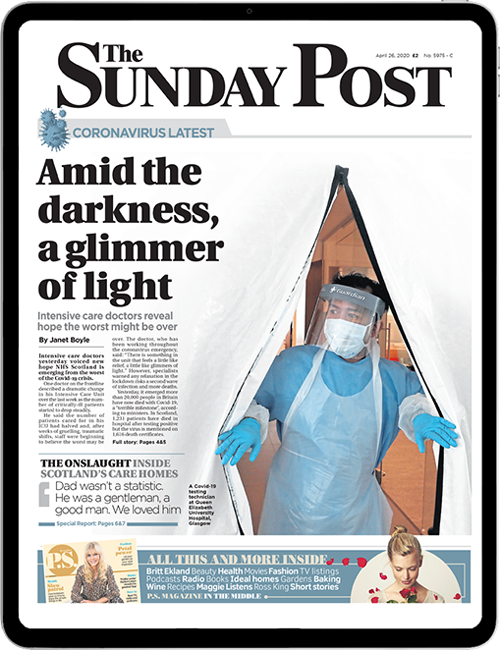 Enjoy the convenience of having The Sunday Post delivered as a digital ePaper straight to your smartphone, tablet or computer.
Subscribe for only £5.49 a month and enjoy all the benefits of the printed paper as a digital replica.
Subscribe