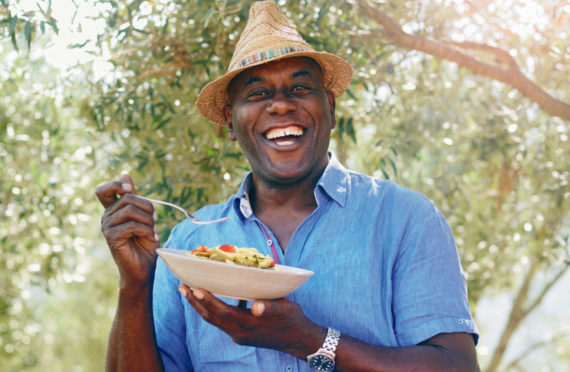 Has there ever been a happier man on TV?
Ainsley Harriott, with his broad smile and infectious laugh, was a mainstay in living rooms for years on Ready Steady Cook and Can't Cook, Won't Cook back in the '90s and Noughties, and at 63, he's as cheerful as ever.
"I have a young heart," he says. "I love energy, I love to give people energy, I love to feed off energy – it makes me happy. I don't think of age as a barrier."
The cook and presenter took some time out of the spotlight after the height of his fame, but has had a resurgence with recent TV shows Ainsley's Caribbean Kitchen and his newest offering, Ainsley's Mediterranean Cookbook.
"It felt close to home," he says of the food of the Med. "There's a familiarity, being trained as a French chef all those years ago. It's a wonderful melting pot of cultures.
"Everybody has their own identity, but what comes across stronger than ever is how people are passionate about local produce, about where their food comes from – and the closer it is, the better."
He also loves the Sardinian way, for example, of "taking simple ingredients and not messing about with them too much. It's cleaner, more rewarding, they've been kissed by the sun, so they don't tend to over-refrigerate – which is what we do here."
The latest series saw Harriott travel to regions linked by the Mediterranean sea, from the French island of Corsica, and Sardinia and Andalucia to the coast of Morocco and Jordan.
"We still don't know much about the Middle East," he muses. "There's a softness and a lightness about the people of Jordan."
He regales stories of the food producers he met: A former rugby player in Corsica who now runs his family's olive oil business, a Granadian man who used to be fit before he opened a deli with his wife and now spends all day tasting Iberico ham and breads – "No wonder he had a smile on his face" – or de-stoning a mountain of dates to make molasses in a family home in Jordan.
"But what's really special is they take the date stones and dry them out and make them into coffee – just fantastic!"
The accompanying book is packed with recipes he picked up along the way, or inspired by the produce and people he met; seafood paella from Andalucia or harissa lemon chicken skewers with aubergine from Morocco.
He learned how to make "wonderful pasta using a cheese grater" and served it with a sausage and fennel sauce.
It's classic fare, yes, but crucially doable for most people at home. "I'm not Ottolenghi," he says. "I'm not here to try to take food and twist it up and do lots of different things to it. Classics are classics, and I don't think we should hide away from that.
"People know that when they watch an Ainsley programme or get an Ainsley book it's going to be something that is approachable and something that is achievable and something that is rewarding."
This is food, he says, that's easy to understand and easy to get hold of: "How beautiful is it that we have those ingredients on our doorstep that we didn't have before?"
There's a chapter dedicated to vegan and vegetarian food – so is he eating less meat these days?
"Yes," Harriott says, tentatively. "I grew up with a meat and veg type of attitude in this country. But I think we have more availability now and more choice when it comes to vegetarian and vegan food – its far more exciting on the plate."
In the book, he celebrates this with the likes of squash and sweet potato tagine with lemon and pistachio couscous inspired by the produce of Morocco, or a ricotta, courgette, lemon and mint tart from Corsica.
The Mediterranean diet is often touted as being one of the healthiest in the world, but while there's incredible seafood, fresh veg and olive oil aplenty, Harriott adds that "obesity is everywhere, don't kid yourself".
Mediterranean markets are where the real magic happens, he says. "You get a real sense of community, you see the people in the market and the way they interact, the kids running around, the grandad sitting chewing on a piece of straw – it gives him a reason to get up in the morning, to sit in that chair and watch the world go by, instead of sitting at home watching Tipping Point.
"Which I do like to do occasionally," Harriott adds, with a belly laugh.
---
Ainsley's Mediterranean Cookbook by Ainsley Harriott, photography by Dan Jones, is published by Ebury Press, priced £20. Available now.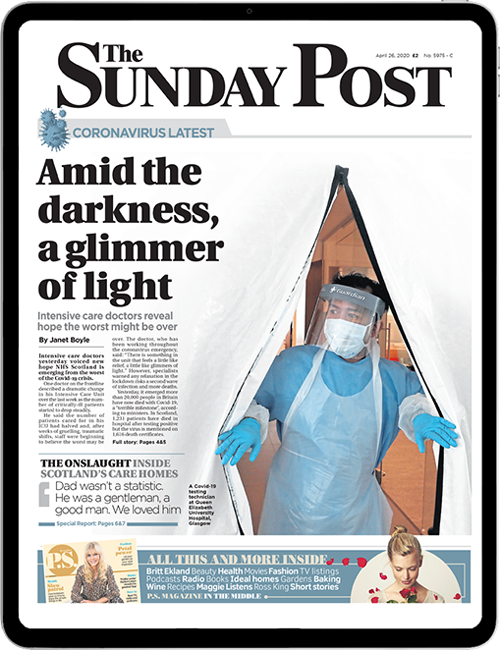 Enjoy the convenience of having The Sunday Post delivered as a digital ePaper straight to your smartphone, tablet or computer.
Subscribe for only £5.49 a month and enjoy all the benefits of the printed paper as a digital replica.
Subscribe