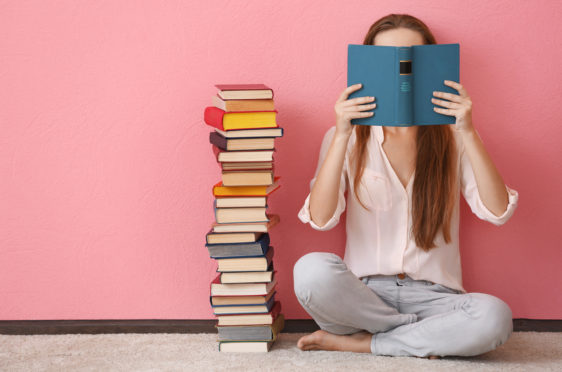 In recent weeks, our social life has gone virtual. From family catch-ups to birthday parties, dinner parties, quiz nights and cocktails with the girls, online meet-ups are keeping us going.
And now people in Scotland are combating loneliness in lockdown by signing up to online book groups.
Bibliotherapist Em Strang says staying at home has been a great boost for books and, in turn, our mental health.
"WH Smith has seen a 400% increase in online book sales, so I'd say that means more people are reading just now and that books are here to stay," she said.
"Sales have generally been up during the lockdown and that's good news for writers and readers alike.
"How often are we physically still? How often do we sit down with a book and really relax? Probably not very often, since our lives – up until lockdown, at least – are usually overfull.
"I rarely meet people whose days are not stretched to capacity, strung out between childcare, paid work and domestic work.
"Many of us experience life at top speed, chasing something our culture tells us is 'essential' – wealth, a new car, a holiday in the sun; things which require us to go even faster in order to be able to afford them.
"When I sit down to read a book it's an invitation to leave behind the demands of everyday life, and to enter a new perspective.
"I get to sit still or lie down for however long I take to finish reading the book.
"The body is allowed to rest, something our culture doesn't tend to support that much these days."
Em works for Open Book, a Scottish charity that organises and runs reading groups. Since the lockdown was imposed, its online sessions have been proving popular.
And so is The Women Of Scotland's Virtual Audio And Digital Book Group, which brings literary-minded people together twice a month to discuss their favourite reads.
It's the brainchild of Julie Baum, who has been organising social meet-ups for more than a decade.
"The concept isn't new for me," explained the 35-year-old barista from Linlithgow. "It started when I was in my early 20s and I realised I was lonely.
"Two of my best friends left the country and I realised I didn't have many friends. It was really hard as an adult to meet new people.
"I'm a really bubbly, friendly person, but it's not like you can see someone in the gym and just ask them out for a coffee."
Julie had a look on Google and found a meet-up group, but it resulted in a bad experience.
"It was on a rugby weekend in a busy bar," she said. "I walked in, saw a sea of people and walked straight back out again. Just finding the organiser would have been a challenge. It was just on too big a scale for me."
However, Julie wasn't deterred and later decided to form her own group on her own terms.
"I wanted something a bit more inclusive," she said. "I decided the best way to do that was to set up a group myself.
"I wanted to create a small group of women who could meet for coffee and a chat. It blew up. So many people wanted to join. And it appealed to everyone. There were women my age, and into their 70s.
"It was great and lots of people I met through the group I am still friends with now, 10 years later."
When the country went into lockdown, Julie decided to do something to bring people together.
"I was feeling a bit disconnected," she said."The only means of contact is Zoom and I can't be on that 24 hours a day.
"I've been furloughed and am reading a lot to pass the time. In normal life, reading for me has always been secondary, but now I have the time, I've finished quite a few books already.
"So I thought it might be an idea to start up a virtual book club. Not only as a reason to read more books, but have a chance to discuss them – and socialise and meet new people at the same time.
"I decided to focus on audiobooks, or ebooks that people can download online, as it's much cheaper – and an easier and faster way to get hold of a copy while we're in lockdown."
Julie explained the crucial role played by such groups at a time when so many people are feeling alone.
"It's so important, especially for women who are isolated and feel on their own just now, to keep socially active on some level," she said.
"This will give them a reason to read – and a regular gathering to look forward to.
"Being a member of a virtual group means no travel expenses, no money spent on coffee, and you can do it from the comfort of your own home.
"It will be great during lockdown, but could offer an easier way of fitting socialising with new people into people's busy lives when we return to normal.
"And, hopefully, we could meet up eventually and become lifelong friends."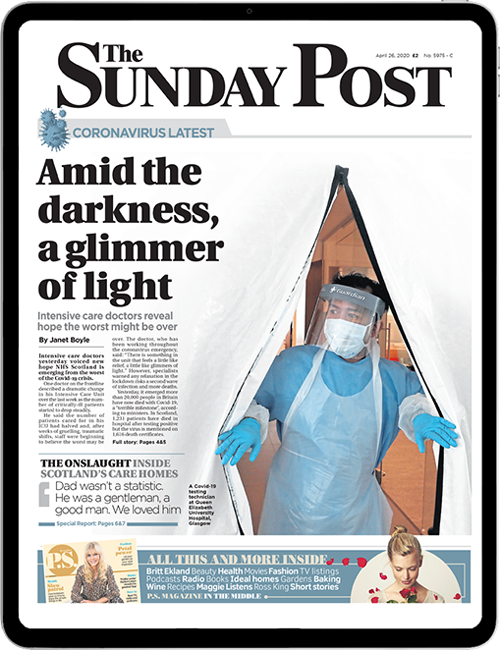 Enjoy the convenience of having The Sunday Post delivered as a digital ePaper straight to your smartphone, tablet or computer.
Subscribe for only £5.49 a month and enjoy all the benefits of the printed paper as a digital replica.
Subscribe