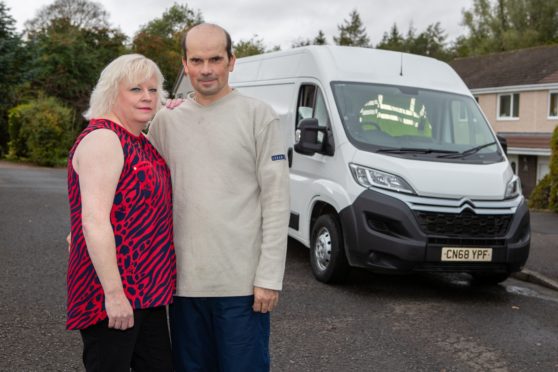 When Malcolm Brown decided to become a self-employed courier driver, the first thing on his shopping list was a reliable van.
In February, he and his Amazon worker wife Marion chose to lease a brand new Citroen Relay from nationwide broker Vanarama at £400 a month for three years.
Malcolm was initially delighted with the vehicle, in which he was doing long hours, making deliveries across the east of Scotland.
However, in May, the warning lights suddenly came on and the engine cut out while he was behind the wheel.
"Fortunately this happened while he was on a quiet street in town, otherwise I shudder to think what could have happened," said Marion, 55.
Malcolm, 51, faced a seven-hour wait until the RAC turned up and took the van to a garage.
Repairs were carried out but Malcolm was still unhappy.
"The warning light kept coming back on and I didn't feel safe driving the van," he said.
"I couldn't risk being out on the road and it cutting out again on the motorway."
When the couple contacted Vanarama, they were directed to its finance company, Leaseplan.
"We told them that, as well as us being worried that the engine might cut out again, Malcolm had just started a new job and he couldn't afford to lose more wages if the van broke down," Marion explained.
"Leaseplan were not willing to replace the vehicle or let him upgrade to a better model.
"We were told that it had been fixed and that he would just have to keep driving it."
While the dispute was ongoing, Malcolm hired another van at a further cost of £800 a month. On top of this, he was still paying the £400 monthly instalments to Leaseplan.
Leaseplan wrote to Malcolm in June telling him he could not be compensated as he had taken out a non-maintenance contract.
The firm could also not provide a replacement vehicle as he had "declined to take out the hire vehicle option".
"The situation was crazy," said Marion. "We had leased a brand new van and you would expect it to be working for more than a few months.
"Instead we were paying £1,200 a month to keep Malcolm on the road as he wouldn't touch the Citroen while the warning lights were on."
In frustration, the Glenrothes couple wrote to Raw Deal for help and we asked Leaseplan to investigate.
In July, the van was taken to a Citroen garage in Perth where a fault with the electronic control unit was found. It would cost hundreds of pounds to replace – but Citroen agreed to cover this under warranty.
However, as it would take a few weeks to secure and fit the new part, the Browns were still paying out for the faulty Citroen plus the hire van.
The good news is that, at the start of this month, Malcolm finally got the Citroen back and it is now working fine. Citroen also awarded him just over £1,000, as a warranty refund.
The couple are still in discussions with Leaseplan about the £1,000 compensation they feel they are due after shelling out more than £2,000 on a rental van while the repair saga dragged on.
The company said it is now exploring ways to further compensate them. Leaseplan said: "We appreciate that the settlement from the manufacturer does not cover Mr Brown's costs during this period and, as a result, we are in the process of working again with the dealership to review this in the hope we can find a more agreeable outcome.
"We take customer complaints very seriously and understand the impact issues of this type can have on those reliant on their vehicle. We will review this case to determine how we can work better with our third parties and continue to serve our customers to the best of our ability."