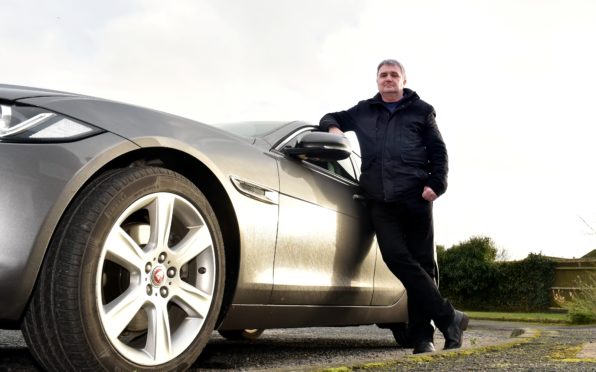 It was 6.25am and pitch dark when Bruce Collie's daily drive to work was interrupted by a shuddering thump.
"It was windy and it was raining and I had no idea what had just happened," said Bruce. "When I pulled over and saw a flat tyre and then a pothole I had ploughed into, I knew I wasn't going to be going anywhere in a hurry."
Bruce, 57, a diving equipment specialist, had been driving on Braehead Way in Aberdeen when the encounter with the pothole happened in November.
He is just one of thousands of motorists in Scotland who fall victim to the blights on our roads every winter.
"My front nearside tyre was punctured, and the near rearside tyre was damaged in two places," said Bruce.
As a result of the bump, the dad of two paid £400 for two new tyres for his Jaguar XE saloon and he also had to take the day off work to get it fixed.
"It wasn't as if I was going fast when the accident happened," he said. "I had just gone over a speed bump and this had put me directly into the pothole. I had no chance to avoid it."
Bruce took photos and reported the incident to Aberdeen City Council.
"Within an hour, a traffic cone was put down to warn other motorists and not long after that the pothole was fixed," he said.
However, when Bruce then tried to make a claim with the council for compensation, he was declined, leaving him furious.
"Basically, they thanked me very much for bringing the pothole to their attention so that it could be repaired, then told me I wasn't due a penny. I was disgusted," he said. "I had to take another day off my work to deal with the claim. I then tried to get the £400 back though my car insurance but because I have an excess it wasn't worth it."
Bruce contacted Raw Deal for help but Aberdeen City Council refused to budge. The authority said: "We receive a number of claims each year regarding potholes which are not dealt with directly by the council but by its insurers."
A further appeal to the local authority's insurers, Zurich Municipal, also hit a brick wall.
Zurich told Raw Deal: "Whilst we appreciate that the decision is disappointing for Mr Collie, the evidence provided by Aberdeen City Council would suggest that they have an appropriate system of inspection and maintenance in place and that because of this, they would not be legally responsible for the damage to Mr Collie's vehicle.
"Once Mr Collie made the council aware of the defect, they inspected the road and repaired the defect on the same day."
Bruce, however, said he felt he had been poorly treated by the powers-that-be in the Granite City.
"I thought I was doing the right thing by reporting the pothole immediately and making an appropriate claim for the damage but instead I feel like I have been punished," he said. "It seems like the rules favour the council and not its residents."
---
Advice
The first thing to do before reporting the pothole or making a claim is to document what's happened and any damage caused.
Take pictures
Photograph the pothole straight away, showing its depth if you can by including something such as a road sign or lamppost to illustrate scale. You should also photograph any damage to your vehicle. If you try to make a claim before collecting photographic evidence, you may find it difficult to obtain compensation if the pothole has since been repaired.
Document the details
In addition to taking photos, note the road name and the whereabouts of the pothole. It's also a good idea to document any factors that may make the pothole a particular risk, for example, if it's in the middle of a junction.
Report the pothole
All councils allow you to report potholes via their websites. Include all the supporting evidence you  can when reporting a pothole. If the incident  happens on a motorway or A-road, you will  need to contact the road agency  responsible for the region – either  Bear Scotland, Scotland Transerv  or Amey.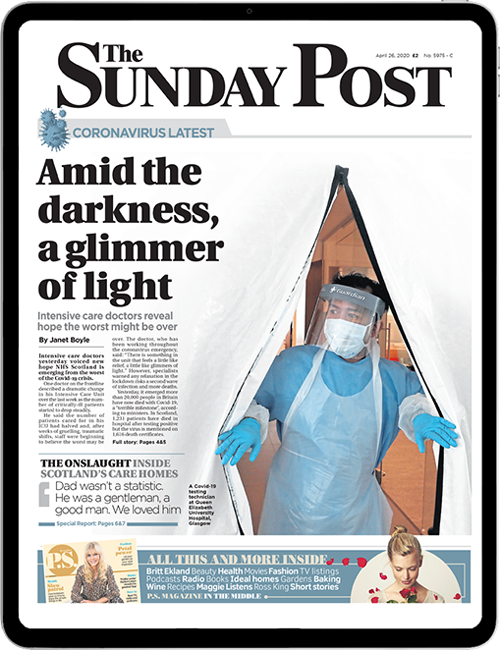 Enjoy the convenience of having The Sunday Post delivered as a digital ePaper straight to your smartphone, tablet or computer.
Subscribe for only £5.49 a month and enjoy all the benefits of the printed paper as a digital replica.
Subscribe