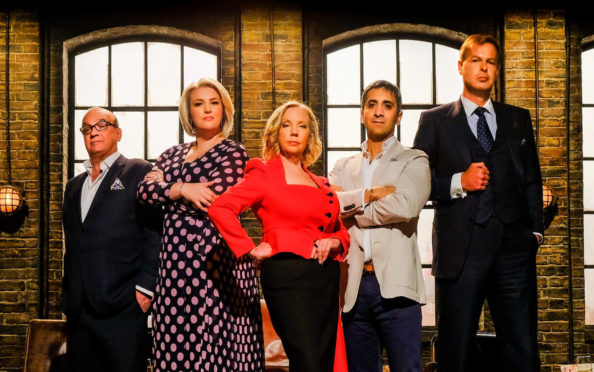 A mum of two has told a company she saw on Dragon's Den "I'm Out" – after it promised to find her a cheaper energy supplier but instead left her in limbo.
Sarah Greshon responded to an advert for new consumer firm Look After My Bills in August when she signed up for the free service that automatically switches gas and electricity customers to a less expensive deal when their contract ends.
"I had been looking for ways to get my monthly household bills down and I thought this idea looked interesting," said Sarah, 40.
"I gave them all my details online and didn't think any more about it."
However, in November, Sarah, from Methven, Perth and Kinross, was surprised when she got an email from her long-time gas and electricity provider E.ON saying it was sorry to hear she was leaving.
"No one from the website had advised me this was happening," Sarah said. "The next thing I knew was I was being switched from E.ON to Together Energy, a company I had never heard of.
"I asked them to make sure I wasn't moved. But all I got back was another email from them confirming I was moving – but at a later date.
"My contract wasn't even up yet with E.ON and I didn't want to be hit with any early exit charges."
Sarah then discovered that her smart meter had stopped working.
"I called E.ON and they told me that Look After My Bills had left my gas with them but had moved my electricity to Together Energy. As a result, I had lost my dual-fuel discount and the ability to move to the cheaper tariff. I was furious."
Look After My Bills appeared on the BBC's Dragons' Den in 2018, with two entrepreneurs negotiating one of the best deals in the history of the show, securing £120,000 from investors Tej Lalvani and Jenny Campbell for just 3% of the business.
The firm attracted more than 150,000 customers in less than 12 months. Co-founders Henry De Zoete and Will Hodson later sold This Is The Big Deal Ltd, owner of Look After My Bills, to The Goco Group for £8.5 million. But Sarah said that, instead of saving her cash, becoming involved with the firm put her energy supply and her future bills up in the air.
"They told me they had sent me emails informing me what was going on with the switch they had initiated but these had gone straight into my spam folder and I didn't see them," she said. "They also said they were aware I hadn't read their emails – but they just went ahead and switched me anyway. Now it has been left to E.ON to try to sort out this mess as Look After My Bills says it no longer has my details on file."
The firm told Raw Deal it could not investigate what had gone wrong with Sarah's account because her personal data had been destroyed for privacy reasons.
A spokesperson said: "Based on the information our customers provide us on sign-up, we automatically switch our customers at the right time without them having to lift a finger.
"We do all that we can to prepare our customers for an upcoming switch. We do this by sending them regular communications to keep them well informed of what is happening next and always offer an opportunity for them to get in touch with us via email or phone.
"Once we find our customer a saving, we start switching them, informing them of all the important details about their new deal. In this case, it would appear that after the switch was initiated, Ms Greshon had requested for us to delete her account, including any data regarding her switch.
"As per GDPR regulations, we have actioned this request and, unfortunately, this means we have lost complete visibility of her account and switch history.
"Although we aren't able to investigate the case further due to the account being deleted, we are more than happy to offer support and guidance to Ms Greshon."
E.ON last night said it had stepped in and the issue had been smoothed out. Sarah is back as their customer for gas and electricity.
An investigation is under way to find out if she is due a refund for any increased charges issued during the past few months.
Sarah added: "Thank you to Raw Deal for intervening in this stressful situation. I would hate to see anyone else go through this kind of hassle."