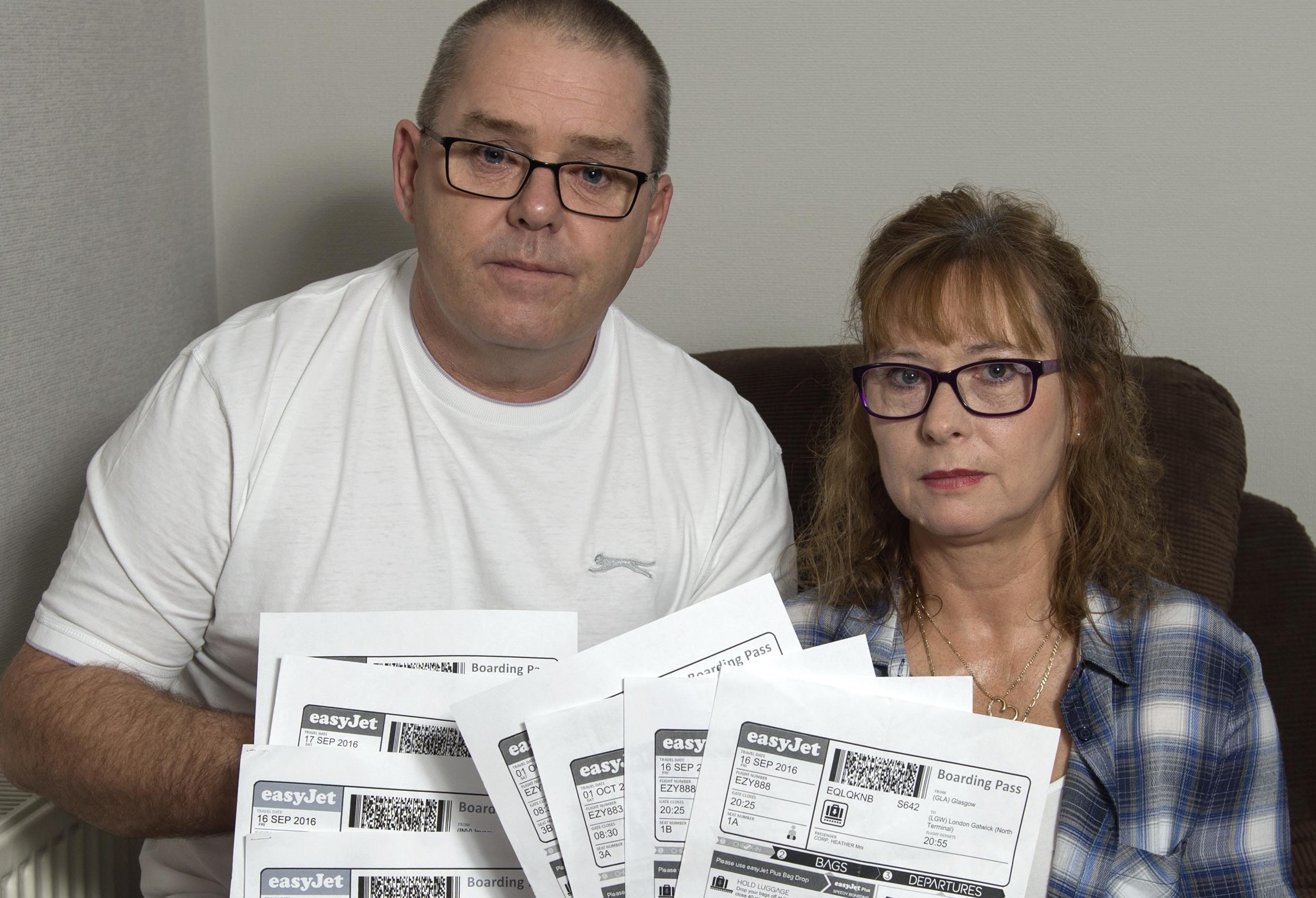 IT might not seem possible to go on holiday and be issued with 14 boarding passes and never get on a plane – but that's what happened to Martin and Heather Corp of Forres.
They were all set to go to Egypt on holiday and got up at 3am on September 16 for the 20-mile drive to Inverness Airport.
This is what happened next:
5am – Arrived at Inverness but bag drop was deserted. Eventually a BA worker told them the flight was cancelled. The Corps, and several other passengers, were perplexed at the lack of an easyJet representative.
9am – Staff at Thompson Holidays in Elgin spent three hours arranging a new flight from Gatwick to Egypt the next day at 11.50am.
1pm – Set off to drive to Glasgow Airport for easyJet flight to Gatwick at 8.55pm.
6pm – Arrived, only to be told this easyJet flight had been delayed until 10.30pm
9pm – Martin and Heather were horrified when easyJet cancelled flight to Gatwick. All other flights were full so there was no way to get to Gatwick in time. Martin demanded easyJet arrange hotel accommodation instead of facing the four-hour drive back to Moray.
2am – Reached the hotel (in East Kilbride, 16 miles from the airport) 23 hours after they'd got up to leave Forres.
The next day, after their return home dejected at the loss of their holiday, Martin got on the phone to easyJet.
The Corps' outlay on all the flights (not counting the cost of the holiday in Egypt) was £1184.
But all they had to show for all their efforts was a collection of boarding passes and a tiring day spent trailing around Scotland's airports.
It seemed easyJet would stump up. It emailed Martin asking how much he was out of pocket and for an address to send a cheque. But a day later, it sent another email reversing the position – it wasn't going to compensate him at all.
Martin was, understandably, frustrated at paying for an easyJet flight from Gatwick to Egypt he missed because easyJet cancelled flights from Scotland to Gatwick.
Raw Deal asked easyJet to clarify. It said: "The Inverness-Gatwick flight was cancelled due to adverse weather in the Gatwick area which prevented the aircraft arriving in Inverness. Passengers were sent SMS messages informing of the cancellation and a message on easyJet's Flight Tracker page at 23:53 on the 15th.
"As this was outside easyJet's control. In line with EU261 regulation passengers are not entitled to compensation. Mr Corp's second flight, from Glasgow to Gatwick, was cancelled due to a technical issue.
"easyJet is a point-to-point carrier and cannot accept responsibility for subsequent missed connections."
Martin reluctantly accepted a compensation offer, though it was only around half the cash he lost.
It is difficult to obtain insurance that will fully cover the situation the Corps found themselves in. They were dreadfully unlucky.
There seems to be no solution to this under current law. Perhaps the law should be changed.
Do you have a problem?
To get in touch with Raw Deal please email your address and daytime/mobile number to rawdeal@sundaypost.com or write to Raw Deal, 80 Kingsway East, Dundee, DD4 8SL (please include SAE).
Briefly outline the problem and how you would like it resolved. Include contact details of the other party and any customer ref/order numbers.
By requesting Raw Deal's assistance you agree for your name, location and a photo to be published.