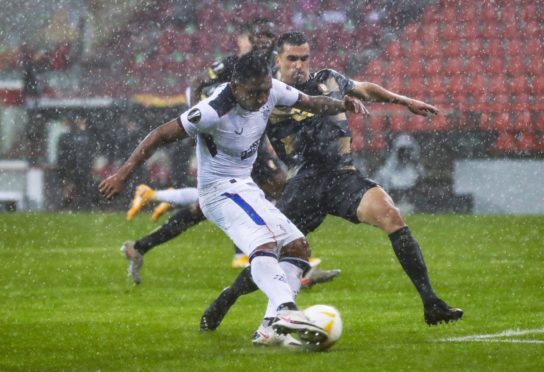 It's not uncommon for football fans to wonder what goes on inside the head of Alfredo Morelos.
Rangers boss Steven Gerrard admits he can't enlighten them.
But Gerrard judges his striker on deeds – not thoughts – and still has confidence in the Colombian.
Morelos has only scored three league goals this term, and Kemar Roofe's extraordinary long-range strike against Standard Liege caused a worldwide sensation.
It has also led to supporters clamouring for his inclusion from the start of today's game against Livingston.
Gerrard maintains there's more to Morelos than goals.
He said: "I don't know what goes on in his head – and I wish I did know.
"I think you have to appreciate what Alfredo brings to the team.
"I know you judge him on goals, numbers and records, which is fine.
"But I judge Alfredo on what he gives the team, in and out of possession.
"Do the players want him in the team? Do they feel like they need him? Does he help in different ways?
"Of course, we all want goals and that is a big part of his job.
"But just because he's not on the scoresheet doesn't mean that he hasn't done the job for the team, or we're not happy with the job he has given.
"I make decisions on different things, and of course goals is one of them.
"The team is playing well, and Alfredo is helping the team in a different way.
"It's up to Alfredo to get himself back among the goals because we're certainly providing chances for him.
"This is not a case where I'm concerned that he's not getting the service.
"Alfredo needs to keep his head down, keep working hard and believe that the goals will come.
"I'm confident they will."
The Roofe wonder-goal continues to be acclaimed throughout the football world.
Gerrard admits his mobile phone was in meltdown when he arrived back from Belgium.
His view after the game was that it was the greatest goal he'd ever seen, and he's not inclined to change his mind.
The Light Blues manager said: "There was definitely a big reaction on the phone. A lot of it was about the performance.
"I have seen similar goals in terms of the execution, in terms of the distance and the strike.
"I have seen Rooney do it, I have seen Beckham do it, I have seen Suarez do it.
"They are all world-class players.
"But I think you go back to when Kemar has received the ball – and the area where he receives the ball – on a very wet pitch in the worst conditions that I have coached in, or been involved in.
"To then hold off two really strong players the way he did, and to go past the third and execute it with the vision and the technique, I think it is possibly the best.
"I have been thinking, 'Is it the best goal I have seen live?' I have seen some real top goals from world-class players. I think that is right up there with the best."
It's back to the bread-and-butter of league action at home to Livingston today.
Rangers had to settle for a 0-0 draw when they took on Gary Holt's side at Almondvale in August.
Gerrard knows people will be watching to see if his players can successfully go from the high of a Europa League triumph, to winning a tough Premiership clash.
The doubters, he argues, will always be there.
He went on: "I think we've been getting asked questions since the first game of the season, Aberdeen away.
"You know and I know the questions aren't going to go away – from week to week, from challenge to challenge.
"We accept that, and we understand the position we're in.
"For me, it's important just to keep the boys humble, ready and focused for the next challenge.
"We have to try to keep the group in the zone that they're in.
"We know that Livingston will be organised.
"They'll have checked us out the last time we played them away on their pitch.
"This time it's Ibrox, it's a different pitch, a different game.
"The eleven won't be the same because we have put a lot into Thursday night.
"We have players available, who are ready to come in to freshen it up, but I won't completely shuffle the pack.
"In terms of questions being asked about me and the players, they've been there since Day One – and they'll be here till the day I walk out the door."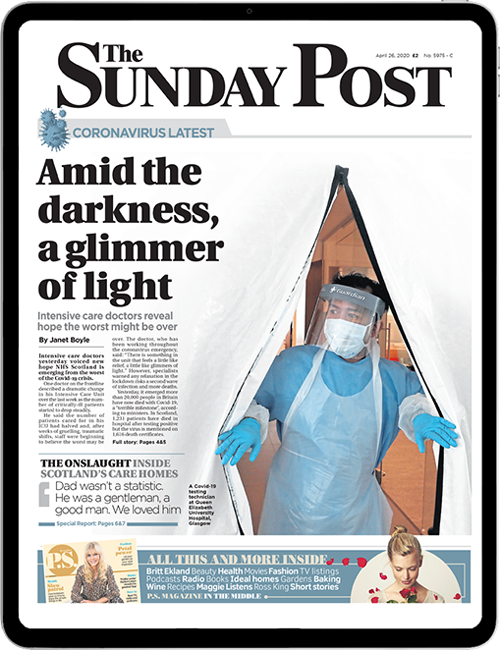 Enjoy the convenience of having The Sunday Post delivered as a digital ePaper straight to your smartphone, tablet or computer.
Subscribe for only £5.49 a month and enjoy all the benefits of the printed paper as a digital replica.
Subscribe