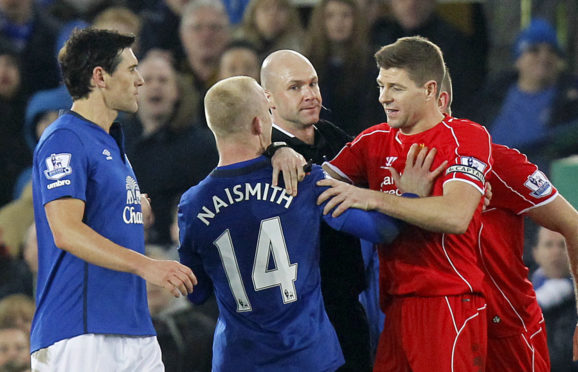 Steven Gerrard will warn his players to keep a close eye on a man he's tangled with in the past when they face Hearts at Tynecastle today.
The Rangers boss admits that Steven Naismith is the type of character he loves to have in a dressing room.
Gerrard came up against the Scotland striker several times during Merseyside derbies.
There's a picture showing the Liverpool skipper clashing with Naismith.
Gerrard, who was actually acting as peacemaker between team-mate Jordan Henderson and the then Everton striker, knows the Hearts' captain is still a formidable opponent.
He said: "We've had a few run-ins. He's a fiery character, a busy player on the football pitch, always looking for the action in the final third to create and score.
"Merseyside derbies were up his street and mine – two fiery characters on a football pitch, so it's absolute standard if there is a run-in.
"He's the type of player that you could wipe him out, either accidentally, or meaning to do it, and after the game he'd shake your hand, hug, no problem and move on.
"That's the way I try to be, and that is the way it should be.
"Every time I've come up against him, as a player or as a coach, he's certainly someone you have to make the players aware of because he's a clever footballer."
Gerrard smiles when it's suggested that despite now being 33 years old, Naismith continues to be seen as a pest for opponents.
He said: "I'd like to use the word busy. In a good way.
"But that's in his make-up, to constantly put pressure on the opposition and he's relentless in that area.
"Even at the age he is, he still plays that way now.
"Obviously, he's had a few injuries of late. But he doesn't change the way he plays. He's right up for it.
"I'm sure he'll be the same today, especially now he is the captain of the team.
"He brings a lot of energy, a goal threat, that busyness or pesty-ness, whatever you want to call it, about the team.
"He's full of energy and still has that energy he had as a younger player. He makes Hearts better."
While Gerrard is plotting how to stop a veteran in maroon, he has an even more mature attacker in his own ranks.
Jermain Defoe is 37 years old, but has agreed a pre-contract to stay with Rangers for another year when his loan from Bournemouth ends in the summer. He's currently the Light Blues' main goal threat while Alfredo Morelos serves his three-match suspension.
Gerrard said: "Even when I played with Jermain in his mid-20s, I knew he'd play longer than most because of his professionalism, diet and his relentless in terms of his gym work.
"I always predicted he'd be one that would go to the end.
"He loves the game, that's what I admire about him.
"He's certainly not doing this for financial reasons.
"He's as hungry as he ever was, he loves the game more than anyone.
"You can talk about football at any level to Jermain Defoe.
"He rarely misses a session and doesn't want any preferential treatment.
"I admire his hunger and his dedication. He makes this team – and squad – a lot stronger."
Although delighted to have Defoe, Gerrard is looking forward to the return of Morelos for Wednesday night's game against Ross County at Ibrox.
The last two matches – against Stranraer and St Mirren – have seen Rangers toil against teams who have defended in numbers.
The manager says those performances haven't inspired him to look for another attacker.
He feels like one is about to arrive – in the shape of Morelos.
He said: "We get another body after today's game and a bloody good one as well.
"I'm hoping that Greg Stewart is not too far behind.
"In the first six months of the season, a lot of those games domestically were up against a block where we did ever so well and were more consistent.
"We expect more of an exciting game against Hearts, more of an end-to-end game.
"We have had a contrast over the different competitions, because we have had Europe and gone to Celtic Park and Aberdeen away – certainly in the second half – where we've had a lot of rehearsals for a type of game if Hearts do come out and want that style.
"As the season goes on, I anticipate more tight games and teams that are going to put a block in front of us than end-to-end games."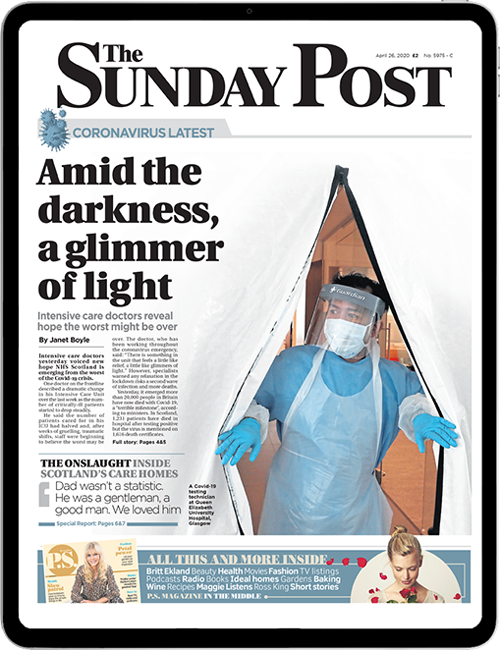 Enjoy the convenience of having The Sunday Post delivered as a digital ePaper straight to your smartphone, tablet or computer.
Subscribe for only £5.49 a month and enjoy all the benefits of the printed paper as a digital replica.
Subscribe