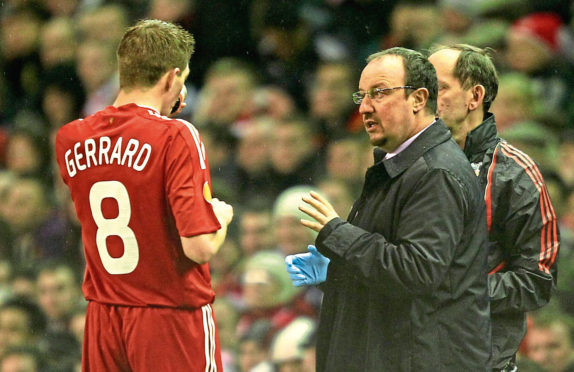 Steven Gerrard has forgiven Rafa Benitez for being hard on him during his playing career.
The Rangers boss is now using his former manager's technique of being brutally honest with his players.
There were plenty of raised eyebrows when Gerrard slated his side for a sub-standard performance against St Johnstone last weekend.
It wasn't the first time this season that a Rangers team has been publicly criticised by the former England midfielder.
There's a school of thought that says modern-day players don't take kindly to being lambasted and you risk creating a dressing-room revolt.
Gerrard, however, can point to a much-improved showing in the midweek Scottish Cup victory over Kilmarnock as justification for his methods.
The 38-year-old maintains he's committed to being honest about the quality of performance delivered by his men.
He's not one for throwing teacups about, but he won't miss those who let the team down.
His view is that nobody will be fooled if he attempts to talk up poor play.
Gerrard said: "I'm running a risk of the fans asking: 'What's he talking about?'.
"You run a risk if you go into a dressing-room and start throwing things at the players: or have someone by the neck or what you're saying to them is a complete load of nonsense.
"I don't think you benefit from that type of behaviour.
"I preferred it when a manager was honest with me.
"Sometimes that wasn't what I wanted to hear, but it was for me to be man enough to accept it, look at myself and self-reflect.
"If what you say hurts one or two egos, unfortunately that's what you've got to do.
"I'd like to think I'm fair and honest. I don't belittle people."
Gerrard benefited from tough love when Rafa Benitez was his manager at Liverpool. He said: "I probably played the best football of my career under Rafa.
"I was always searching for that praise and that 'well done' from him all the time.
"He was the one who broke my game down in every little small detail and he'd tell me things on a daily basis.
"I'd be a bit confused at times, and thinking: 'I'm not sure that's right'. But it drove me on to produce my best football. That doesn't work with every player. There are certain guys in the dressing-room I need to manage differently.
"For example, I could have a go at Steven Davis or Jermain Defoe but they've been around the game long enough to know it's not personal, that I'm trying to help get the best out of them and that's the way it is."
Gerrard still picks the brain of Benitez, now in charge at Newcastle United.
He went on: "I forgive him now we are mates again. I can see it from his side.
"You think at the time when you hear things you don't want to hear that he is picking on you.
"But he was only after the best Steven Gerrard he could get.
"That helped him and Liverpool be more successful.
"With maturity and experience, you understand it better.
"I haven't gone in and destroyed anyone in a one-v-one situation or made them feel too bad.
"The most important thing is you get the reaction.
"I criticise them to try to help them and make us more consistent and try to avoid these setbacks we have had on too many occasions.
"I knew setbacks would come – but I didn't expect this many.
"They have been quite damaging in the League Cup and in the league."
Gerrard was telling his players they should forget about winning the title after falling further behind Celtic last weekend.
Despite the boost of progressing to the Scottish Cup quarter-finals, he remains realistic about his team's chances of finishing top.
He said: "My opinion's the same in terms of the league, but we need to keep going and see whether we get another opportunity to bite back.
"That starts at Hamilton. We need to take Wednesday night's performance, try to get maximum points and see where we are.
"But, of course, we made it more difficult for ourselves after a poor showing against St Johnstone."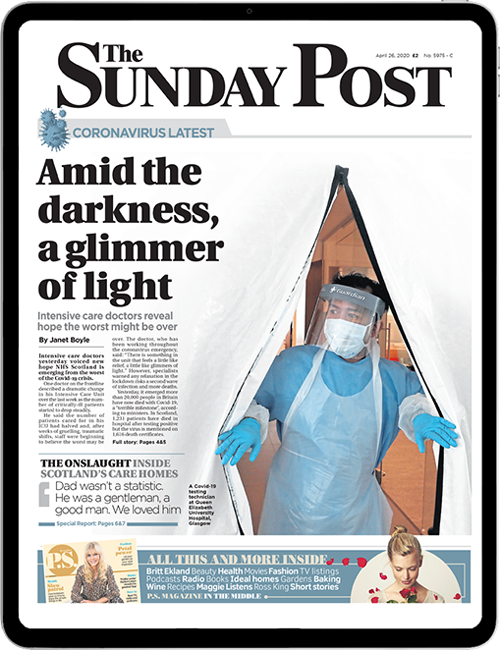 Enjoy the convenience of having The Sunday Post delivered as a digital ePaper straight to your smartphone, tablet or computer.
Subscribe for only £5.49 a month and enjoy all the benefits of the printed paper as a digital replica.
Subscribe