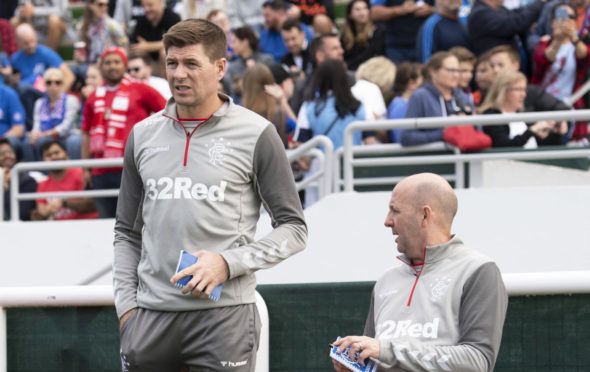 Gary McAllister is adamant that Rangers recent malaise didn't develop in Dubai.
Rumour-mongers always have a field day when a big team suffers a form slump.
Fans of the Ibrox club have been trying to explain their favourites' indifferent performances since the winter break.
Some have come up with a theory that things went wrong during the week-long training camp.
Other voices – rather mischieviously – have hinted at something more sinister.
The Rangers assistant manager is happy to tackle the rumours head-on and dismiss them out of hand.
McAllister said: "I can say, absolutely 100%, that there was no unrest in Dubai.
"That just wasn't the case. Dubai was fantastic for us, it went really well.
"Thursday night against Braga proved our togetherness. It's self-explanatory, just by watching the game. It's just there, you can
see it.
"All that talk is part of being at a big-city club. There will always be people assuming things.
"But, trust me, that's nonsense.
"It's par for the course at a big club.
"The best way to put all that to bed is to get results and get a run going again.
"Results haven't gone our way and the performance levels haven't been good enough. We acknowledge that.
"But my feeling is that, in all of those games, we had good chances. On Thursday night we took them.
"But at any level, you have to produce in those moments.
"We had those chances at Hearts and Kilmarnock. If we'd put them away, everything would look different."
Steven Gerrard and his backroom boys have been looking for reasons to explain why the Light Blues have fallen 10 points behind Celtic.
McAllister admits there's been a lot of soul-searching behind the scenes and, despite the glory of Thursday's 3-2 comeback win in the Europa League, today's Premiership clash at St Johnstone takes top priority.
He went on: "We're a tight staff. We support each other.
"We're discussing reasons – why, what, when. There's no stone unturned.
"As a staff, we need to stay nice and tight. We need to trust and believe in what we are doing because who motivates the motivator?
"A lot of questions have been asked. But in that last 25 minutes against Braga, you could see a fantastic togetherness.
"We can break it all down. We've got 20 wins, three draws and three defeats in the league – that's not enough because we're still a good bit behind Celtic.
"There are loads of things we could say to make it look better. But the facts are we're behind in the league and doing OK in Europe.
"The word crisis is used too often.
"We have to deal with the negative publicity, but we can build on the Braga result.
"If we can replicate the form of the first half of the season, you never know what can happen.
"This St Johnstone game is more important than Braga. It's ultra-important. We want to win with a slick performance, but it's just about winning and getting a run going again."
Ianis Hagi, with two goals, was the star of the show for Rangers against the Portuguese outfit.
McAllister is understandably reluctant to commit to the club taking up the option of signing the on-loan Genk midfielder after just four matches.
However, the 21-year-old is making a big impression on and off the pitch.
"I played against his dad, Gheorghe, for Scotland and I reminded him we beat them at Hampden 2-1," said McAllister.
"His awareness of the club and where his son is placed is uncanny. He has watched a lot of Rangers.
"What we've seen so far of Ianis is a player that's settled really well.
"He comes in with a smile, so that tells me he's enjoying himself and enjoying Glasgow.
"It's a club that demands personality and character from a player.
"Some can cope with that, and some can't."