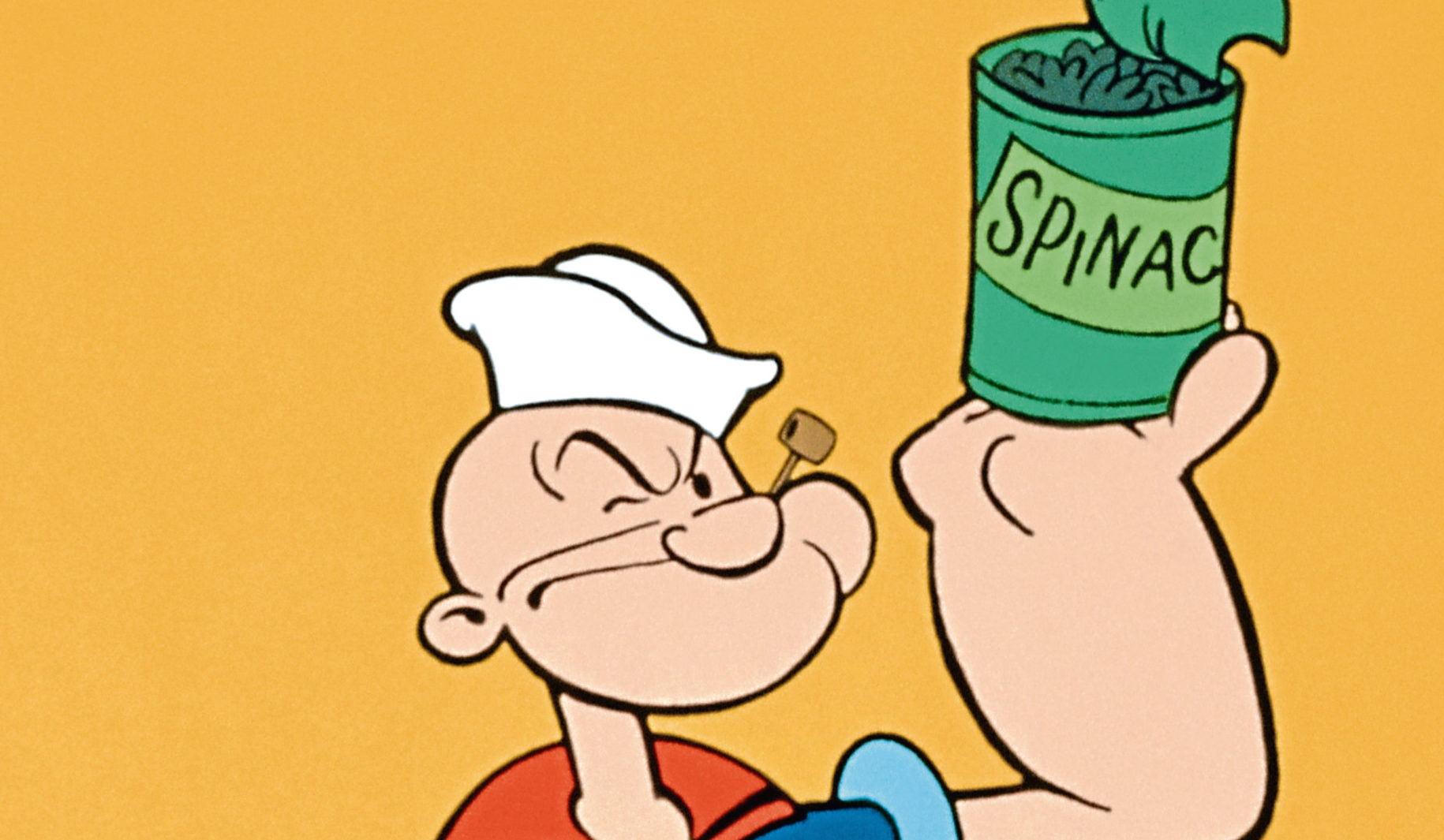 COLERIDGE'S classic poem The Rime Of The Ancient Mariner isn't about Popeye.
But as the one-eyed cartoon matelot celebrates his 90th birthday, that's certainly a fitting description.
Popeye made his debut as a minor character in the daily comic strip Thimble Theatre on January 17 1929.
The strip had been written by EC Segar for a decade, and focused on the comic adventures of the whip-thin Olive Oyl, her boyfriend Harold Hamgravy – quickly shortened to Ham Gravy – and her enterprising brother Castor Oyl.
When Castor needs to sail to an island casino, he finds Popeye down at the docks and promptly hires him.
Once that particular adventure was over, Popeye left the strip, but strong reader reaction swiftly brought him back and within a few years, Ham Gravy had been binned and the strip was eventually renamed Popeye after what had become by far its most popular character.
In fact, the tattooed sailor helped make Thimble Theatre the second most popular cartoon strip – after Little Orphan Annie – in America and proved a commercial goldmine for King Features, running in 500 newspapers and with more than 600 licensed Popeye products on sale.
The success of the strip meant Segar was making $100,000 a year from Popeye, but tragically he died of leukaemia and liver disease in 1938, aged just 43.
As Peanuts creator Charles M Schulz said: "I think Popeye was a perfect comic strip, consistent in drawing and humour."
Local folklore in Segar's hometown of Chester, Illinois says he based Popeye on Frank "Rocky" Fiegel, who had a prominent chin, sinewy physique, smoked a pipe and was handy with his fists.
Fiegel's gravestone has an image of Popeye on it and it's said Segar regularly sent him money.
But if you look at the sailor himself, Popeye's popularity is a bit of a mystery.
He seems bereft of manners and completely uneducated, yet he often comes up with solutions to problems that have baffled the boffins or the police.
Popeye at times displays almost Sherlock Holmesian powers of deduction, scientific ingenuity of Einstein-like proportions and diplomacy that makes the UN look like rank amateurs.
He also possesses the most versatile pipe known to man as he's used it as a blowtorch, jet engine, propeller, periscope, musical instrument and a whistle to produce his trademark "toot-toot".
He also uses it to ingest spinach – can, too, on occasion – but since the 70s, he's rarely used it to smoke tobacco.
Speaking of spinach, Popeye originally got "luck" by rubbing the head of Bernice the Whiffle Hen – nope, me neither – but by 1932, he was getting "strength" by eating the green veg, boosting Americans' consumption of it by a third.
The spinach-growing town of Crystal City, Texas, erected a Popeye statue and there's another in Alma, Arkansas, the "spinach capital of the world".
Alongside Olive Oyl, Popeye is often joined by his nemesis Bluto.
The three form a weird love triangle, with the fickle Oyl often preferring the bearded brute who launches endless schemes to claim her at Popeye's expense.
In 1933, Popeye received a foundling baby in the mail whom he adopted and named Swee'Pea, though depending on which story you read or watch as there's no continuity whatsoever, the babe becomes either Popeye or Olive's ward.
Another supporting character is J Wellington Wimpey, a hamburger-loving sponger who, despite being cowardly, saw Vickers Wellington bombers nicknamed after him during the Second World War.
He has an arch-enemy, too, the cobbler George W Geezil who is usually trying to murder him, while the final regular character is Eugene the Jeep, a yellow dog-like animal from Africa that has magical powers.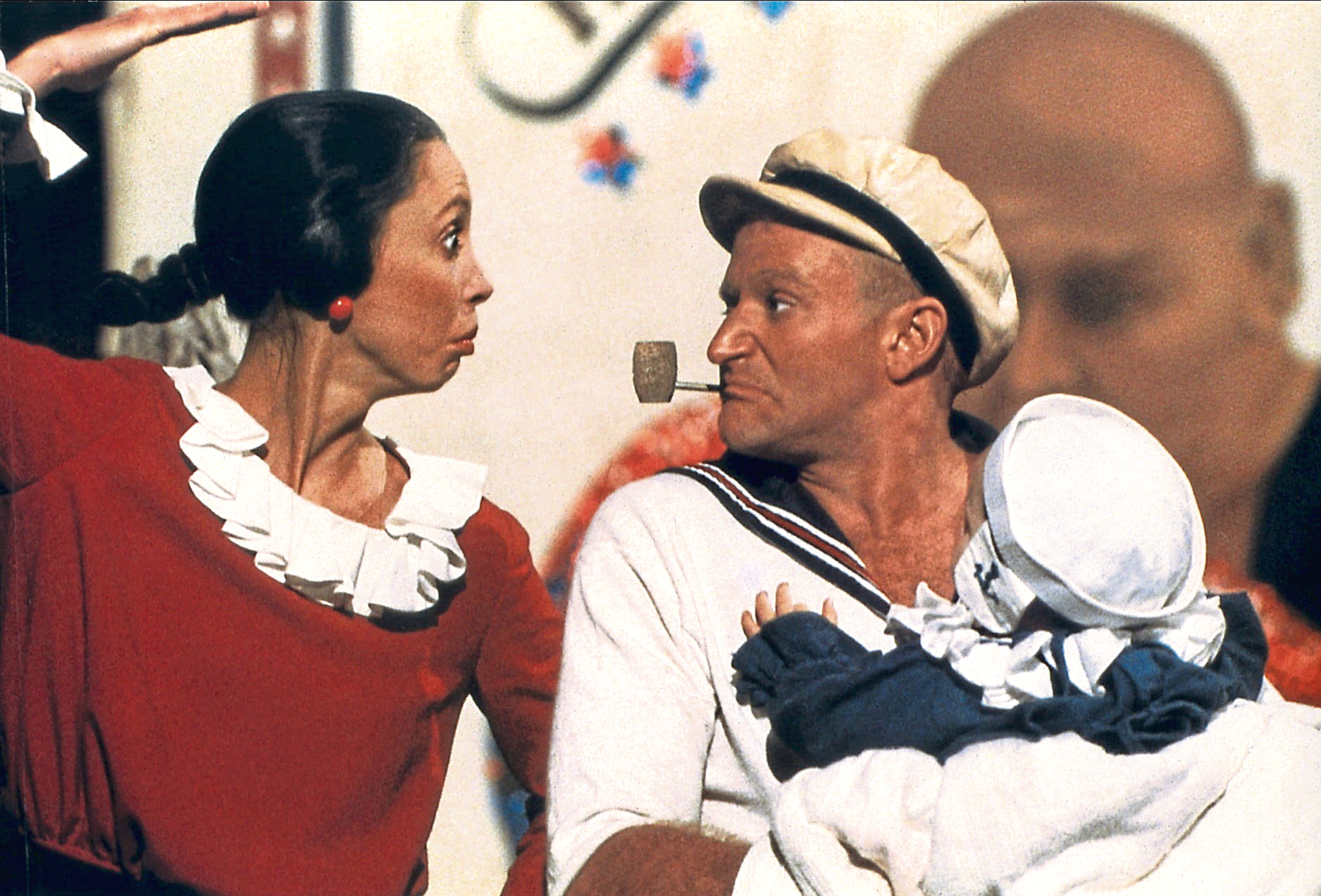 Like many American comic strips, Popeye fell foul of the fascist dictators that emerged in Europe in the 1930s, and Mussolini banned them all.
But Popeye was so popular in Italy, the Italians forced Il Duce to bring him back.
In 1933, Max Fleischer adapted the comic strips into the Popeye The Sailor theatrical cartoon shorts for Paramount Pictures and they soon became massively popular, production continuing until 1957.
They built upon the comic strips, making Popeye so successful that by 1938, polls showed the sailor with the anatomically-unlikely forearms was Hollywood's most popular cartoon character.
He was also a radio star in the 30s, earning King Features $1,200 a week, though only about 20 of the 204 episodes made are known to have survived.
It was a certainty Popeye would switch from the big to the small screen, and in 1960, the first series was commissioned.
The artwork was streamlined and simplified for TV budgets meaning they could make 220 episodes in just two years.
But, while they often lifted plots and storylines directly from the original comic strips, it was thought that Paramount owned the rights to the name "Bluto" so Popeye's rival was renamed Brutus.
He switched back for the shows produced by cartoon powerhouse Hanna-Barbera in the late 1970s which tried its best to retain the style of the original comic strips.
Unlike most of his cartoon compadres, it took until 1980 for Popeye to get his own motion picture.
Filmed on Malta, it was a live-action musical with Robin Williams in the title role and Shelley Duvall needing not much in the way of camera trickery to look like Olive Oyl.
A new animated film is reportedly in development, and it would be a fitting tribute in Popeye's 90th year.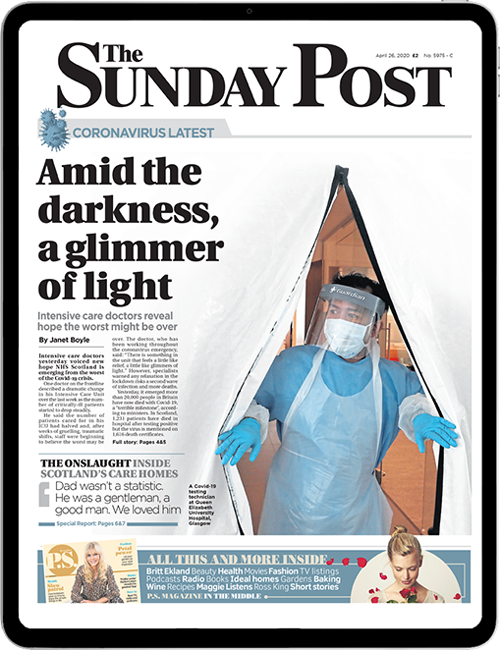 Enjoy the convenience of having The Sunday Post delivered as a digital ePaper straight to your smartphone, tablet or computer.
Subscribe for only £5.49 a month and enjoy all the benefits of the printed paper as a digital replica.
Subscribe