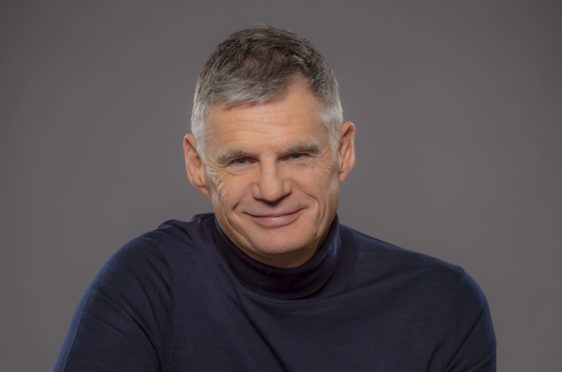 BBC radio presenter John Beattie is ready to get motoring on his new drivetime gig – now that his electrics have been sorted out.
The 62-year-old, who is moving timeslots as part of a BBC Radio Scotland schedule reshuffle, has had a 'little procedure' on his heart before taking to the air in his new home.
"I had a thing called atrial flutter, which has possibly happened because of the way I've trained over the years," he tells The Sunday Post.
"They did a thing called an ablation which is a procedure which helps the electrics sort themselves out.
"I was told I had the heart of a Ferrari but the electrics of a Morris Minor! No new spark plugs, just a reset for the wiring and I'm good to go."
John, a former Scotland rugby international, is eager to get going on the relaunched drivetime show, which he says will have a 'pretty hard news' focus.
He aims to explain the big issues of the day in the listeners' language, get people involved, welcome big name guests and hold the powerful to account.
He says: "I'm very conscious that we have to talk the way the listeners talk, the way I talk. I'm a guy who worked on a building site, as a scaffolder's labourer, a civil engineer, an accountant…
"I like talking to real people, and holding decision-makers to account for real people."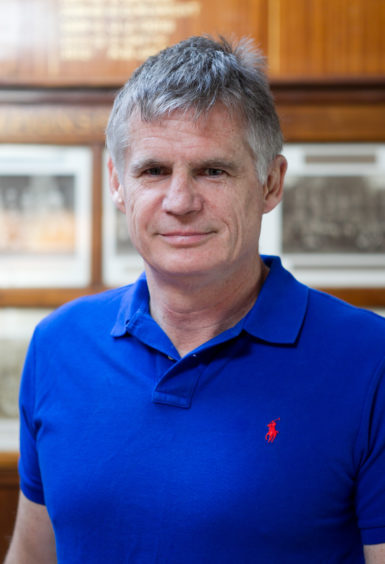 The best advice John's been given from producers over the years is that the show isn't all about him – instead to imagine he's talking to a person in a car or who is doing something with the radio on in the background.
They have the power to carry on listening – or switch off entirely.
"That's always how I've viewed broadcasting," John says. "It's all about making the show interesting and engaging and talking to one person listening.
"It's all about talking people's language and it's too easy to assume knowledge, too easy to be a bit arrogant. My dad always impressed on me that that's the one thing you can never be in life."
Radio faces big competition from streaming services such as Spotify and Apple Music, as well as the ever-expanding number of podcasts available at our fingertips.
But people are still tuning in in their droves, and John reckons it remains a 'hugely powerful' medium thanks to its immediacy.
"Podcasts are brilliant, I listen to them and take part in them. But when I was a kid in the car with my folks I listened to radio and I still think it has the immediacy. If there's a big story breaking, and there's one every week in Scotland, you'll only get it on live radio.
"What we have to do is talk about now, today, what's happened and explain it. You've got to be interesting and break stories. We've already got about ten exclusives lined up."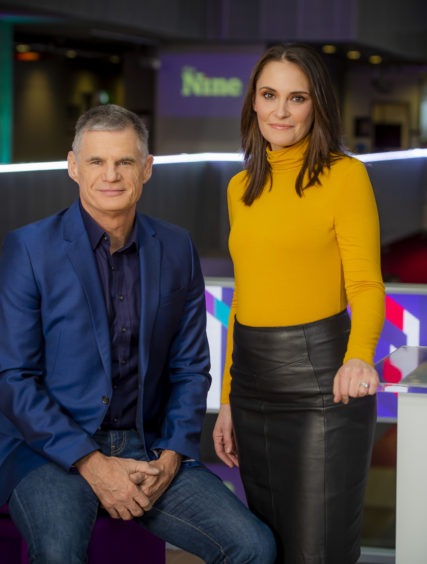 Glancing at his varied CV, John, who was born and raised in Borneo, appears to have experienced several lifetimes' worth of careers.
He made 25 appearances for the Scotland rugby team in the 1980s and has worked in accountancy, but has been a journalist since 1988, making it his full-time career in 1995.
Transitioning from a playing career to punditry is a step many take, but John went a little further, writing a business diary and breaking exclusives for newspapers.
"I quickly realised that I didn't want to be the person answering the questions. There's a lifespan for that.
"I always wanted to be the presenter, so I went away and practised how I would read out stuff. I used to write copy, tape myself and I very quickly realised that broadcast language is very different to newspaper language."
Boosting his chance of success was the fact that he graduated with a degree in engineering with mathematical statistics and economics, and has also been a trained accountant and auditor.
"I like numbers in a world where people don't like numbers," he says. "I'd often sit across from business-people who were lying to me, and I'd be winding up their companies or finding fraud. I always like the discrepancy in patterns. If things don't look quite right then there's a reason.
"I've never thought I'm the world's best broadcaster, but I smell a rat quite quickly."
Although his rugby days are becoming a distant memory – John won his first international cap for Scotland 40 years ago this month – he says he'll never forget the pride he felt pulling on the blue jersey.
He recalls running out at Dublin's Lansdowne Road aged 22 with his proud parents watching on in the stand.
"My rival from Ireland messaged me the other day asking if I remembered it. I will never in my life forget flying to Dublin, still a university student, putting a blue jersey on, and just the pride I felt at the time.
"It's amazing. I've got two kids who have done it too. It's hard to explain, it feels like a lifetime ago.
"Jim Telfer, the coach, used to always say that it's the one thing that no-one can ever take away from you, being capped. I was number eight hundred and something. There are only a thousand Scots who've played rugby for Scotland."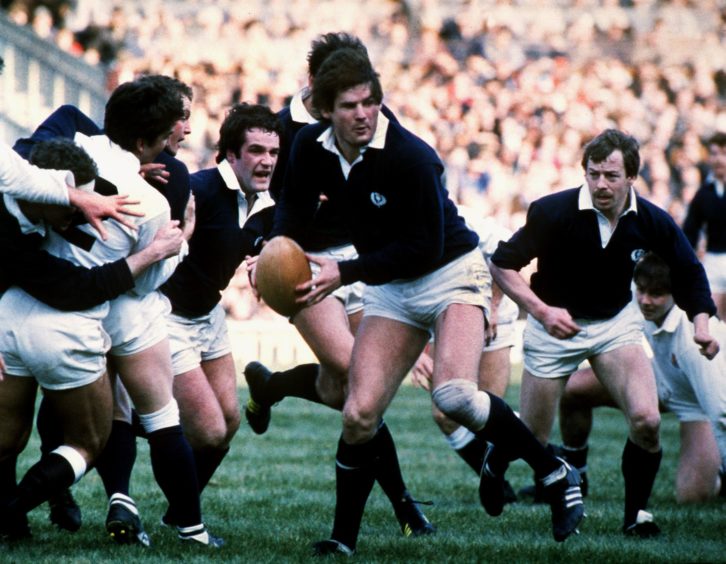 Despite that, it's something he admits to rarely talking about in his current career.
"I don't think I've ever talked to anyone at the BBC about my rugby days!" he laughs. "Fraser Gillan joined The Nine and came up to me after about four weeks and said he didn't know I was a rugby player!
"Most youngsters that work with me don't know. And I still think of myself as a wee boy born in Borneo, who lived on rubber estates until he was twelve."
In rugby, it's a team effort with each player performing their different roles in order to try to win the game. And it's a similar process working in news.
"We're all in teams," John explains. "I'm in The Nine team, part of the BBC Scotland News team. I'm in the radio news team and also the Reporting Scotland team. We're in the general BBC team.
"I always say to the youngsters not to get cynical, it's too easy to get cynical in life about your work. You have to turn up and love work and love being in that team.
"I am only as important as Julie and Siobhan who are producing. I'm also in the same team as the audience trying to help them understand things like why a particular person is lying to them."
The latest team John has joined is that of BBC Scotland's The Nine. He took on presenting duties for the news show on Friday nights when the new channel launched, alongside Laura Miller.
"I'm way too old, but love The Nine! It's one of the things I've been proudest of in my life.
"I stand there on a Friday night and look at the people around me like Laura Miller, who's doing Reporting Scotland, who is fantastic.
"She's one of the best broadcasters the country's ever seen. I'm really pally with [her predecessor] Jackie Bird and I think she'd agree.
"I feel really lucky. My wife gets really annoyed because I wake up every morning happy.
"There are days when things go badly, you come off air and think that wasn't the best I could do. One day I'll be sacked but it's not this week!"
---
John Beattie hosts Radio Scotland drivetime, starting Monday from 4pm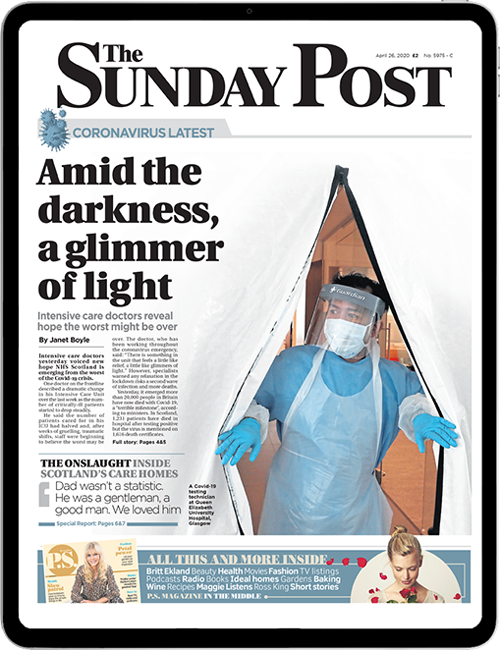 Enjoy the convenience of having The Sunday Post delivered as a digital ePaper straight to your smartphone, tablet or computer.
Subscribe for only £5.49 a month and enjoy all the benefits of the printed paper as a digital replica.
Subscribe