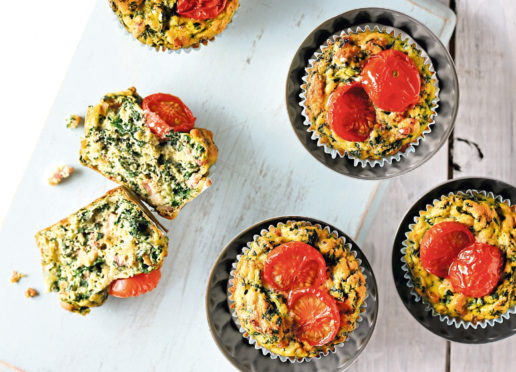 You'll need
3 tspn coconut oil
10 rashers bacon, chopped
1 small onion, finely diced
1 garlic clove, finely chopped or crushed
200g frozen spinach, defrosted
5 med eggs
30g coconut flour
1 tspn baking powder
Freshly grated nutmeg
12 cherry tomatoes, halved
Salt and pepper
Method
Preheat oven to 180C and line a 12-hole muffin tin with paper cases.
Put coconut oil in a pan over a medium heat and fry bacon for about three mins. Add onion and garlic, cook until golden brown.
Squeeze the spinach, chop and mix with the eggs, coconut flour and baking powder. Add fried onion and bacon, mix, season with salt, pepper and freshly grated nutmeg.
Divide between the muffin cases, putting two cherry tomato halves on each. Bake for 20 mins.
Cool briefly, before taking muffins out of the tin and serving warm.
---
The Keto Cure by Professor Jurgen Vormann with Nico Stanitzok, Modern Books, £14.99