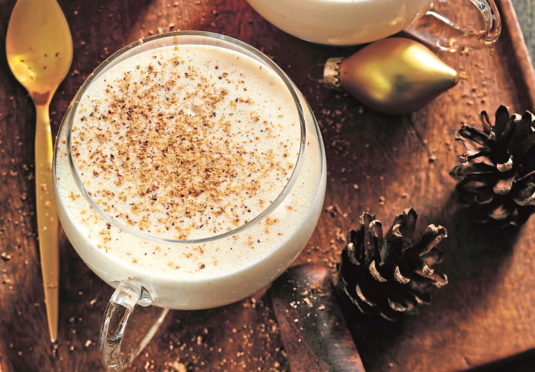 Thanks to eggrecipes.co.uk for this delicious festive recipe.
You'll need
300ml milk
150ml double cream
1 vanilla pod, split
1 cinnamon stick
3 large British Lion eggs, separated
75g caster sugar
175ml dark rum or Bourbon whisky (optional)
A little freshly grated nutmeg
Method
In a pan, combine milk, cream, vanilla pod and cinnamon. Bring to the boil. Set aside to cool and infuse for 30 mins.
Place egg yolks and 50g of sugar in a bowl. Whisk until pale, fluffy and leaving a trail.
Remove spices from the milk, slowly whisk into the egg mix, add alcohol. Pour into a jug, cover and refrigerate overnight.
When ready to serve, whisk egg whites in bowl until foamy. Add the sugar and whisk until soft peaks form.
Fold the egg whites into the milk mix, then ladle into glass tumblers. Sprinkle with a little more grated nutmeg before serving.