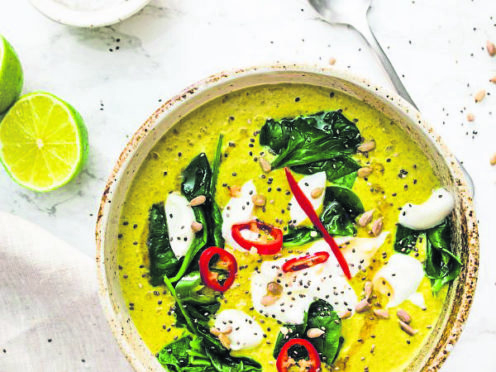 Thanks to maplefromcanada.co.uk for this delicious recipe!
You'll need
1 onion, diced
2 cloves garlic, finely chopped
25g ginger, finely chopped
1 large red chilli
1 tspn turmeric
200g red split lentils
1 litre veg stock
1 tspn garam masala
1 tbspn pure maple syrup
500ml coconut milk
1 lemon
Coconut yoghurt (dairy free)
200g baby spinach
Black sesame seeds
Method
Cook diced onion until soft. Add the garlic, ginger and chillies and cook for another two minutes
Add turmeric and garam masala. Stir in the lentils and pour over the stock. Cook for 20-30 mins, or until the lentils begin to break down.
Add the coconut milk and maple syrup, bring the mix to the boil then take off heat and liquidise until the mixture is thick, but pourable.
Wilt the spinach and stir into the soup. Garnish with sesame seeds, chilli and yoghurt.