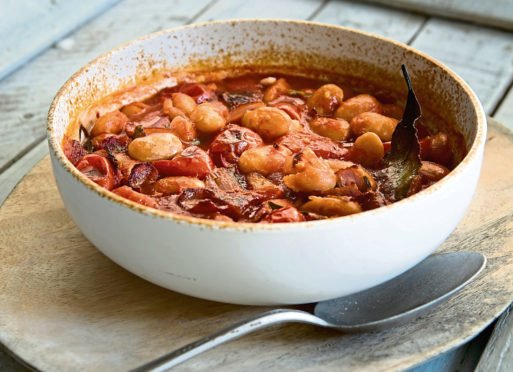 This recipe is from Dining at Dusk, Stevan Pal, Murdoch Books, £20.
You'll need
2 onions
1 garlic clove
4 tbsp olive oil
1 tsp raw sugar
1 tsp tomato paste
1 bay leaf
4 sprigs fresh marjoram
½ tsp dried oregano
1 tin butter beans (425g net weight)
1 tin diced tomatoes (425 g net weight)
100 ml (½ cup) vegetable stock
2 tbsp mild ajvar capsicum (red pepper) paste
Salt
Method
Preheat the oven to 220°C (430°F).
Peel and finely dice the onions, then peel and mince the garlic. Heat the olive oil in a saucepan and sauté both until soft, about 4-6 minutes.
Add the sugar and stir to dissolve.
Stir the tomato paste into the softened onions.
Add the bay leaf, marjoram and oregano.
Drain the beans and toss with the sauce.
Stir in the diced tomatoes, stock and ajvar. Season with salt and simmer, uncovered, for three minutes.
Transfer to an ovenproof dish and bake in the preheated oven for 20-25 minutes.