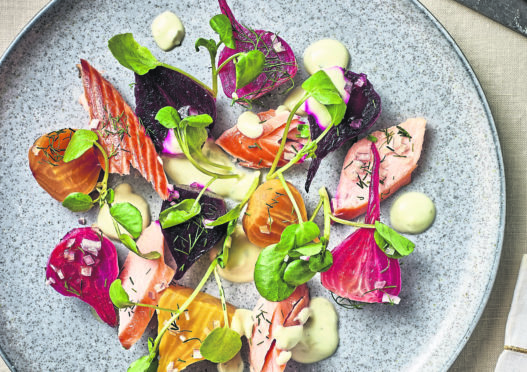 Thanks to Raymond Blanc and Saint Agur for the recipe.
You'll need
For the beetroot salad:
480g small beetroots, cooked and peeled
½ shallot, chopped
2 tsp balsamic vinegar
2 tbsp extra virgin olive oil
1 tbsp water
2 pinches sea salt
2 pinches black pepper, freshly ground
For the dressing:
100g Saint Agur blue cheese
100ml crème fraîche
1 pinch cayenne pepper
1 squeeze lemon juice
2 tbsp water
To serve:
120g hot-smoked salmon
¼ bunch dill sprigs
Peppery salad leaves
Method
Mix the beetroots with remaining beetroot salad ingredients. Taste and adjust the seasoning if necessary.
For Saint Agur dressing, whisk all dressing ingredients together until evenly combined. Taste and adjust the seasoning.
Divide the beetroot salad into four bowls. Break salmon into generous flakes and scatter over each.
Spoon the Saint Agur dressing over and around the salads and garnish with dill. You can also add peppery salad leaves to finish.