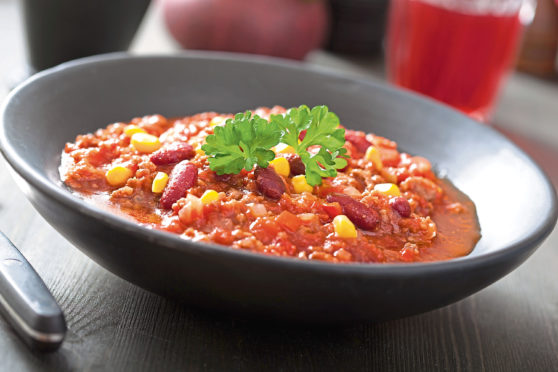 Thanks to nutrachek.co.uk for this delicious and simple recipe.
You'll need
Frylight
2 red onions
1 red pepper, deseeded
1 yellow pepper, deseeded
200g mushrooms, sliced
1 sachet chilli con carne recipe mix
400g can chopped tomatoes
1 tbsp of tomato puree
1 reduced salt veg stock cube
400g can mixed bean salad in water, drained
300g Quorn mince style pieces
Fresh coriander to serve
Method
Place a large casserole pan on the hob over a medium heat. Spray with frylight and cook the onion for 4-5 mins until starting to soften.
Add the peppers, mushrooms and chilli con carne seasoning and cook for 5 mins, stirring regularly.
Stir in the chopped tomatoes, tomato puree, stock cube and 250ml of water, bring to the boil, reduce the heat and simmer for 5 mins.
Add the drained beans and Quorn mince, stir thoroughly and allow to simmer for 10-15 mins until heated through and all the flavours blend.
Garsh with parsley, and serve immediately or portion out into tubs to save for later.