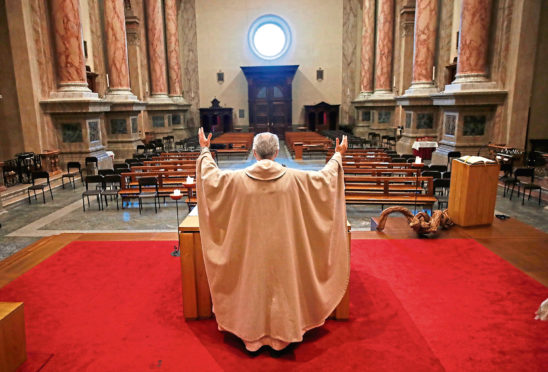 Traditionally, today would be one of the year's busiest in Scotland's churches. Not this year, however, as the lockdown continues.
But just how does a crisis like the Covid-19 pandemic influence faith? Will it lead to more people turning to religion or will people of faith have their belief in God tested by such times of strife?
Rev Dr Doug Gay is a lecturer in practical theology at Glasgow University and an ordained Church of Scotland minister. The answer, he says, lies with how each of us reacts as individuals.
"If you look at other precedents, like the world wars, when people faced great suffering, it seems to have affected people differently," he said. "Some people lost their faith completely because of the pain they witnessed, whereas other people found faith.
"The way I look at it is there is a huge solidarity in confronting suffering. None of us has answers or explanations – we can describe how it's happening but we can't explain why it's happening, and that can feel unbearable to people. That's a question not even scientists or doctors can answer.
"Although there are unanswerable questions, they are the ones we all ask and that is what takes us into the realm of religion.
"That's where these big questions begin, about the meaning of life and of coping and suffering.
"For thousands of years, that's where people have dealt with these questions. I would say Christianity does have resources to respond to and understand this.
"The whole question of why God should become human and die on a cross is in some ways completely puzzling. If he is all powerful, why do we need to see him suffer and be weak with other people, and that's the paradox at the heart of Christianity.
"People might say it's not for them, but there is something about that paradox that speaks to people's need to keep believing. With this pandemic, some might say, if there is a God, why is He allowing this to happen? That's the big question for Christian faith.
"On the other hand, many people of faith are feeling God is somehow with them through this, including those who are ill or grieving. Christianity has a long tradition of helping people respond to times of tension, but not everyone is convinced by it. But it has endured over 2,000 years."
With religious venues closed, clergy have turned to other ways to spread their messages, including social media, television and radio. This has perhaps led to previously non-religious people tuning in. "It's anecdotal, but colleagues in the Church of Scotland say there are more people tuning in to the online services," Rev Gray said.
"People can choose to listen from the edges, linger on it, be potentially persuaded or helped. Others might say, 'I'll give you 10 minutes of my time,' We won't know the full pattern until research is done once we're through this."
As well as online, there has been a huge increase in religious TV programmes in recent weeks, with the BBC announcing a swathe of faith-based shows. One which has already proved popular is BBC1 Scotland's Reflections At The Quay on Sunday mornings. On today's episode, the Moderator of the Church of Scotland and the Catholic Church's Archbishop of Glasgow jointly preach an Easter address.
Two clergy who have already appeared on the show say it's a valuable way to connect with congregations.
Rev Jane Howitt of St Rollox in Glasgow said: "You really can't underestimate what it means to be able to switch on your TV and participate in an act of Christian worship when you've been socially distanced from your own church fellowship for a number of weeks.
"It's great for the two biggest denominations in Scotland to be able to prepare and lead worship together.
"It's good to focus on what we share in common – and a love for Jesus and a deep care for people bind us together."
Father Dermot Preston of St Aloysius Parish in Glasgow added: "Church services differ in their structure, but Christians all share the reverence of the Bible.
"One of the good things of the past 60 years is Christians now happily share hymns. In the studio, you hope people will be humming or singing along with you in their homes.
"A congregation of the Holy Spirit, dispersed by a virus, but brought back together by the wonders of television… The Spirit would be delighted!"
Meanwhile, in an Easter message from the Catholic Church's Bishops' Conference of Scotland, there was optimism for the future as they thanked those on the frontline.
"Though many uncertainties lie ahead, our hope and determination to recover the lives we lived is strong."
The statement offered prayers for the world's medics, adding: "We pray, too, for the researchers around the world working to develop a vaccine, and for our political leaders.
"May God bless you all and our world this Easter."
---
In that deep moment, when they talk about their real fears, it is a privilege to be there with them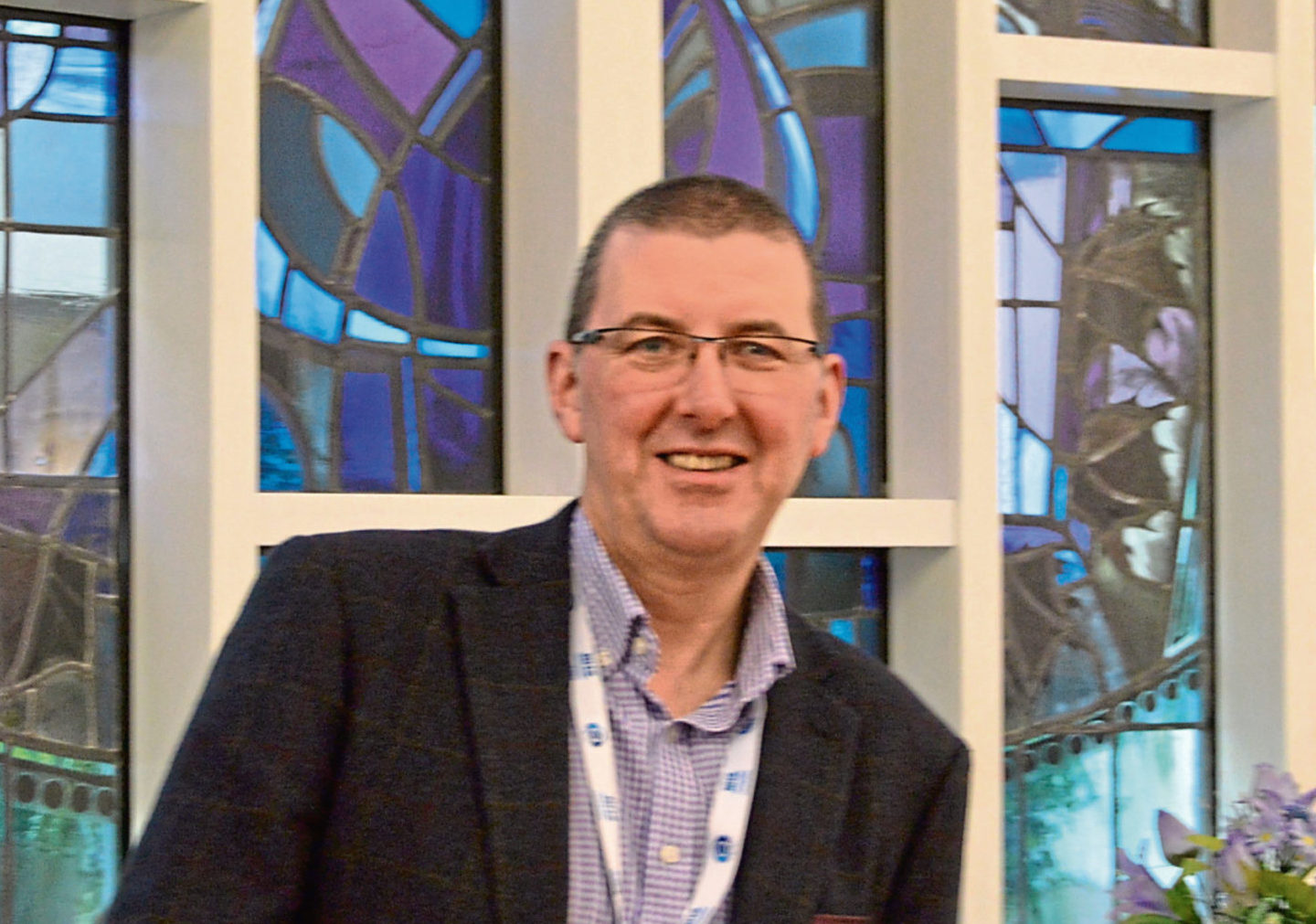 They are a small battalion on the frontline in NHS Scotland's war on coronavirus: the men and women of faith helping patients, families and hospital staff.
The chaplains, who work across all 14 of Scotland's NHS Health Boards, serve all faiths and none. And in this crisis they are having to find new ways to do that.
Paul Graham, 59, head of Spiritual Care & Wellbeing at NHS Lanarkshire, and his 14 chaplains cover the university hospitals of Hairmyres, Wishaw and Monklands.
Paul, who has a background in IT, says that in days of lockdown and isolation, there is a greater reliance on technology. He said: "It is incredible to watch 83-year-olds FaceTiming folk. Some of our support has been as practical as showing patients how to download an app.
"If we are going into a ward where there are coronavirus positive patients, there is appropriate personal protection available to use.
"Alternatively, we have a sheet of instructions on how to install this stuff. The nurses hand it to patients and we talk to them on speakerphone from outside the room.
"Those who have tested positive have a feeling of, 'Am I going to be the one that dies, the one that is one of the numbers?' No one can say, 'Yes, you will or no, you won't'. There is that unknown factor.
"Our task is not to fix people, it's about asking what are their greatest fears in the event of the worst outcome, and what would they want to do. In a situation where they feel they have no control, it helps them to get a bit of control.
"There is something in the Scottish male psyche; working with guys facing death, it's like a whale at times – when they take in a gulp of air, they can go into a deep place and talk about deep things. And then they come straight back up to the surface for fresh air and start talking about football and telly.
"But in that deep moment, when they have gone in to talk about their real fears, what they dread or what their hopes are, it is such a privilege to be there with them."
The chaplain said, in line with government guidelines, end-of-life hospital visits are classed as "essential".
He explained: "We do this carefully. So if someone is coming in – say a priest – we have prepared briefings on infection control, how to put on PPE, what is expected of them, what we would recommend when they get home, such as like launder their shirts and trousers, that type of thing.
"For family members, it is about being guided by the professionals looking after the patient. On some wards it will be the full gear, gloves, gown, masks and goggles.
"I feel for families. We had a relative from down south who was on the phone because of the travel restrictions. They can't be with loved ones at the end of life. That is going to bring complex grief reactions later on."
Dealing with suffering and death is nothing new to chaplaincy. NHS Lanarkshire's head chaplain admitted: "Sometimes it gets to our core and there is nothing we can do but go to a sanctuary space and weep ourselves."
But there is back-up.
"We have been developing a peer support network for staff and have trained about 100 folk who have the listening skills and who are probably the ones the team member would turn to naturally," he said.
The chaplain said: "The experience in Italy and Spain is that once it gets into the peak a lot of staff are reluctant to go home."
He added: "We find people are a bit more appreciative of how they are cared for now.
"The applause on Thursdays for NHS staff has them bowled over. I spoke to a number who were in tears at the response. It was such an uplifting thing."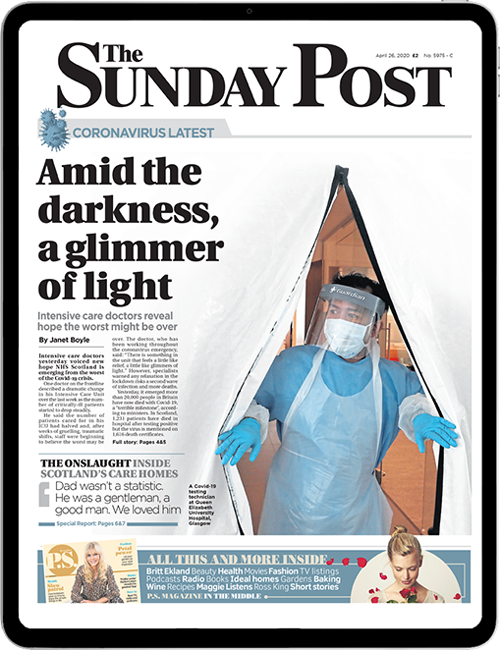 Enjoy the convenience of having The Sunday Post delivered as a digital ePaper straight to your smartphone, tablet or computer.
Subscribe for only £5.49 a month and enjoy all the benefits of the printed paper as a digital replica.
Subscribe