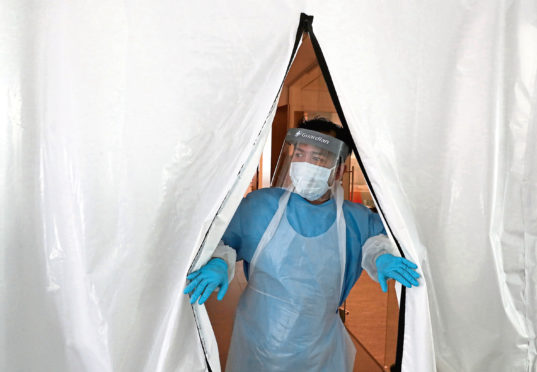 More than 20 leading organisations representing some of the most vulnerable Scots have united to urge the First Minister to stage a public inquiry into the official handing of the pandemic as swiftly as possible.
MSPs voted in November for a judicial inquiry to be launched immediately but Nicola Sturgeon has repeatedly insisted she would not launch an inquiry until the pandemic is over.
A group of 22 respected ­organisations has now written to Sturgeon calling on the Scottish government to begin an inquiry insisting that, after a year of Covid, crucial lessons must be learned now.
Their letter warns the rights of Scots – including disabled people, care home residents, frontline workers, people living in poverty and students – may have been breached by pandemic policies.
Official Scottish government ­figures have recorded 7,508 deaths within 28 days of a positive test. However, there was limited testing available during the first wave and that number is likely to be far higher. Almost 10,000 deaths have been linked to Covid-19, including more than 3,000 in care homes, according to National Records of Scotland.
Brian Sloan, chief executive of Age Scotland, said older people had been disproportionately affected and many had given the charity first-hand accounts of a lack of access to medical treatment, inappropriate use of do-not-attempt-resuscitation orders, and the transfer of Covid-positive patients into care homes.
He said: "We have repeatedly stressed that the only way to ensure mistakes are never repeated is to investigate, identify and learn from them. Now, with the first ­anniversary of lockdown on the ­horizon, we believe this process should begin as soon as possible.
"It's clear that we are still in the middle of this fight against Covid-19 and the national focus should remain on that ongoing recovery, but this cannot wait until we are well clear of it. Work should begin as soon as possible as it's vital this does not get buried and memory is fresh."
Heather Fisken, director of policy and research at Inclusion Scotland, a national disabled people's ­organisation, said: "Disabled Scots can ill afford to wait until the recovery from Covid-19 is over."
She said disabled people had been left unable to get out of bed, had limited access to food, medicines and PPE, and had involuntary "do not attempt ­resuscitation" orders imposed.
Peter Kelly, director of the Poverty Alliance, said the pandemic had tightened the grip of poverty on people's lives and pushed thousands of Scots into poverty for the first time. He said: "It is critical that lessons about our pandemic response – and whether the response fully protected people's rights – are learned now."
Naomi McAuliffe, Amnesty International's Scotland programme director, who organised the joint letter to the First Minister, said: "We are calling on the First Minister to confirm the timetable for a public inquiry into Covid-19. Capturing important data about decisions made and measures taken in real time is vital not just for transparency but to help inform future policy as we rebuild post-Covid-19. The health and wellbeing of this country depends on it."
MSPs voted in November for an immediate public inquiry into care home deaths after we revealed how Covid-positive hospital patients were moved to care homes during the first wave. Thousands of untested patients were also transferred.
However, Health Secretary Jeane Freeman instead wrote to the other nations in the UK inviting them to participate in a UK-wide inquiry, only to confirm a few weeks later she had received no responses.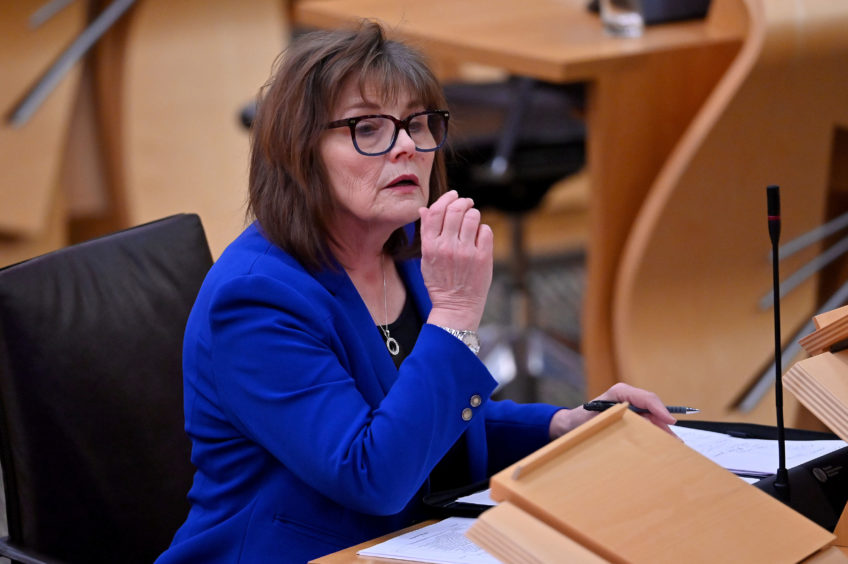 In December, the Equality and Human Rights Commission found evidence that the human rights of care home residents were breached and the public body warned the Scottish government must launch an inquiry in order to comply with equality law.
Responding in parliament, the First Minister said: "My ­responsibility right now is to focus on the immediate challenge of getting us through the next phase of the pandemic."
Asked about an inquiry in parliament in February, Sturgeon said: "For now, I and my ministers will continue to get on with the job of making sure that we are taking the country through this."
Solicitor Kim Harrison, a ­specialist in public inquiry work at Slater and Gordon, said: "It's troubling that the First Minister hasn't set up a public inquiry yet because we've already had a lot of repetition of the failures of the first wave.
"Certainly, I don't see any reason why the First Minister can't begin to put in place a public inquiry sooner rather than later.
"An inquiry chair could be ­nominated at this time and terms of reference could be drawn up. A lot the preparatory work could be done now. I don't see much benefit in waiting."
Peter Riddell, a former ­journalist who was one of three panel members on Sir Peter Gibson's three-year inquiry into the alleged involvement of UK security agencies in torture and mistreatment of terror suspects, also said the inquiry should begin now, adding: "What you want from a Covid inquiry is to swiftly determine the lessons to enable us to handle outbreaks better in future."
The Scottish government said: "We have been clear that there will be a public inquiry in the fullness of time, but we are still in the midst of the pandemic, and setting up a public inquiry with the full powers it needs is a complex issue which will inevitably take some time.
"But we do not need to wait for a public inquiry to learn lessons, we take with the utmost seriousness the duty on government to do all we can to protect people, especially the most vulnerable. Saving people's lives has been and will continue to be our priority throughout the coronavirus pandemic.
"For the workforce in our care homes, still operating under pressure in response to Covid, delivering care services and supporting the health and wellbeing of residents must continue to be the immediate priority."
---
The letter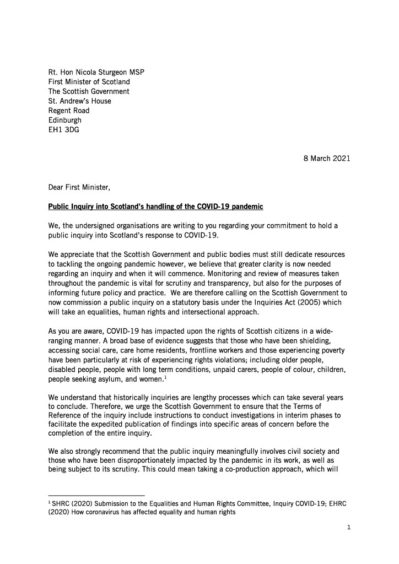 The letter to First Minister Nicola Sturgeon demands a timetable for the public inquiry called for by MSPs last year.
Organisations representing the elderly, disabled people, women, ethnic minorities, people in poverty and students, say their patience has run out.
They say they recognise that the Scottish government and public bodies must still dedicate resources to tackling the ongoing pandemic but demand greater clarity about when the inquiry will begin and what it will cover.
The groups suggest the inquiry carries out investigations into specific areas of concern in interim phases which will offer recommendations before the completion of the entire inquiry.
The letter states: "Specifically, we call on the Scottish government to ensure the inquiry examines as a priority, potential failings to uphold rights enshrined in the European Convention on Human Rights and international human rights treaties ratified by the UK of those resident in care homes; frontline health and care workers, women, children and young people, disabled people, people of colour, and those experiencing homelessness and insecure housing."
Amnesty International UK took the lead on compiling the letter to the First Minister and cosignatories include Age Scotland, Engender, Equality Network, Inclusion Scotland, the National Union of Students, Poverty Alliance, Scottish Refugee Council and the Health & Social Care Alliance Scotland.
---
The issues
The charities' letter lays out a series of questions to put to a public inquiry into the official handling of the pandemic, including:
Were the rights to health and life of care home residents breached?
Were the rights of frontline workers breached by a failure to provide adequate PPE?
Were women unable to work because of school closures and childcare restrictions.
Were the students' rights breached when they were told to return to university?
Were the rights of those left without essential social care support breached?
Were the rights of teachers breached by the return to face-to-face teaching in school?
Were homeless people given the right to adequate housing?
Were the rights of Black, Asian, and Minority Ethnic people breached?
Were women's rights breached by changes to screening and maternity care provision?
Were emergency government powers adequately monitored?
Were the rights of prison officers and inmates breached?
What actions must be taken to ensure we learn from people's experiences during the pandemic to mitigate against and prevent them in future?
---
The signatories
Amnesty International UK
Age Scotland
ALLIANCE: Health and Social Care Alliance Scotland
Bridges Programme
British Institute of Human Rights
Close the Gap
Engender
Equality Network
Friends At The End
Forth Valley Migrant Support Network
Howard League Scotland
Human Rights Consortium Scotland
Humanist Society Scotland
Inclusion Scotland
JustRight Scotland
Making Rights Real
NUS Scotland
The Poverty Alliance
Scottish Independent Advocacy Alliance
Scottish Refugee Council
Together (Scottish Alliance for Children's Rights)
Deafscotland
---
Lessons must be learned from where things went wrong
By Naomi McAuliffe, Amnesty International's programme director in Scotland
Organisations acting for health and social care, frontline workers, disabled people, those living in poverty, students, children and young people, women's rights and the rights of refugees and asylum seekers have all seen first-hand the catastrophic impact the pandemic has had.
Scotland and the UK has one of the highest death rates from Covid-19 in Europe and, over a disturbing weekend in January, the UK had the highest death rate in the world, according to Oxford University research.
Questions have been raised about the removal of patients from hospitals to care homes, some who had tested positive for the virus; about the availability of PPE for essential workers; the lack of social care support; the effectiveness of the test and protect system; the treatment of students in university accommodation; the confusing messaging and constant changes to regulations. These are just some of the issues that must be investigated, the truth established, action taken and lessons learned.
Some may think now is not the time and, although mindful of the resources needed for an inquiry, we must find out where things went wrong in order to rectify them. It is likely we will be living with restrictions for some time and there will be other crises, which is why we must learn lessons from this experience – and fast.
---
Inquiry must be open, independent, fair – and short
by Alun Evans, Former Scotland Office head
The problem with complex public inquiries is that they can last years and years. I would say to the Scottish government what you need is an open, independent and fair inquiry which weighs up the evidence on both sides within a sensible timeframe.
The foot and mouth inquiry was chaired by Iain Anderson who was determined it should be completed within a year. We had that deadline to work to and we stuck to it.
For the Covid inquiry you have to find a chair who is willing to do the same and who has all-round competence, rigour and urgency and won't take no for an answer.
I don't know why the First Minister has yet to agree a chair for the inquiry. I can't see the downside in her at least giving a direction of travel.
The danger is that a Covid inquiry would go on and on. It has to be wide enough and vigorous enough to generate public acceptance. However, most reasonable people will not want a potentially lengthy Iraq-style inquiry that lasted seven years, or a Bloody Sunday-style inquiry which lasted over ten years.
There is a balance between getting sensible lessons learned and getting the most important practical recommendations out as soon as possible to improve the operation of the Scottish system for the future. Although history won't repeat itself exactly, it may often repeat itself in different ways.
So conducting investigations in interim phases is a good idea, for example to first look at the way in which hospital patients were moved to care homes because that is certainly a big issue, if not the biggest.
Alun Evans worked on the foot and mouth disease inquiry in 2001 and was head of the Scotland Office from 2012 until 2015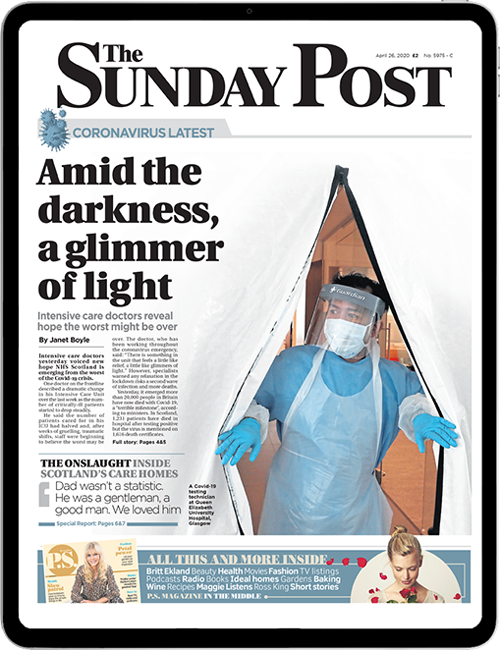 Enjoy the convenience of having The Sunday Post delivered as a digital ePaper straight to your smartphone, tablet or computer.
Subscribe for only £5.49 a month and enjoy all the benefits of the printed paper as a digital replica.
Subscribe