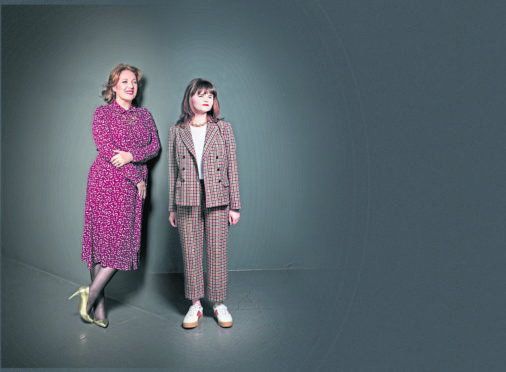 One is a young student, the other is middle-aged, but these women share an unenviable bond.
Margaret Davis, 57, from Lanark, and Shannon Morrison, 22, from Harris, both suffered a spontaneous coronary artery dissection (SCAD), a rare heart condition that can't be predicted or prevented.
According to Chest Heart & Stroke Scotland, it is a tear in an artery wall in your heart that allows blood to build up in the space between the layers of your artery wall.
This leads to a reduction or blockage of blood flow to your heart, and can cause cardiac arrest. There is no official reported cause but some experts say they can be associated with female hormones, connective tissue disorders, pregnancy and post-partum, extreme emotional distress or exercise.
Around 90% of SCAD victims are females, aged 44 to 53, but it can happen as young as 18, according to the European Society of Cardiology.
Living in constant confusion about whether it could happen again or why it even happened in the first place, Margaret and Shannon have found support in the BeatSCAD help group set up by other survivors.
The group is now campaigning for better diagnosis and treatment for SCAD. They are also telling their stories in a bid to raise awareness of the condition.
This article appeared in No.1 Magazine
---
Margaret's story
My SCAD happened after I fell down an embankment in the Lake District. I badly dislocated my elbow. One plaster cast at Royal Lancaster Infirmary later, and I was back in the holiday cottage feeling fine.
The next morning I collapsed as an artery in my heart burst open. My husband, Stewart, is a police officer and quickly called 999. When the ambulance arrived, the paramedics spent a long time trying to revive me. Eventually, the team were able to stabilise me. However, I was so incoherent when I woke up that my husband thought I had suffered a stroke. I had no pain but felt very sick and didn't know where I was.
The paramedics promptly took me back to Royal Lancaster Infirmary. When I got there I was told that I had suffered a heart attack, and the team needed to get me to Blackpool Victoria Hospital. I remember thinking, 'A heart attack – how can that be possible?' I was fit, healthy and had no previous heart problems.
I was taken straight to the operating theatre and later for a chest x-ray. Although it came back clear with no blockages, I had to spend a few days in intensive care. I was in complete shock. The surgeon then told me about Dr Wood at a hospital in Leicester who was currently researching a lot about SCADs. The doctors also contacted my local hospital in Scotland and arranged for the cardiac rehab team to help me.
No one knows for certain what causes a SCAD. I don't have coronary heart disease, high blood pressure or high cholesterol problems, the artery just randomly or spontaneously burst. There are no symptoms and there is no cure. If you have a heart attack, medics will help your recovery by working towards things like lowering your blood pressure or addressing cholesterol problems, but there is nothing for women like me.
I have spent the last year fighting for my health. I basically went through a journey of learning how to live with a condition that most doctors don't know about. I was so weak and, for the first time in my life, I became totally dependent on others. I spent 10 days in the coronary care unit and then travelled home, still recovering from the accident and in plaster while trying to work out if what I was feeling was 'normal'. Any time I felt a pain I kept wondering 'Should I go to A&E?' but I didn't want anyone to worry.
I suffered from a lot of medical issues and my self-esteem took a big hit. I still sometimes get heart spasms, which feels like cramp in your heart. My hair also fell out, my skin felt paper thin and my nails kept breaking. However, I count myself lucky as many women don't survive a SCAD.
I also soon realised that being referred to cardiac rehab doesn't always happen. This is because they're tailored for those who have a 'typical' heart attack. I got referred quickly because the hospital in England called ahead, however for others there can be a 12 month waiting period. Shockingly there are no specialist SCAD clinics in Scotland. So many women aren't getting the level of help that they need because their type of heart attack doesn't qualify for rehab.
From my first appointment, I really benefited and I want this to be the case for everyone. Prior to my SCAD, I was active and loved boxercise, yoga and going hillwalking, but afterwards I was frightened to move. Rehab helped me to get my confidence back and allowed me to talk freely when I had a 'bad' day. The nurses soon got me dancing again to my favourite bands – Bon Jovi and Ocean Colour Scene.
For me, finding the BeatSCAD community was a real turning point. I've met up with 15 other Scottish women who have survived a SCAD, all the way from Benbecula and Harris to Glasgow and Coldingham. It wasn't just about the practical advice, it was the sense of not being alone in this anymore. It is vital we try to raise more awareness on this issue. We all need to recognise that heart attacks don't just happen at a certain age or to a particular person. It is also important that all doctors are trained on how to spot a SCAD because it gives us more of a chance to survive. The quicker we are treated, the quicker we can protect our hearts. In fact, research suggests that 50% of all cardiac events in childbirths are SCADs yet we are not all eligible for cardiac rehab. We would love treatment centres here in Scotland. Monica Lennon MSP has been a great help and is backing us along the way.
We just don't know if it will happen again as it is spontaneous. It's all a guessing game. The closest theory that healthcare experts have to why it happens is called 'a perfect storm'. Female hormones are potentially involved, extreme pain can be linked and/or a life changing event could cause it, but we're just guessing.
However, we try not to live in fear. We have lives to live. No, I don't know what the future holds but I'm now on a different path with new people, priorities and experiences and I'm so excited to see where it goes. I didn't die, I'm still here to live life.
Shannon's story
I was lying in bed with my boyfriend, Calum, one evening two years ago when it happened. It was a particularly hectic time for me because I was coming to the end of my college course. I had left my hometown on the Isle of Harris and was studying in Glasgow. My dissertation deadline was approaching, so we were just scrolling on our phones trying to relax. That's when I got an excruciating pain across the crook of my arm and through my chest.
My boyfriend turned to ask if I was OK but I was slumped across the bed. I had no idea what was happening but I knew that no matter which way I turned, breathed or sat, the pain wasn't going away.
After googling symptoms, I came across the words 'heart attack.' I completely batted the idea away and decided to call my dad. I initially thought he would just say I was being dramatic.
However, he told me to pack a bag and head to Glasgow Royal Infirmary immediately. I felt quite embarrassed though when I got to the reception desk, I thought they were going to think I was wasting their time. As I was called through, I told Calum I would be back soon. However, I had to get so many blood tests taken that they even had to use the arm that was in pain. By now, the panic was starting to set in.
I was asked numerous times if I had taken drugs. Questions like, 'Are you sure you haven't taken cocaine?' or 'Do you like to party a lot?' were flying around. It was unfair.
According to one of the nurses, I was the youngest in the ward by over 20 years. At one point, there was even discussion about where to put me. I was too old for the children's ward but also half the age of the next youngest on the adult's heart attack one. I couldn't help but feel totally isolated and disconnected from reality.
After one week of countless ECGs, daily injections in my stomach, an MRI and blood tests, I was finally allowed home. They ruled it as Myocarditis (inflammation of the heart muscle) and that would be it over. But the recovery was only the beginning. My body was so sore and I couldn't do anything for myself, I couldn't shower, lift a kettle or even turn on a tap without help. It was so bad I couldn't leave my flat and soon enough I was kicked out of my college course for poor attendance.
This sent me on a downward spiral. I was so lonely, staring at the same four walls day in and day out, and eventually my SAAS payments stopped too. This meant eviction was looming while I was on the other side of Scotland to my family. My dreams of going to university were crushed as I was unable to complete my college course. My life totally changed in a matter of weeks but my friends were celebrating because they'd finished their courses. I just couldn't believe my young body had betrayed me.
Seven months later, I got some answers. I received a letter explaining that my scans had been sent to a hospital in Leicester and they reported that my heart had a SCAD. Basically that means the artery walls spontaneously or randomly tore themselves apart and this caused a heart attack. They explained it was unlikely to happen again but it meant I had to stop a lot of things in my life – I couldn't exercise, have energy drinks and my migraine tablets were taken away. I was also informed the contraceptive pill would be too risky to take. However, I've also been told that if I get pregnant that it could kill me. What am I supposed to do? Have I to abstain for the rest of my life?
It is hard to get my head around the fact that I've had a heart attack at 20. I felt like a scared child trapped in an elderly body and, as a result, developed Orthorexia. I was afraid that if I consumed anything other than oats, tomatoes or mackerel I would die. I lived on 1,200 calories a day and the same three meals every day. I became underweight, exhausted and depressed. My friends were hardly contacting me because I wasn't 'fun' anymore and my mum was desperately trying to get me to eat anything she could. In my head, I had to create the perfect heart diet.
It was only once I lost most of my muscle mass that I realised how much I was punishing myself. Instead of nurturing my body, I was actually causing more damage. That was my turning point, I knew I could no longer live in fear of potentially having another heart attack. I remember writing down in my journal: 'Take the steps today that future you will thank you for'. I've tried to stick by that rule ever since.
It was hard at first, especially as I lost confidence when I was unable to complete my college course. I don't think I received the support that I needed at the time and it felt like people were turning against me over something I had no control over. I hope I can help change that perspective with my story and more people become aware of SCADs. It has taken two years of consistent determination for me to get accepted into a university course.
I'm originally from the Isle of Harris and it scares me to think what would have happened if my SCAD occurred there. My mum says she is so grateful that I was in Glasgow at the time. In fact, I actually know someone else that had a SCAD on the Isle of Uist. She was my geography teacher at school. The chances of knowing someone personally who has also had a SCAD are so small, but for them to also come from the Outer Hebrides is crazy. Something that we are often told is 'You'll never meet another SCAD survivor' but our BeatSCAD group are determined to prove them wrong.
However, the after care is still incredibly frustrating. I don't have a cardiologist because I'm supposedly not entitled to one and I have had no follow up after my SCAD. I think there is this whole mind set of 'Oh she's young, she'll grow out of it and be fine'. I want to show people that just because you're young, it doesn't mean that you are completely invincible. I think that is why it took me so long to be diagnosed. Plus, there is absolutely nothing to show that this won't happen again – to any of us.