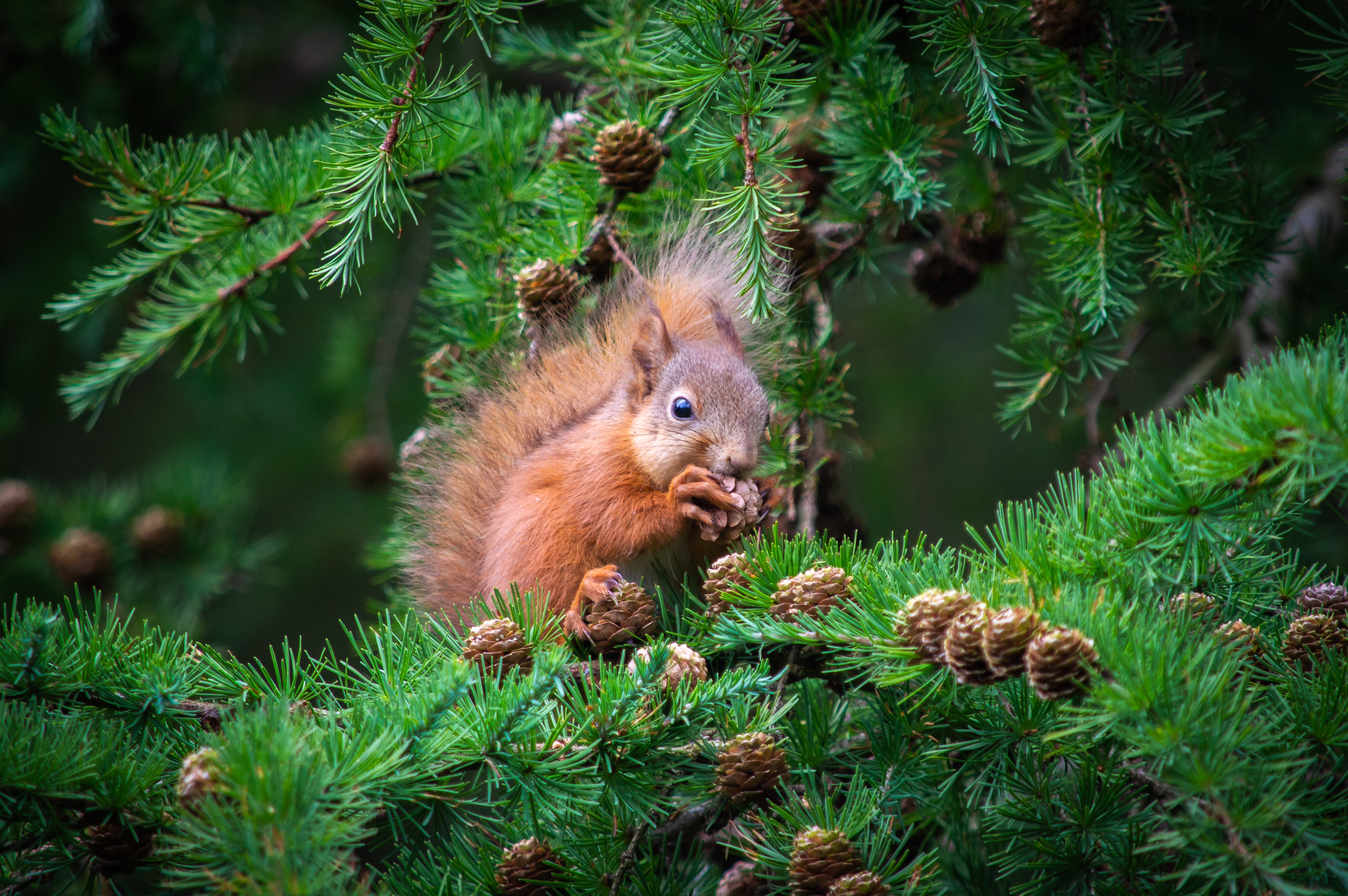 It's hard to believe that there could be a haven for red squirrels so close to Dundee city centre. Increasingly our wildlife is being squeezed out, yet that city is one of few to have a thriving red squirrel population.
The road to this sanctuary heads out through a sprawl of new housing estates on the city outskirts and continues between small villages past a beautiful 56-hectare mixed woodland, a popular venue for dog walkers, which is owned by the Woodland Trust.
It's a wooded habitat of enormous value for its diverse fauna and flora which joins an equally valuable 1.6-hectare sanctuary, owned by Jimmie and Rosie Reid.
They built their house on the edge of the wood more than 20 years ago, and since then they've worked ceaselessly to nurture the red squirrels and other wild creatures with which they share their lives.
Jimmie greets me warmly.
"Rosie is waiting for you. She's very excited and pleased you could come."
He shows me into her immaculate room. A vast television sits beside an even bigger French window looking straight out into the garden. This is Rosie's window on the wild.
Some days, roe deer come on to the decking to nibble the plants and seem equally as likely to be watching Rosie. Although mostly bedridden, she greets me effusively. Her warm and vibrant personality and effervescent spark are instantly apparent.
In 1996 Rosie, an active science and biology teacher who adored her work, was diagnosed with a progressive form of multiple sclerosis. Life was about to change rapidly. She knew she couldn't continue teaching in a lab once her mobility was impaired. Undaunted, she took on a new role as a primary school teacher instead.
"I could do that from a wheelchair," she says, "and I had the most wonderful five years before I eventually had to give up. I loved teaching the kids to read and write, and now I frequently smile to myself remembering that sea of eager little faces. It was the best job in the world while it lasted."
Soon after they moved into their house, they realised the surrounding woodland was full of wildlife. They frequently saw roe deer, hedgehogs and foxes, and red squirrels started coming to garden feeders.
"I said to Jimmie, right we need to get a lot more feeders up. We got special ones made so that red squirrels can use them but the larger greys can't. We buy more than half a ton of nuts every year for them."
Both passionate about the natural world, Rosie and Jimmie quickly decided to turn their land into a haven where the red squirrels, in particular, could exist undisturbed.
"They needed our protection as they have so many threats to face," Jimmie says, "not least the encroachment of the non-native North American grey.
"We wanted to create a place where they could join up with other reds and breed successfully."
Since 2006 they have been running the Muirhead Red Squirrel Sanctuary. They initially funded their work by selling calendars of Jimmie's wildlife photographs.
"We sent them all over the world, but now the cost of printing and postage makes it unviable," says Jimmie.
"We are not open to the public because this would be totally against the idea of a sanctuary, and also because we value our privacy. Privacy is also essential for wildlife.
"From time to time, we do, however, bring in small groups of disabled children with their carers as well as some with learning difficulties, so the children can get that little bit closer to nature and be in a safe environment.
"Nature is vital, and we like to teach them to respect and value what we have. A roe doe gives birth in the sanctuary most years. For Rosie, the wildlife is everything and is responsible for keeping her going.
"I built a special walkway made of larch through the middle of the sanctuary so I can take her out in her wheelchair but it's collapsing and needs work. We also had the huge bedroom window fitted some years ago."
When Rosie began to keep diaries of the wildlife she was seeing, Jimmie set up cameras so she could watch them live on-screen when she couldn't get out to see them in person.
"It's particularly good in autumn and winter when it gets dark so early because it means the wildlife is still all around me," says Rosie.
"I go to bed very early but I'm awake in the middle of the night. I can look at the television and see the animals outside feeding. When Jimmie wakes the next morning, I tell him who has visited us. It's a symbiotic relationship, we keep the wildlife going by putting out food, and the wildlife keeps me going."
"We both worry about the squirrels," Jimmie says. "Numbers have fallen. Grey squirrels are a constant problem."
"One of the biggest problems the squirrels face is from dogs and cats," Rosie adds. "They cause numerous deaths and we've witnessed some awful incidents on the cameras. It's heartbreaking because the public is encouraged to come to the wood, but often dogs are out of control and far away from their owners who don't see the damage and disturbance they are causing.
"Though the squirrels are protected, their habitat isn't, and it should be. I get furious about it. Cat predation is huge and they should have bells on their collars. It wouldn't help in every case, but it would save some."
In recent years the Scottish SPCA has been bringing Rosie and Jimmie various new occupants for the sanctuary.
"Animals and birds, including squirrels, hedgehogs and tawny owls, are successfully rehabilitated at their National Wildlife Rescue Centre at Fishcross. It's a high point for us and we love it when the centre manager, Colin Seddon, and his team bring animals for release. We can then report back and let them know how things are going by watching their progress on our cameras."
Jimmie tells me that one particular hedgehog, Babe, that had been hand-reared, became a TV star when millions watched her release in the sanctuary. Recently, Rosie had a particularly joyous outing when Simon Mulholland and his Shetland pony Obama took her along Broughty Ferry beach in a specially designed wheelchair chariot.
Her beautiful, serene face is gleefully childlike as she tells me about this unique excursion.
Outside, squirrels race around Jimmie and I – enchanting red flashes in a sea of ferns. A classic red spotty fly agaric grows close to one of his habitat piles, where other vibrant fungi grow in abundance.
For Jimmie, this place is equally important. While Rosie has told me that the way she copes with her illness is through acceptance, it's far harder for him.
"She is incredible you know," he says. "She's very occupied now writing a book about all this. She never complains about anything."
The momentary silence is broken by a jay's harsh screech from deep within the woodland. A squirrel hops cheekily up onto a pile of valuable decaying wood.
As a team, Rosie and Jimmie's work is making a real difference. And that is what is essential in life. Rosie is also one of the most excellent examples of the power of nature to heal and bring peace.
"Yes," she says, smiling. "I feel one of the luckiest people on Earth."
---
You can donate to Rosie and Jimmie's Red Squirrel Sanctuary, watch wildlife videos, or adopt a squirrel at red-squirrels.co.uk
You can find out more about Scotland's native squirrel and the importance of restoring its woodland home at Polly's upcoming talk, accompanied by world-class images and film footage from Scotland: The Big Picture, at Breadalbane Campus, Aberfeldy, on October 18, 7.30pm.
Tickets £8.50. For more information see www.scotlandbigpicture.com