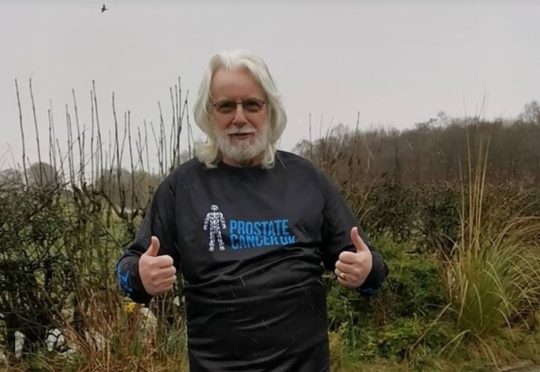 It kills one man every 45 minutes.
The most common cancer in men in the UK, 40,000 new cases of prostate cancer are diagnosed every year, with one in ten men contracting the condition in their lifetime.
So common is the disease, that Fraser Love and his family endured a heart-breaking three of these cases, with the widespread affects only too apparent.
The 61-year-old's father and his brother, George had both experienced prostate cancer, with George sadly losing his life to the condition a few years previously.
So when Fraser started experiencing the same symptoms as his brother and father, he knew prostate cancer was a likely answer.
The father of three and grandfather of two was diagnosed in summer last year. But, in a bittersweet unfolding of events, it was Fraser's father and brother's experience with the condition that ultimately led to his own life being saved.
"Last June I has issues with going to the toilet through the night and slight pains in my side," said Fraser, a self-employed pest controller from Kilwinning.
"I went to the doctors and explained my symptoms and the doctor thought it was a urinary tract infection and just to drink plenty.
"But as I was going out the door I mentioned my dad and brother both had prostate cancer and my brother had died from it.
"If I hadn't said this things could have been different today."
Without any early symptoms, many men affected won't realise they have prostate cancer until much further down the line.
But thanks to the well-known fact men with a family history are more at risk, when Fraser's doctor discovered the other men in his family had been affected, they quickly advised him they needed to act fast, running a number of tests.
"When my MRI results came back late August, the signs were not too good," said Fraser.
"And then came the words no one wants to hear: 'You have prostate cancer.'"
---
Prostate cancer warning signs
Burning or pain during urination.
Difficulty urinating, or trouble starting and stopping while urinating.
More frequent urges to urinate at night.
Loss of bladder control.
Decreased flow or velocity of urine stream.
Blood in urine (hematuria)
Blood in semen.
---
For Fraser's family, including his wife of 39 years, Mary, and three children, it was a heartbreaking blow.
"It was very frightening being diagnosed with the same disease that my brother had died from a few years ago," he said.
"But for my family it was devastating. I think it was harder for them than it was for me."
After his diagnosis, two options were offered by doctors – hormone treatment with four weeks of radiotherapy and further hormone treatment up to two years, or radical prostatectomy. Fraser chose the latter.
"This is where the dark hole I'd been experiencing for weeks lifted," he said.
"There was light at the end of the tunnel."
It was then that Fraser decided to do the Kiltwalk to raise money for Prostate Cancer UK.
"All the information I was given from the hospital was from Prostate Cancer UK and was a wealth of help to me.
"I believe they are trying to raise funds to introduce a screening service similar to bowel screening, which I believe will save more men from prostate cancer.
"If my dad and brother had been offered this maybe their lives could have been saved."
Fraser began his training for the Kiltwalk an inspirational three days after returning home from his prostatectomy surgery.
"From the third day of being home I started my training to the first lamp post from my house, then the second lamp post the next day and so on. At three weeks I was at three miles and just built it from there.
"Six weeks on I am at six miles per day."
Taking place this Sunday in Glasgow, Fraser will do the Kiltwalk with his two daughters Maree and Lynn and will don his brother's kilt in his memory.
"I have been honoured with the chance to wear my brother's kilt for the walk so he will be there to push me on through any of the tough parts of the day," said Fraser.
"Together with my daughters we have raised £1658.78 so far."
The Kiltwalk enables walkers the chance to raise money for any specific Scottish charity of their choice and thanks to Sir Tom Hunter's the Hunter Foundation each Kiltwalker's fundraising receives an extra 40% donation.
Ranging from six miles to 22.6 miles in Glasgow, the walks will also take place across Scotland throughout summer.
Today, Fraser is still in remission, with three monthly reviews to monitor his blood and PSA levels. But he's positive for the future.
"I class myself as lucky. Lucky to have cancer? No. But lucky I mentioned that first day I went to the doctor a passing statement that saved my life."
---
To find out more about Kiltwalk and to support Fraser's fundraising journey visit: www.kiltwalk.co.ukTo find out more about prostate cancer visit www.prostatecanceruk.org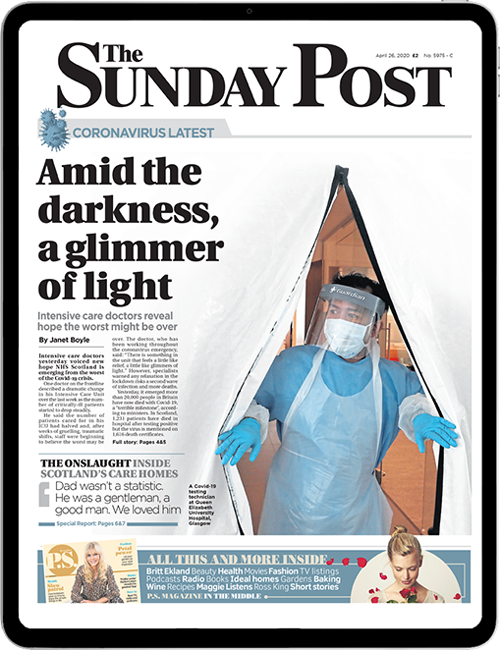 Enjoy the convenience of having The Sunday Post delivered as a digital ePaper straight to your smartphone, tablet or computer.
Subscribe for only £5.49 a month and enjoy all the benefits of the printed paper as a digital replica.
Subscribe