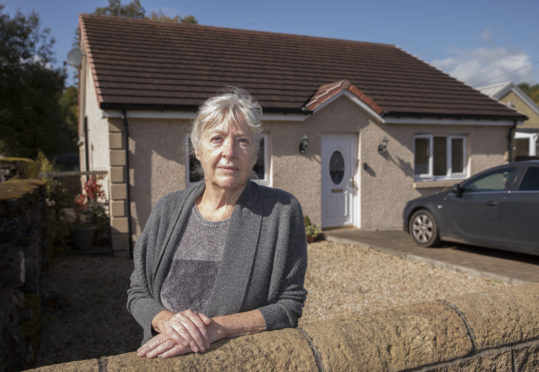 More than 14,000 files are sitting in prosecutors' in-trays as Scotland's justice system buckles under a massive backlog of unresolved criminal cases, we can reveal.
Thousands of police reports sent to the Crown Office and Procurator Fiscal Service (COPFS) are still awaiting decisions on whether or not they should be prosecuted.
The number of cases waiting to be "marked" by prosecutors has soared by more than two-thirds over the past four years.
One of Scotland's leading criminal lawyers said the figures suggested "insufficient staff" and claimed cases that previously would have gone to court were no longer being prosecuted.
The figures show more than 14,000 cases were awaiting a decision on whether they should be taken to court or dropped at the end of the last financial year in March.
They include almost 600 ­allegations of serious assault and attempted murder or other violence and more than 500 ­allegations of rape, sexual assault or other sex attacks.
Nearly 1,800 alleged drug offences remained unresolved, along with more than 5,500 theft cases, including nearly 1,900 allegations of fraud.
Officials admitted the total backlog was even higher after holiday periods, usually as a result of staff absences.
The logjam has grown even though the number of offences reported to the Crown by police has fallen by more than a quarter.
The revelations have sparked claims the prosecution service is "struggling" to cope with its workload because it has been short of funding as a result of government cuts.
The figures also bring further pressure on the head of the Crown Office, Lord Advocate James Wolffe, who faced criticism over controversies including the pace of Fatal Accident Inquiries and decisions not to prosecute anyone over the deaths in custody of either Allan Marshall or Sheku Bayoh.
Figures obtained from COPFS under Freedom of Information laws show the number of cases waiting to be marked soared from 8,471 at the end of the 2014-15 financial year to 14,395 in April 2019, a rise of just less than 70%.
Over the same four-year period, the number of police reports received by COPFS dropped 29% from 253,560 to 180,972.
Insiders say the total number of outstanding cases peaked at more than 19,000 after the Easter holidays this year and was even higher after Christmas last year.
Crown Office officials say the increasing complexity of cases staff had to manage – including serious and organised crime prosecutions and historic sexual offences involving multiple complainers – has contributed to the delays.
The efficiency of Scotland's courts depends on trained lawyers working for COPFS assessing each police report to establish what criminal charges, if any, can be brought against an accused.
The majority of case ­marking is done at specialised hubs where designated lawyers make those decisions, before passing the results back to local courts to deal with.
Brian McConnachie QC, one of Scotland's leading defence solicitors, said: "The statistics would appear to suggest there is insufficient staff to mark cases.
"For both complainers and accused it is important that cases are dealt with as quickly as possible. Otherwise there are potential issues with losing evidence or witness recollections fading.
"People who practise in the sheriff court tell me that, what would previously have been pretty serious matters to be dealt with in the sheriff court, are ­simply no longer prosecuted.
"I would be very surprised if more than half of these cases actually proceed to court. They may instead, for example, be subject to fiscal fines."
Scottish Conservative Shadow Justice Secretary Liam Kerr said: "Even with the SNP's soft-touch approach meaning more criminals avoid the courts, it seems the Crown Office is still struggling.
"That's clearly down to a lack of support and resources from this SNP government.
"If it's the case that the nature of work is becoming more complex, ministers have to be alive to that and ensure this vital agency can cope with the change."
The Crown Office said: "It is recognised that, while there is a downward trend in the number of prosecution reports received, the nature of our ­caseload is changing in profile and complexity.
"For clarity, it is not that these cases would remain unmarked in perpetuity and the marking of cases are prioritised."
He said cases prioritised included those where an accused was in custody and those where an accused had given the police an undertaking to attend court on a specific date.
He added: "These are invariably the most serious cases and a large proportion of the remaining casework involves direct measures and less serious cases for which the accused has not yet been given a date to appear.
"This casework is then ­managed to ensure appropriate time-bars are met.
"A proportion of the casework also involves instances where the reporting agency has been asked to carry out further ­inquiries to ensure the correct decisions are taken."
The Crown Office added it has taken on 140 extra staff over the past year following Scottish Government funding in response to an increasingly complex caseload.
A Scottish Government spokesman said: "We recognise an increase in the reporting and prosecution of certain categories of crime has placed additional pressure on the Crown, courts and the wider justice system.
"That's why we allocated an additional £2.4 million in 2017-18 for extra fiscals, judiciary and administrative staff to help respond to pressures and speed up access to justice for victims and witnesses in domestic abuse and sexual offence cases.
"A further £1.1m has been committed to the Crown Office and Court Service to improve how sexual offences cases are handled and improve communication with victims.
"We are taking a range of actions to strengthen the ability of law enforcement agencies and the courts to ensure access to justice, ­support victims and to help keep crime down and ­communities safe."
Victim one 
No doubt six-year wait for justice played part in my partner's death after waiting for justice for six years.
A six-year wait for a case to be dealt with contributed to a grandad's death, his family believe.
Danny Martyn and his partner Sheila McDonald were at home in Lesmahagow, Lanarkshire, in 2012, when a huge explosion destroyed the house.
It took until February 2018 for a court case, which saw contractors fined £80,000, to conclude.
Danny died this year without seeing any compensation.
Sheila, 80, who was propelled through a window in the incident, said: "It took six years to come to court, which just added more stress to us. Even the judge commented on how long it had taken.
"Danny was in and out of hospital and there's no doubting that the length of time it all took played a part in him passing away."
Danny's brother Douglas, 75, said: "The length of time it took to deal with their case played a significant part in Danny's death.
"As his health failed, he became more worried about leaving Sheila having to fight for justice.
"It got to the point where I stopped asking if there was any progress as I saw the stress even mentioning it brought.
"We know it was complex, but six years is utterly ridiculous. The whole thing became a farce and left Danny and Sheila shattered."
The couple were treated in hospital for burns and shock, as well as neck, back and shoulder injuries but then faced years of anguish waiting for a case to be brought against Turriff Contractors Ltd.
The firm admitted responsibility after it fitted a gas main too close to electrical wiring.
Danny died in January following years of poor health.
He couldn't pursue compensation until the criminal case against Turriff was completed.
The family said they were aware Crown Office officials faced a lengthy wait before they received a report on the blast from the Health and Safety Executive (HSE), but said the Crown was in overall charge.
It's understood the HSE submitted a report to the procurator fiscal in 2014 but was asked for further reports.
The HSE said: "This was a complex investigation, dependent on a number of agencies, with many obstacles to navigate."
A Crown Office spokesman said: "It is a matter of regret when the time taken to conclude any investigation adds to the distress suffered by those affected.
"The Crown recognises that it is desirable to conclude cases as swiftly as possible and has processes in place to progress its work effectively."
---
Victim two 
A rape case survivor said their experience of the Scottish justice system meant they would never report another crime.
Speaking anonymously, the woman said: "I first reported to police in November 2017. It took until December 2018 for the trial and the sentencing was in February 2019.
"This is actually quite fast compared to other cases but it felt like an eternity to me. As the investigation continued, I was harassed by my ex-partner including online.
"However, I couldn't defend myself online because it would have jeopardised the case.
"At points, I felt like I was the accused. The whole experience was extremely stressful.
"Despite the positive outcome, it was an arduous experience, and I would never report a crime again."
---
Victim three 
The dad of a boy seriously injured in a rollercoaster ride crash condemned the years it took to decide the case was going to court.
Craig Chalmers said the incident at M&D's theme park was traumatising for the family – but the way the case "dragged on and on" made the situation worse.
His son Ben, then 12, suffered life-threatening injuries after the Tsunami ride derailed at M&D's in Strathclyde Park in June 2016.
The operators were fined £65,000
in March, almost three years after
the crash, for breaching Work Equipment Regulations.
An investigation report by the Health and Safety Executive went to the Crown Office in September 2017 but it took until late last year to decide whether the operators would face prosecution.
---
Backlog is no surprise. The scale of it is astonishing.
Donald Findlay QC, one of Scotland's leading criminal lawyers, issued a withering attack on the state of Scotland's justice system in the wake of our revelations on the number of cases in limbo.
I am not surprised there are a lot of outstanding cases but I am astonished it is as many as 14,000 and that there has been such an increase.
Everybody in the law knows that the present government really doesn't care about the criminal justice system. We used to pride ourselves in the fact that people didn't have to sit in prison for months waiting for trial and now it is the norm.
This is not fair. Justice should be sure and it should be swift. That's what justice is supposed to be.
Because of the state the whole thing has been allowed to deteriorate into, people are waiting for trial and victims of crime are waiting to find out if they are going to have to go to court, if they are going to have to give evidence and if someone is going to be convicted over what happened to them.
It's a lot of people are being impacted on both sides of the criminal justice system and that can't be right – it's not right.
It's a lack of resources right across the system and it's scandalous.
I don't take a lot of interest in the Scottish Government anymore but the series of incompetents who have been so-called justice ministers beggars belief.
It's not just the court system. The prison system, too, is bursting at the seams because of a lack of resources.
The malaise is right across the justice system and the affect it has on ordinary people I think is the real concern.
People are entitled to see justice being done and to have justice done and it is not happening and the government just doesn't care.
There's no votes in it so they don't give a damn.
At the higher level where people are being locked up there are serious issues.
But there are just as serious issues if, for example, you
have an elderly relative who has been charged with theft from a shop when in fact all they did was make a mistake or forget to pay for something.
Can you image in the strain on that person waiting month after month to find out if they are going to have to go to court?
That is where this is at its most despicable – that people in these kinds of position should have this hanging over them because the government isn't interested in the justice system.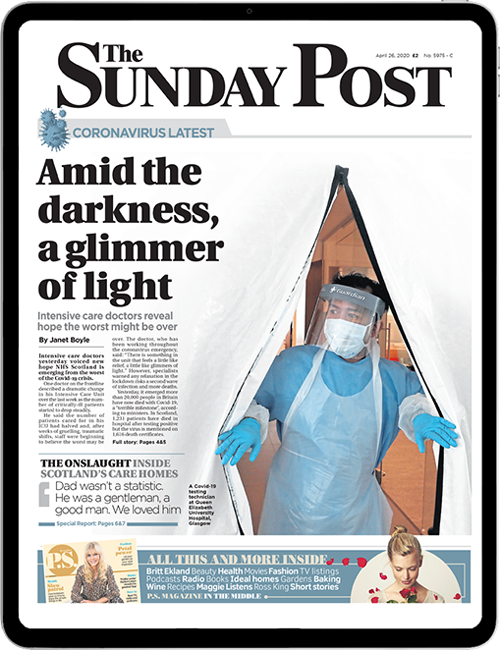 Enjoy the convenience of having The Sunday Post delivered as a digital ePaper straight to your smartphone, tablet or computer.
Subscribe for only £5.49 a month and enjoy all the benefits of the printed paper as a digital replica.
Subscribe