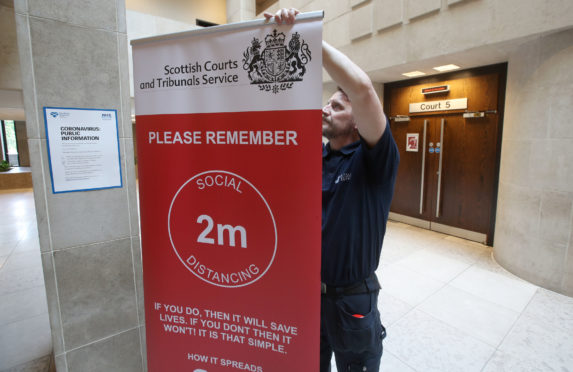 Prosecutors are investigating 238 coronavirus deaths in what is likely to become Scotland's biggest Crown Office inquiry involving thousands of victims.
The Lord Advocate James Woolfe established a special unit last month that will look at all deaths of care home residents and key workers and, we can reveal, inquiries into more than 200 deaths have been launched in the unit's first month.
The deaths of 61 workers in the care sector, NHS or in public transport are already being probed by prosecutors, as well as 177 deaths in care homes. The number of deaths to be looked at by the unit will eventually run into thousands, leading to fears police and Crown resources will become overstretched.
The Lord Advocate said some investigations will be limited, others will lead to Fatal Accident Inquiries and some could be more extensive. A leaked Police Scotland report reveals senior officers are preparing to be involved in thousands of individual inquiries.
Yesterday, Graeme Pearson, former head of the Scottish Crime and Drug Enforcement Agency, said: "The nature of the remit is without precedent. When we initiated a review of 60 or 70 drugs deaths there were more than 30 officers involved at various times. This is on a different scale. It will require a very significant response by Police Scotland in terms of the demands made on officers. It will be a real challenge."
A senior source in Police Scotland said: "The Crown Office direction places considerable pressure on the police service. The service clearly understands the importance of supporting any investigations and appreciates any police involvement might give rise to some anxiety. This will be especially true for deaths that occurred some months ago and are only being subject to formal police reporting now.
"Whilst the reasons for ­retrospective reports into the death are entirely understandable, the major investigation capacity of the service was arguably better placed to respond to these deaths in the early days of the pandemic than it is now, as routine demand continues to rise to pre-pandemic levels."
The Lord Advocate set up a unit on May 21 to examine two categories of Covid-19 deaths – care home residents and key workers such as carers, frontline NHS workers, emergency services staff and public transport employees.
Official figures show the deaths of 29 transport workers, 23 carers and two health professionals have been linked to Covid-19.
Gary Smith, the leader of the trade union GMB in Scotland, said: "Ministers told us in February the country was well prepared for a significant outbreak of coronavirus. If that was true, then how did we get to a position where only one-fifth of ambulance service workers had been fitted with proper PPE (personal protective equipment) by the end of March while carers had to wait until April just for basic guidance on PPE?
"At the same time as Scotland played catch-up on PPE, older people were being emptied from hospitals into care homes without proper testing and paramedics were being sent to emergencies without any details concerning the possible Covid-19 status of their patients. That doesn't suggest we were well prepared. It suggests there was dither and disorder at the highest levels.
"The people responsible for the decisions that turned care homes into mortuaries and left frontline workers without proper protection must be held accountable, and we must understand why it happened. It is the least victims' families deserve. It's also the only way we can learn for the future."
Mike Kirby, Scottish secretary of trade union Unison, added: "Providing care shouldn't be dangerous for staff or residents. Key workers selflessly put themselves in danger and left their loved ones to care for ours, and the deaths in care homes has been unbearable. We must learn the lessons of what has happened."
More people have died in care homes than hospitals in Scotland since the Covid-19 outbreak began. There have been 1,917 deaths in care homes and 1,909 deaths in hospitals.
Care home deaths in 2020 are up 77% compared to the average from the previous five years, with 2,451 excess deaths recorded.
Senior law lecturer Dr Nick McKerrell said care home bosses could be prosecuted under health and safety law or corporate culpable homicide law. "Directors of companies could face criminal charges," he said. "So in the next few months it is likely the legal system will have its own pressures as it deals with a large number of inquiries and criminal prosecutions."
Police Scotland said last month it was investigating three deaths at Home Farm Care Home on Skye, where 10 residents died after contracting coronavirus. And last week the Crown Office confirmed a death at Drummond Grange Care Home in Lasswade was under investigation.
There has been criticism of a shortage of PPE for frontline key workers and a decision by the government to move elderly patients into care homes to clear hospital beds without testing them for the virus.
Shadow Health Secretary Miles Briggs said: "The scale of this investigation should set alarm bells ringing about decisions taken by Health Minister Jeane Freeman.
"Families deserve nothing but the truth and from the outset of this public health emergency we have seen failure after failure – from the lack of PPE available, to a failure in the testing regime to moving vulnerable people en masse out of hospitals into care homes. I'm determined to get answers for families and hold those responsible accountable."
Figures obtained by The Sunday Post show that in the past four weeks the Crown Office unit began inquiries into 177 care home deaths, 47 hospital deaths and 14 deaths elsewhere. Lib Dem health spokesman Alex Cole-Hamilton said: "The deaths in our care homes represent the tragedy of the handling of this crisis. The government ramped up the decant of patients from hospitals into care homes at the peak of the pandemic.
"More than 1,000 people were moved into the heart of the most vulnerable communities without a coronavirus test and many care homes residents died.
"To hear that the Crown Office is investigating 177 deaths in care homes is a welcome start but it is really only the tip of the iceberg."
Assistant Chief Constable Duncan Sloan, lead for major crime and public protection, said: "Police Scotland is committed to fully supporting the review, and taking action as requested by Crown Office and Procurator Fiscal Service."
---
A family's anger
The family of a great-grandfather who contracted coronavirus and died after he was moved from hospital to an infection-hit care home have been told to expect a call from police as a massive investigation is launched into Covid-related deaths.
Rodger Laing, 80, died at Drummond Grange in Lasswade, near Edinburgh, on May 27, three weeks after he was transferred from Midlothian Community Hospital. Mr Laing, who had dementia, tested negative for coronavirus before he was moved to the care home on May 5 but tested positive two days before his death.
The day after Mr Laing's death the Care Inspectorate revealed issues had been found with infection control and personal protective equipment. Mr Laing's daughter Gail and son Rodney insist their dad would still be alive if he had not been moved to Drummond Grange against their wishes.
Gail said: "We've been assigned a family liaison officer by the Crown Office and told not to be alarmed if the police contact us because they are compiling evidence.
"My dad didn't need to die. If he hadn't been moved, he'd still be here today. He was a lamb to the slaughter."
Rodney added: "It's being sent to the procurator fiscal who will decide what will be done. We will be fighting for justice because my dad should still be alive. The people in the hospital ward where he was are all still alive."
Rodney said his dad was moved to a care home over fears he was "bed-blocking" at Midlothian Community Hospital, where he was in a dementia ward.
Gail said they did not want Mr Laing to be sent to Drummond Grange. They wanted to take him out but were told his needs were too complex.
The Scottish Government has been criticised for a decision to move more than 1,000 elderly patients into care without testing them for coronavirus.
Gail said: "I'm a forgiving person but I won't be able to forgive this.
"A lot of blame lies with the government and the care home too, even if it was unintentional. If there's another wave they need to get it right second time around. Care home residents are not second-class citizens. They are as important as anybody.
"I'm not just saying that because he was my dad. Everybody loved him."
---
A family's grief
The family of a man whose death in a care home was linked to coronavirus say they would welcome an investigation.
Pat Findlay was 96 when he died at Kingswells Care Home in Aberdeen in April. His family believe he was the first of six residents to die due to Covid.
Pat's daughter Gail Brechin, 67, said his death was recorded by a GP who attended the care home as being from Alzheimer's but she believed it was caused by Covid. "The week before dad died he had a chest infection and was treated with antibiotics," said Gail. "But he started to deteriorate rapidly and should have been taken to hospital.
"We would welcome a broader investigation into every care home death.
"We feel let down by the care he received and that coronavirus was not mentioned on his death certificate. The family would like some proper answers."
---
People have died who should not have died
by Bruce Shields, solicitor advocate
It is vital that as many deaths linked to coronavirus as possible are investigated. Some of these deaths are likely to have been avoidable.
There have been cases where patients were removed from hospitals and put into care homes and the questions that arise are what risk assessments were carried out and what steps were taken by the care homes to prevent infection in residents and workers.
People are developing and suffering disease and dying. We have to understand how people were exposed, what happened to those people while they were being treated in hospitals or care homes and how many people they were coming into contact with and infecting.
There is a basic rule in health and safety law, and it's universally agreed and understood, that personal protective equipment is the very last line of defence. It's not the first thing you go to. The primary duty in law on employers – hospitals, care homes – is to avoid all exposure. That's the default position. You do not expose anybody to the risk of harm.
It beggars belief that NHS workers treating people suffering from Covid-19 were not being routinely tested to see if they were developing Covid-19.
We've known since early March there is a significant number of asymptomatic Covid-19 cases. So, if you're only testing people showing symptoms you know there are people who don't have symptoms who have Covid-19 and may very well be infecting other people.
As far as any criminal prosecution is concerned, it will have to be decided whether or not there is any breach of the Health and Safety at Work Act 1974. It's important that enquiries are made because it will be the gateway for any criminal charges the Crown Office might bring and certainly for any claim for civil compensation.
People have been dying who should not have been dying. If employers know that they have exposed people to a potentially fatal virus and they have taken no steps to prevent that then a full criminal prosecution should be brought against them.
In addition to any criminal prosecutions brought against employers, everybody who has been infected at work or as a resident in a care home has a claim for civil compensation because someone has been negligent in exposing to them to the risk of harm.
Solicitor Advocate Bruce Shields is a partner at Thompsons which specialises in industrial disease claims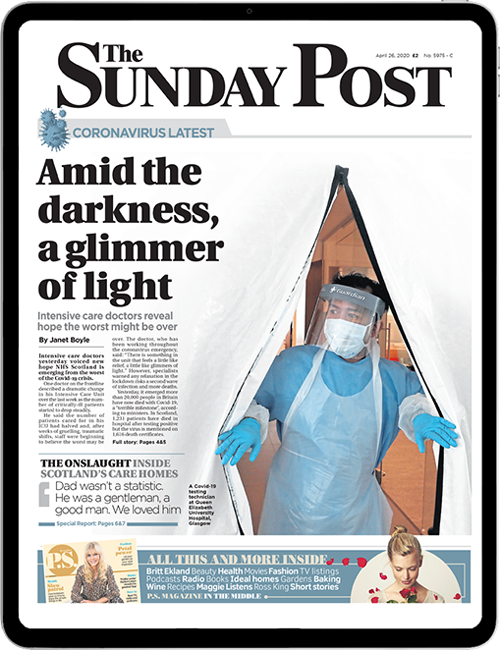 Enjoy the convenience of having The Sunday Post delivered as a digital ePaper straight to your smartphone, tablet or computer.
Subscribe for only £5.49 a month and enjoy all the benefits of the printed paper as a digital replica.
Subscribe