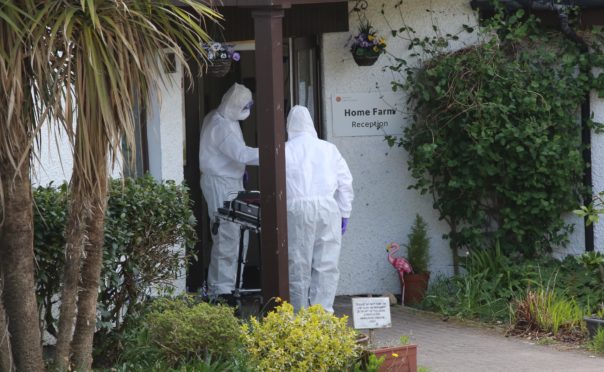 Bereaved relatives of some of the 2,000 residents who died of Covid-19 in Scotland's care homes yesterday urged Holyrood's health committee to launch a short, urgent inquiry into the disaster.
Alan Wightman of Covid-19 Bereaved Families for Justice, a UK-wide relatives' group which campaigns for a judge-led inquiry, said a short committee-led probe could make recommendations to ministers that could save lives this winter.
The call has been backed by MSPs on the committee and comes after Health Secretary Jeane Freeman insisted there would be a public inquiry but refused to deny it could take years.
More than 2,000 deaths in care homes have been linked to the virus.
A care home in Bishopbriggs, near Glasgow, reported 13 coronavirus deaths on Friday, with another seven residents and 11 staff positive.
Meanwhile, NHS Borders reported 28 cases at a housing complex for elderly people in Peebles yesterday. The health board said 16 tenants and 12 staff at Dovecot Court tested positive.
The Scottish Parliament voted for the immediate launch of a judge-led inquiry on November 4 but Holyrood ministers have yet to act.
Ms Freeman told MSPs last week: "Members should be under no illusion, setting up a public inquiry is not a quick exercise."
Mr Wightman, whose mother Helen died of coronavirus in a Fife care home, said: "For me, it's all about saving lives, not about finger pointing and apportioning blame. There are people dying every day because they didn't learn the lessons from March and April.
"However, it seems clear the health secretary is going to do everything in her power to delay a public inquiry until after the Scottish elections in May, which is not acceptable. It won't be a public inquiry but nonetheless it serves to keep a focus on the matter and keep the pressure on ministers to do the right thing, which is obviously to hold a public inquiry, as parliament has directed them to do."
Lib Dems' Alex Cole-Hamilton, a member of the committee, said: "People are being moved between hospitals and care homes every single day and in some cases their Covid status is not entirely known.
"If setting up a short-life inquiry in the health committee is the only route to getting these families swift access to answers, justice and an apology then we should absolutely do it now."
Lewis Macdonald MSP, health and sport committee convener, said: "We fully empathise with Mr Wightman's concerns. He is right to press for an urgent investigation and full transparency on the reasons for this."
A Public Health Scotland report, commissioned by the health minister after revelations in The Sunday Post, said it can not exclude a "moderate to large excess risk" of an outbreak from a care home receiving a patient who had tested positive.
The PHS report confirmed 113 patients with Covid were moved, with 52 transferred within a week of a positive diagnosis, 38 within eight to 14 days.
First Minister Nicola Sturgeon insisted hospital transfers were not statistically significant in the spread of Covid but PHS later said it was "likely hospital discharges are the source of introduction of infection in a small number of cases". That statement was not in the report.
---
Health experts working to find link between hospital infections and care home deaths
Experts at Public Health Scotland are working to identify the viral strains of care home infections to establish if they are linked to those found in hospitals.
The Sunday Post told in August how dozens of patients with Covid-19 were moved to care homes in a bid to clear beds. Families who lost loved ones and care home workers believe some outbreaks in residential units were caused by these discharges.
Linda Bauld, professor of public health at the University of Edinburgh, said the investigation could reveal the source of care home outbreaks.
She said: "It is welcome that these techniques are being used to shed light on whether care home residents who contract Covid-19 have picked up the virus in hospital or elsewhere.
"This type of research won't necessarily give us definitive answers but will help shed light on any links between infection in hospital and any impact on care home residents.
"If the study shows that viral strains in care home infections were related to strains in hospitals, then this provides an opportunity to even further strengthen procedures for hospital discharge to care homes. It's imperative that we protect care home residents and staff from Covid-19 and that includes doing all we can to ensure hospital patients are not taking the virus back into care homes on discharge."
In April the Scottish Government introduced a policy of requiring two negative tests before a patient was moved to a care home but an investigation by The Sunday Post in September found that tests were not always carried out.
A series of Freedom of Information requests by The Post revealed at least 16 patients who tested positive were moved to care homes after April 21, when Health Secretary Jeane Freeman told MSPs: "Covid-19 patients discharged from hospital to a care home should have given two negative tests before discharge."
Last week Ms Freeman said patients could still be discharged to care homes without a second negative test if it was in their "clinical interests", a statement which prompted opposition MSPs to call for a complete ban on the practice.
The Scottish Government said: "Following the recommendations made in the report, Public Health Scotland are looking at additional statistical modelling to take local Covid-19 rates into account and examine care home characteristics associated with the size of an outbreak.
"PHS has also commenced work looking at epidemiological data to identify the viral strains of care home infections to see whether these are related to each other, or viral strains identified in hospitals."
1
Subscribe for only £5.49 a month and enjoy all the benefits of the printed paper as a digital replica.
Subscribe