NICOLA STURGEON was one of thousands of Scots on the march yesterday as Donald Trump played golf at Turnberry.
The First Minister led the Pride parade in Glasgow in support of LGBT equality while protests against the president's visit to Scotland took place in Edinburgh and at his two golf resorts.
Ms Sturgeon had been named honorary grand marshal for Pride and led 8,000 people through the city centre to a festival at Kelvingrove Park in the West End.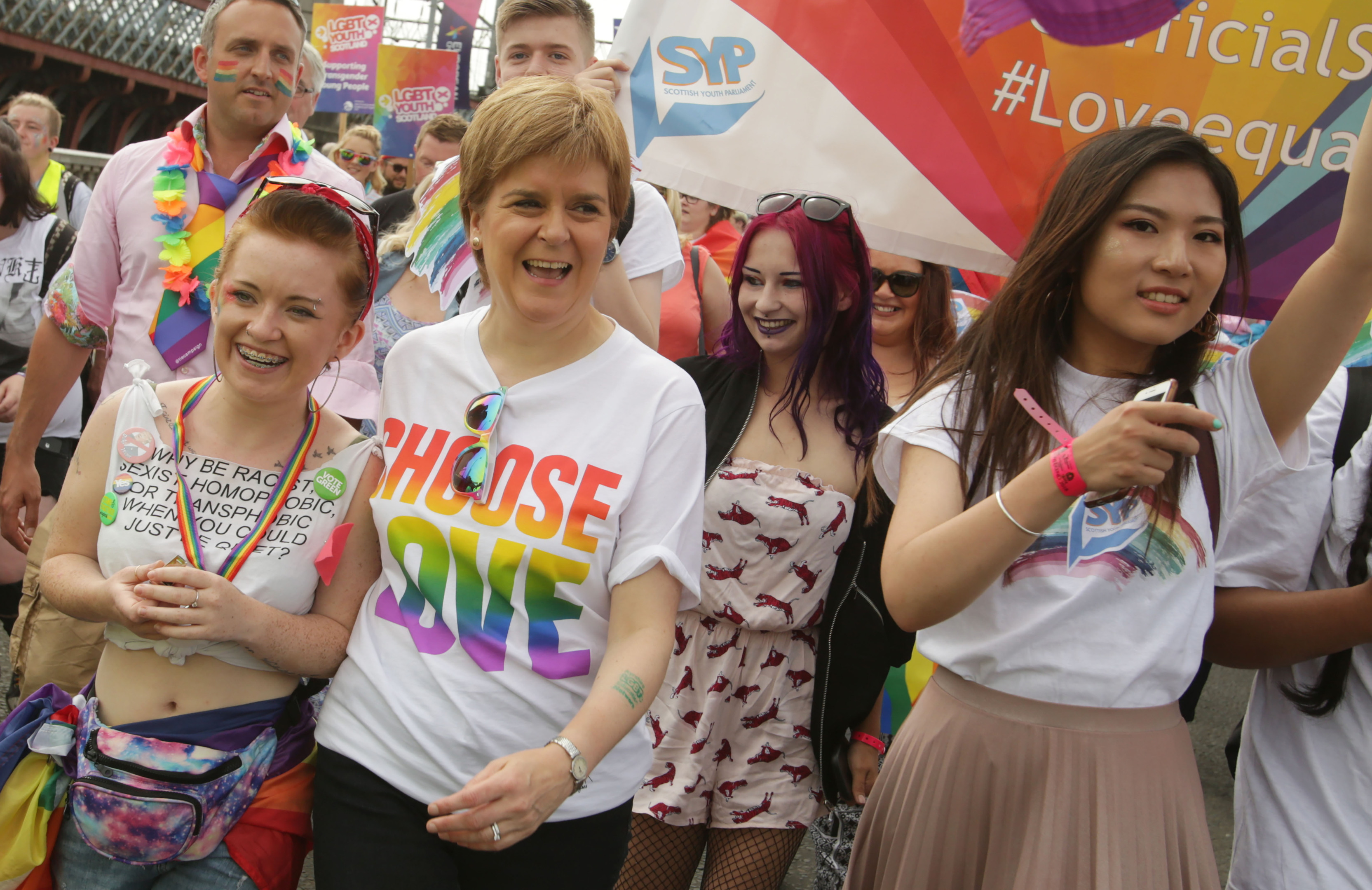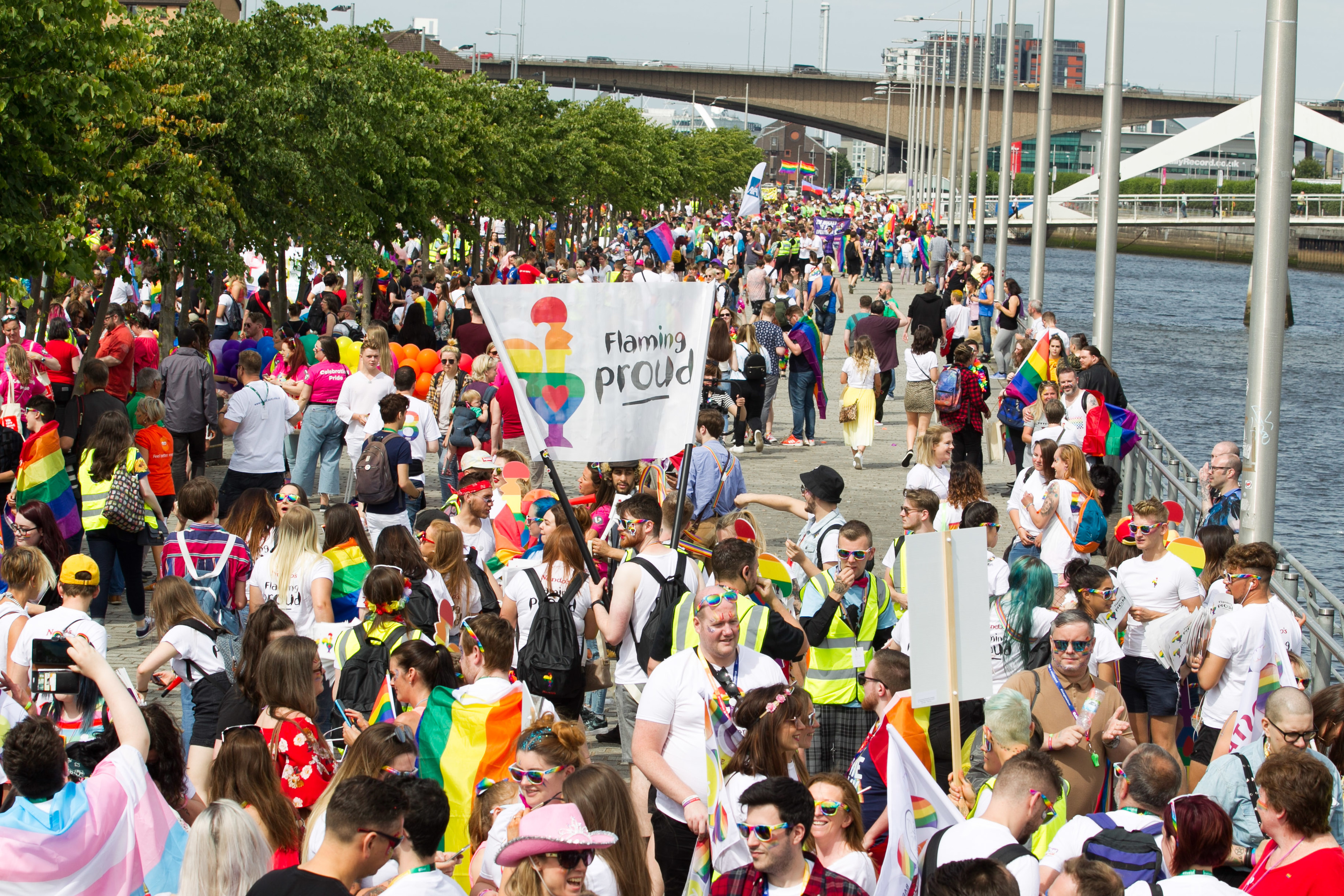 After the march she said she had accepted the invitation from Pride before Mr Trump's visit to Scotland this weekend was finalised.
Yesterday, Whitehall sources suggested the president "totally hates" the First Minister, who has been outspoken in her criticism of his policies, and is vocal about her during phone calls with Prime Minister Theresa May.
Ms Sturgeon said: "I find it hard to believe that the president of the US, with all the issues he has to deal with every day, would find time to rant about me in phone calls to the Prime Minister.
"But if that is the case, perhaps I should take it as a compliment."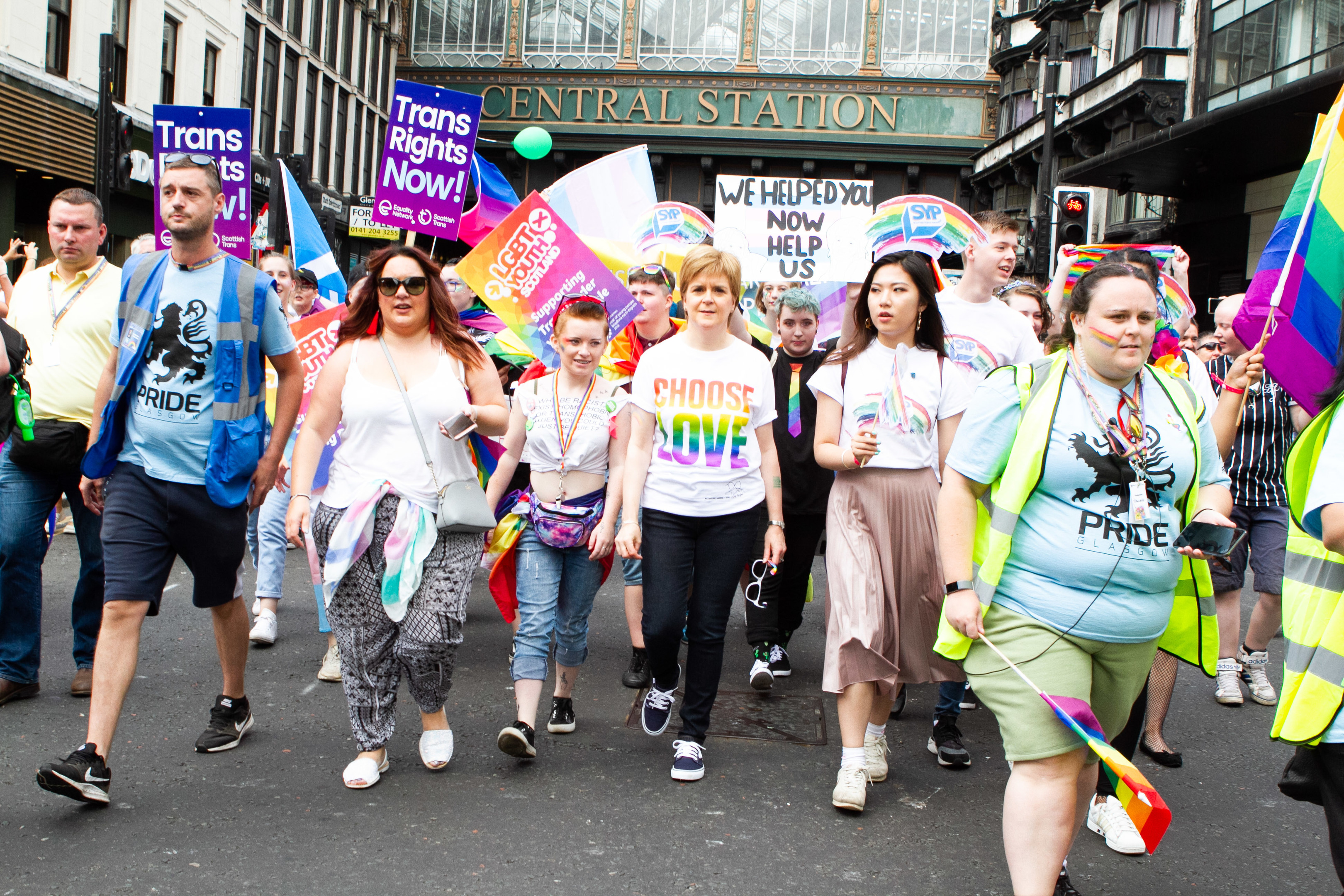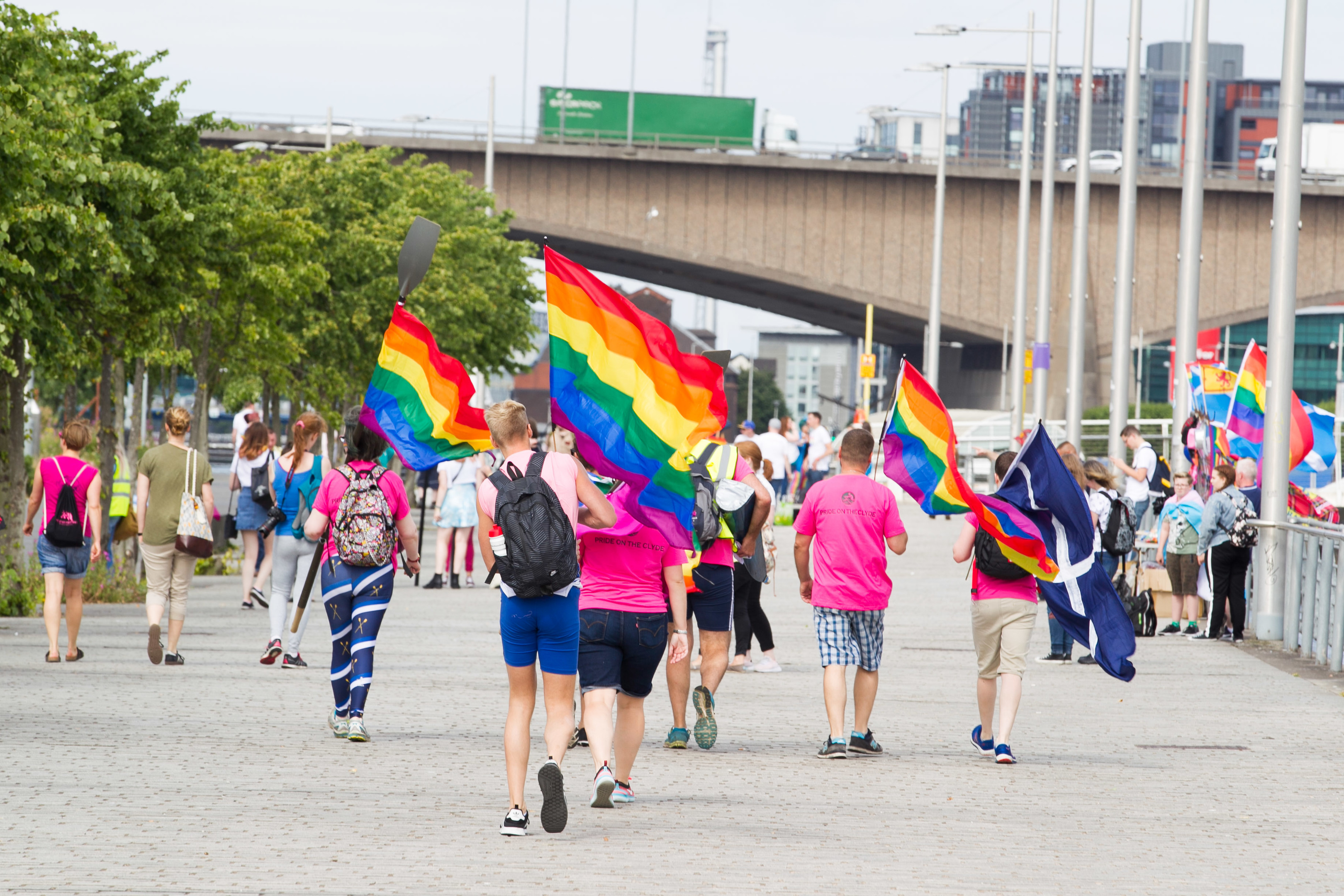 Ms Sturgeon said that if she did meet Mr Trump she hoped they would have "truthful and honest" discussions.
"It strikes me that president Trump is a straight talker and it is important when there are big issues at stake that leaders don't shy away from them.
"I am sure we would also be able to exchange views on things we don't see eye to eye on."
She added: "I hope the president is also listening to some of the voices that are being raised in Scotland and across the UK over the days of his visit and is getting an understanding of why people oppose some of his policies."
Meanwhile, in Edinburgh, 9,000 marchers joined the day's biggest protest against the 45th president of the United States.
Politicians and campaigners spoke outside the Parliament at noon, with a rendition of Donald Where's Your Troosers? sung before protesters headed off on the mile-long walk through Edinburgh.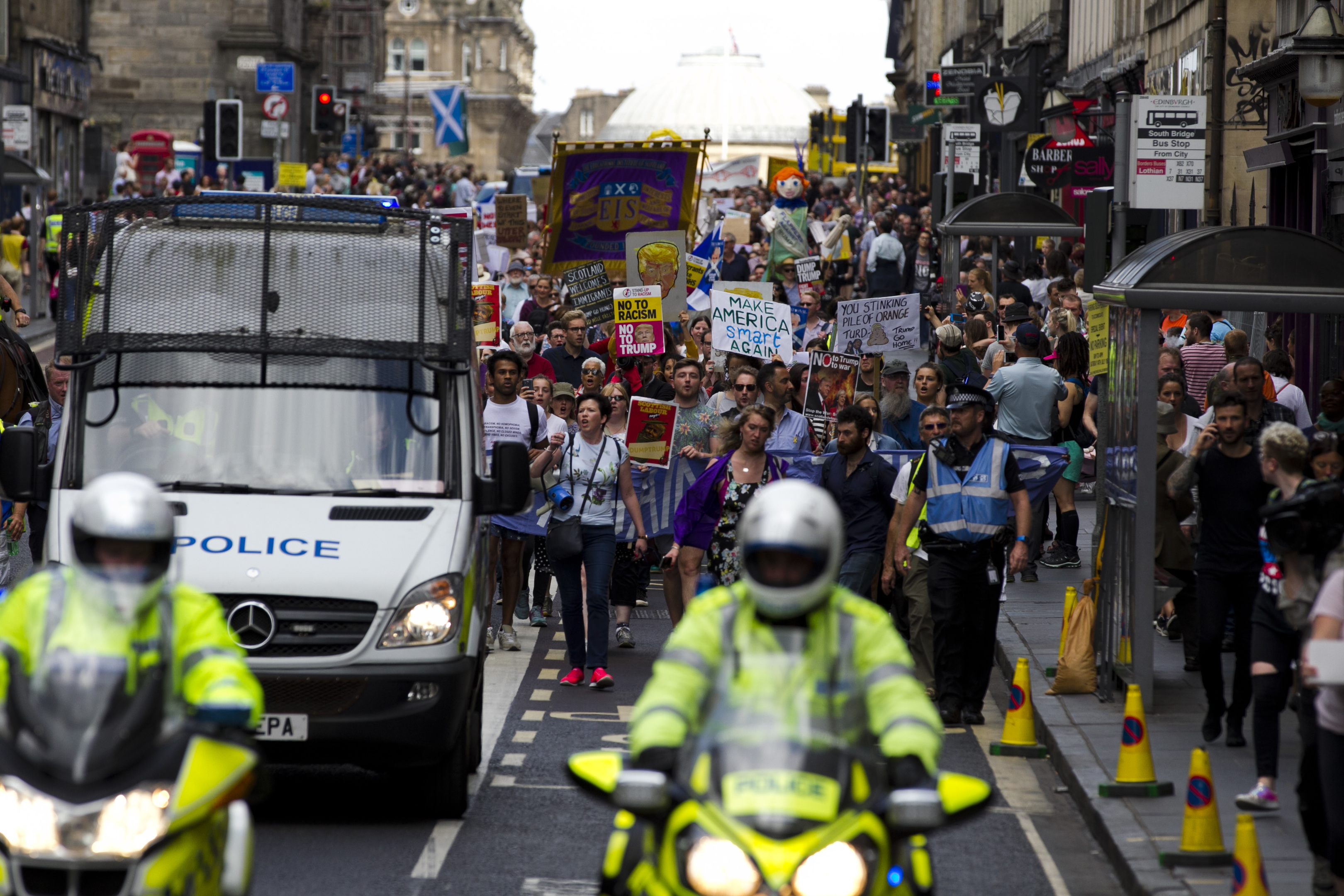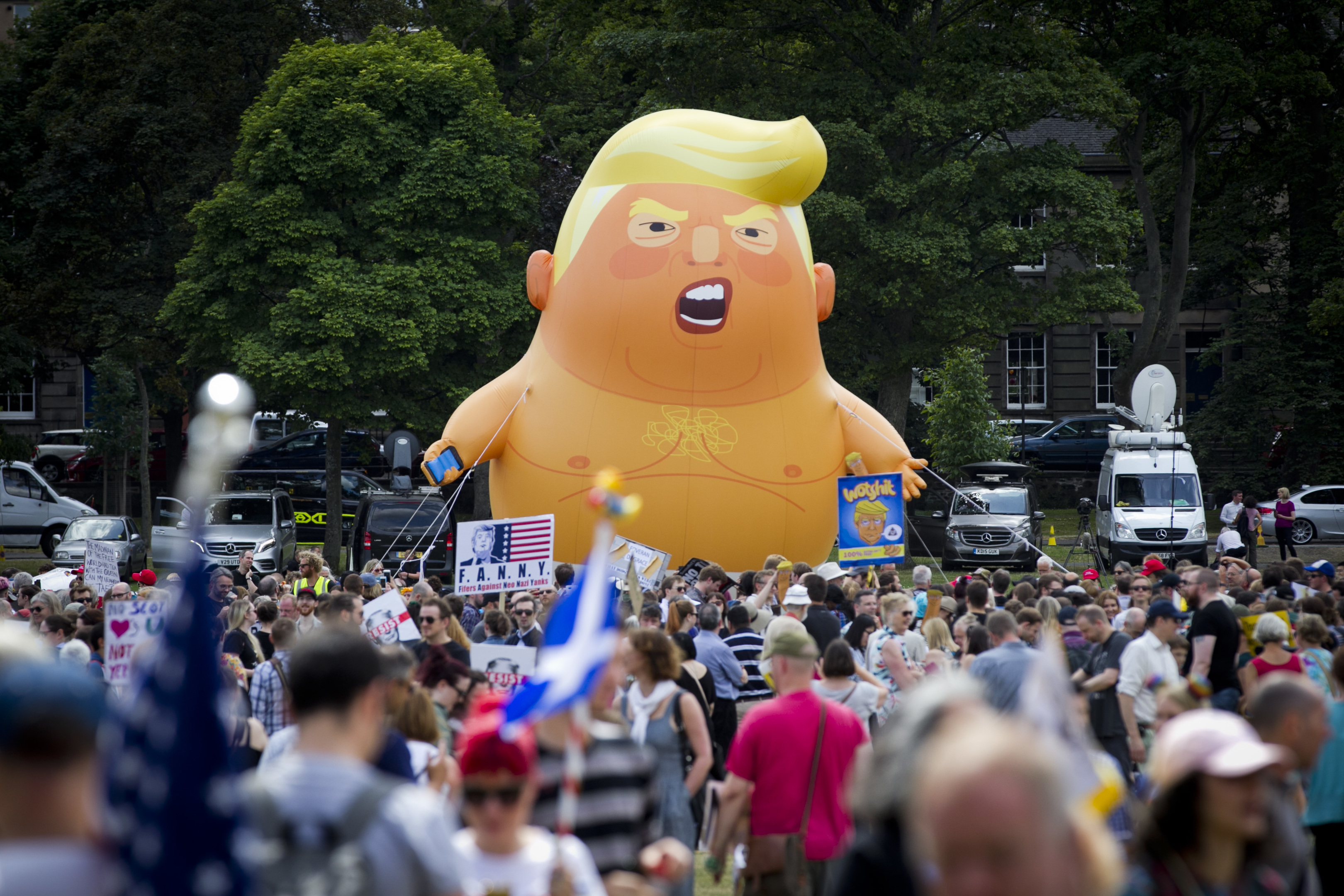 They marched from the Scottish Parliament for half an hour, ending at the Meadows where two giant inflatable blimps of Donald Trump were waiting,
In Ayrshire, the president was jeered by protestors as he started a round at his Turnberry resort.
A group of around 40 demonstrators had spent the morning on the beach as close to the luxury resort as they could get.
But they were outnumbered by scores of police officers, who stretched in a line from Turnberry to the shore.
A security barrier had been set up at the entrance to the hotel so that only hotel guests could get through.
Donald, where's your screening? Security bill questioned after activists book into Turnberry and paraglider protests
The first sign the president was approaching on the course came in the form of a number of golf buggies which could be seen nearing the fourth hole, around 100 yards from the beach.
Trump – who was wearing a white USA cap and surrounded by secret service officers – then came over and stood at the edge of the green, while the protestors greeted him with chants of "No Trump, no KKK, no racist USA" and loud booing and jeering.
The president waved briefly before resuming his golf round.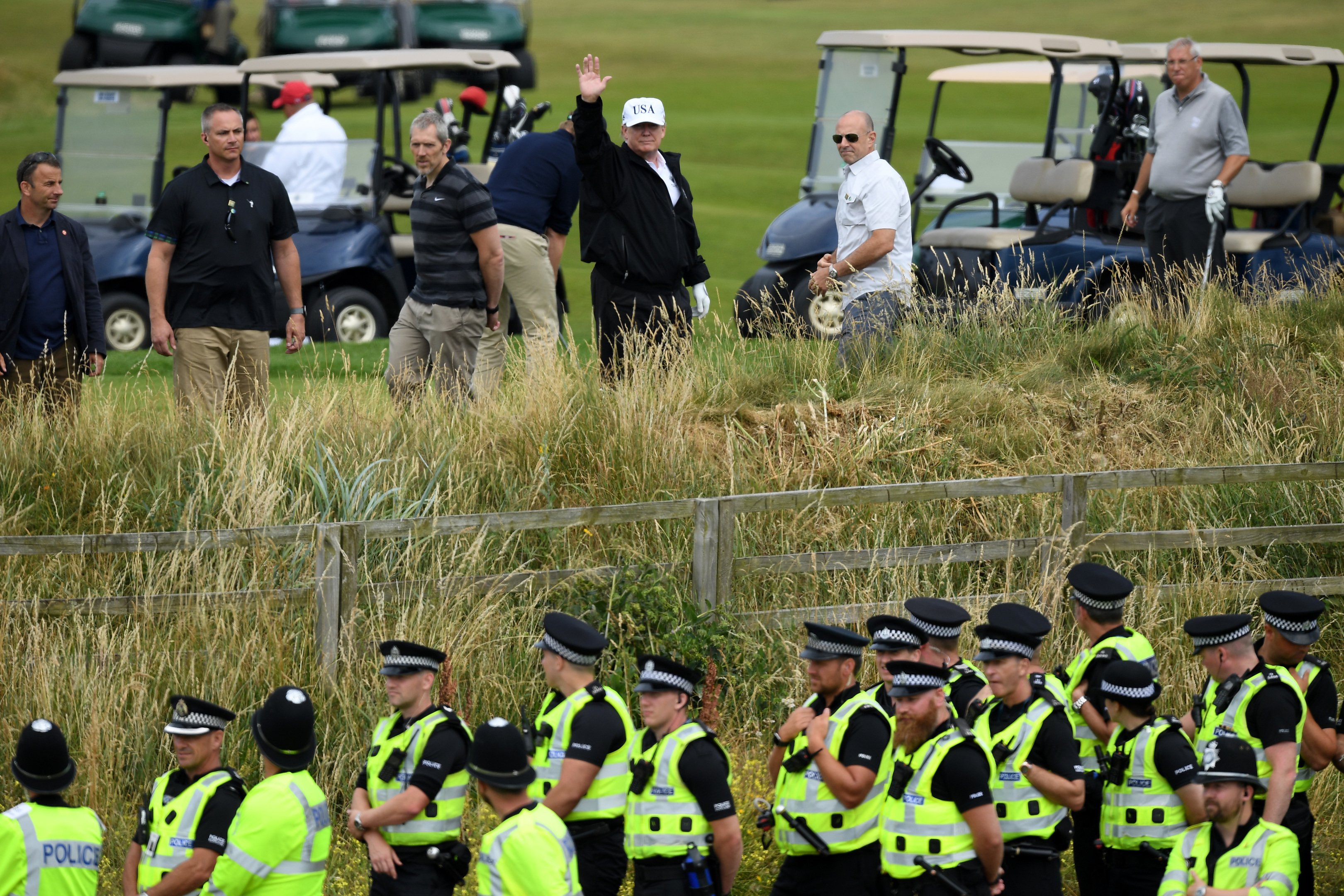 Trump had flown in to Scotland on Friday night with first lady Melania, with a motorcade whisking the couple to Turnberry after Air Force One touched down at Prestwick Airport.
A ring of steel was in place around the Ayrshire resort, with mounted police also in attendance and snipers positioned on tiers of scaffolding overlooking the golf course.
Three swimmers who took to the water quickly drew the attention of a police boat, which sailed close by to ensure they did not venture past the line of the cordon.
Despite the massive security operation, golfers were still playing on the course throughout the day and a wedding was held there.
Trump had tweeted yesterday about his visit, saying: "I have arrived in Scotland and will be at Trump Turnberry for two days of meeting, calls and hopefully some golf – my primary form of exercise! This weather is beautiful and this place is incredible!" He added that today he would leave to go to Helsinki for the meeting tomorrow with Russian president Vladimir Putin.
The Turnberry protest was organised by Scottish comedian Janey Godley, with demonstrators gathering from 9am in the morning.
She said it was "despicable" that £5 million was being spent on security to protect the president.
She said: "I'm here to protest Trump as he is man who has disrespect for women, his politics are divisive, he has enabled racism and right wing feelings throughout Europe and the world."
President Trump's security now under scrutiny after Turnberry security alert
Ross Greer, Green MSP for West of Scotland, was among the protestors. He said: "It's really important to show that – between the massive rallies we have had in Glasgow and Edinburgh and Cardiff and the huge one in London, and by coming to Trump himself at Turnberry – no matter what corner of the country he comes to he will not be welcome."
Referring to the £5 million bill for the security operation, he added: "This is going to be the most expensive round of golf ever played in Scotland – ever played anywhere in the UK.
"It is UK taxpayers who are paying for this. He did half a day's work before heading here to play golf."
And security was also tight around Donald Trump's International golf links at Menie, Aberdeenshire, yesterday. Police outnumbered the 100 protestors who demonstrated outside the main entrance.
The protest, organised by Aberdeen Trades Union Council, was colourful and good natured although the banners were less than complimentary.
Andrew Murray of the SNP held a Mexican flag aloft, saying: "We stand with the Mexican people. Trump is not welcome here".
Steven Gray of UNISON, said: "We are here to oppose Trump's visit to Scotland. We don't want him and his abhorrent policies here. The man is a disgrace."
Other placards accused the president of being racist, sexist, fascist, a fraud, and a criminal. One huge sign, in finest Doric, read: "Trump, ya great Muckle Gype" translates to "Trump, you great big fool."
The view on the streets
People across Scotland joined a number of demos against President Trump yesterday. In Edinburgh, we asked some of them why?
I'm here to support Palestine. Trump moved the embassy to Jerusalem, he doesn't understand the complexities of the Middle East. I'm also here because he is a mysoginist and we need to stand up to him.
– Mary McGregor, 61, Dundee
He should not be here. It's an insult to our country. He's a dangerous man and thinks he is better than he is. His policies are disgraceful, particularly towards women and public health.
– Florence Sinclair, 77, Edinburgh
Trump is the most abhorrent person in power. His treatment of women, migrants and Muslims is awful. He is dangerous and I think it is important to show he should not be here, he's not welcome.
– John Wall, 47, Edinburgh
I think we live in a country that is the exact opposite of what Trump wants and what he is. I'm standing up against bigotry, sexism, racism. Scotland is a place of equality and where people are treated fairly.
– Matthew Ritchie, 53, Kirkcaldy
I want to stand up and make my voice heard, I'marching against Trump's presence in this country. He has used the political system for his own benefit. He has done damage, not just in his own country, but around the world.
– Paul Moran, 34, Glasgow
I've never been to a political protest before but I want to show solidarity with everyone, and say that Trump is not welcome here. We do not want him, and he shouldn't have been allowed to come.
– Megan Beattie, 18, Peebles
As a member of the LGBT community, Trump has taken a stance against us. Trump has tried to degrade rights for LGBT people in America and I want to support them. I also want to show he isn't welcome in Scotland.
– Michael Richardson, 31, Dundee
The size of America and the power that it has as a nation, the danger and damage Trump can cause and has caused is why I'm here. His actions against women, black people, immigrants, is why it is important to speak out.
– Melissa May, 34, Edinburgh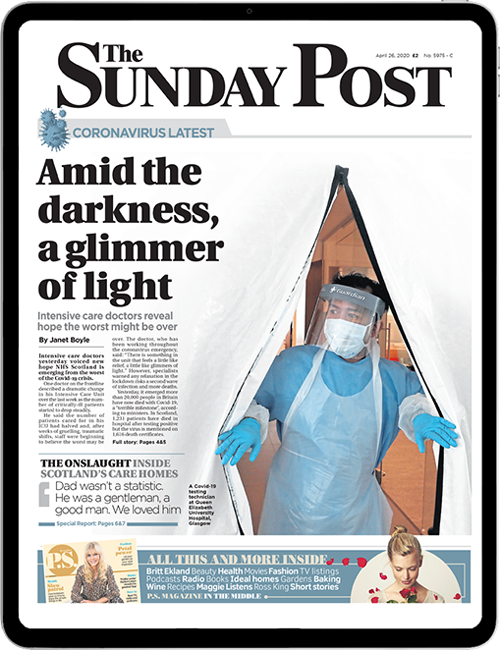 Enjoy the convenience of having The Sunday Post delivered as a digital ePaper straight to your smartphone, tablet or computer.
Subscribe for only £5.49 a month and enjoy all the benefits of the printed paper as a digital replica.
Subscribe