A tenth of Scots patients are on powerful prescription painkillers with thousands at risk of addiction or accidental life-threatening overdose, landmark research suggests.
Analysis of the prescriptions for 350,000 Scots found one in 10 was being prescribed strong opioid painkillers by GPs, provoking new calls for the Scottish Government to properly resource more clinics and expert treatment for chronic pain sufferers.
One in 25 of the Scots prescribed opioid painkillers was not given life-saving information on the maximum dosage while the study by Stirling University also revealed the majority of patients put on pain medications such as oxycodone, tramadol and morphine had another medical condition that could increase their risk of overdose.
Consultant psychiatrist Dr Jonathan Chick, medical director at Castle Craig Hospital in the Borders, said the research was of serious concern, while charity Action On Pain said the Scottish Government's record on providing alternative treatments for chronic pain sufferers has been lamentable and called for urgent action.
Official figures show 484 ­drug-related deaths were linked to prescription opioids in 2019, up from 283 in the previous year. Last year's figures are due to be published later in 2021.
Scotland's overall drug-death rate is the highest in the EU, and approximately three-and-a-half times that of the UK as a whole.
The study of almost 350,000 patients in Fife found 35,000 – one in 10 – on opioids and academics who carried out the research urged health boards across Scotland to audit patient data and review prescribing to cut the risk of accidental overdose and death.
Joe Schofield, a research fellow at Stirling University, said: "Normally a prescription will say something like 'take four a day' or 'take as needed but no more than eight a day'.
"We did find 4% of prescriptions did not include that information, which could cause a patient, or someone caring for them, to accidentally overdose.
Chronic pain victims seek cannabis treatments amid waiting list log jam
"In terms of overdose risk factors, we found that, of everyone prescribed strong opioids, just under half had cardiovascular issues, which can increase the risk of overdose, and two out of five (39%) had diagnosed mental health problems, and we know that dependence and using more than needed are higher among people with some mental health problems.
"And one-quarter had a diagnosed respiratory disease, maybe asthma and COPD, which places them at higher risk of death when taking opioids."
Researchers have supplied GP ­practices in the NHS Fife area with local data that show how many people they prescribed opioids to and how many of them have overdose risk factors, data that will inform medication reviews and potentially save lives.
Schofield added: "We recommend other health boards audit what's prescribed and how many opioid recipients have overdose risk factors. The data exists in GP systems already, they just need someone to analyse it. You can prioritise a list of patients to invite in for a review."
About 800,000 Scots a year receive at least one prescription for opioid pain medications, with access to alternative treatments such as pain clinics limited by long waiting lists.
Last year, GPs in England were told by Nice (National Institute for Health and Care Excellence) to avoid prescribing potentially addictive opioids because there was evidence of long-term harm but a lack of evidence of effectiveness.
Separate guidance issued last April by NHS England required Primary Care Networks to offer structured medication reviews to patients currently taking opioids.
Scotland's clinical guidance issued in August last year by Sign (the Scottish Intercollegiate Guidelines Network) said opioids should only be used for short to medium-term treatment and patients should be regularly reviewed. A Scottish Government consultation that closed this month could lead to the tightening of guidance.
Exclusive: Addiction crisis alert as Scots' opioid scripts double in past 13 years
The Chair of the charity Action On Pain, Ian Semmons, said: "Opioids can and do work for short-term pain relief. The key is there is an understanding between the patient and doctor about the potential adverse side effects that leads to an agreement to prescribe. Equally essential is then the need for the doctor to monitor the patient on a regular basis, which sadly does not often happen, leading to problems.
"There are specialist pain clinics in Scotland yet, without exception, they all have huge waiting lists. It cannot be denied that the Scottish Government's record on provision of pain services is lamentable. There has been lots of talk and bluster yet nothing tangible to benefit those affected by chronic pain.
"There is a worrying lack of awareness, particularly at GP level, when it comes to chronic pain management."
Dr Peter Gordon, a recently retired psychiatrist who campaigned for a transparent register of pharma company donations to NHS staff, said the research findings were shocking. He said: "Scotland has an unenviable record of having the highest drug death rate in Europe and it appears that drugs, taken as prescribed, may be contributing to this terrible situation.
"Until I retired in 2020, I worked as an NHS doctor in Scottish hospitals for over 25 years. My wife, who has worked over that same period of time, is still working as a GP. This has given us a longitudinal perspective on how doctors are educated on prescribing.
"Throughout this period, our ­medical education has often been sponsored by the pharmaceutical industry, with lectures on prescribing given by influential healthcare leaders. These influencers on prescribing are often paid by the pharmaceutical industry but the scale of this is not available. This is why I have campaigned for Sunshine Legislation to make it mandatory such payments are disclosed. Unfortunately, the Scottish Government rejected such legislation."
Dr Martin Dunbar, chair of the trustees at charity Pain Concern, said: "We recognise that some patients find these medicines helpful, and so care needs to be taken when responding to these kinds of findings to ensure they are used safely and benefit those who do find them helpful."
The Stirling University study was funded by a research and development bursary from NHS Fife. Deborah Steven, the lead pharmacist for pain management in Fife and co-investigator for the project, said: "It's vital these types of medicines are used safely and effectively and this research has allowed us to better understand prescribing of opioids to patients locally. Furthermore, the research is also helping individual medical practices to support patients currently prescribed these medicines, while reducing the risk of accidental harm in patients benefiting from taking opioid medications.
"In the longer term, the research has provided us with a firm, evidence-based grounding to move forward with wider proposals around pain medicines safety here in Fife."
The Scottish Government said: "Since 2018, we, in partnership with the NHS, have developed a chronic pain prescribing strategy to tackle the issue of over-treatment. This will be supported by guidance for health boards and practitioners due to be published this summer. We've recently published draft recommendations about the scale of potential prescription drug dependence and what might be done to address this in Scotland."
---
This is very significant research. Other health boards should act on it

by Professor Jonathan Chick
Medical director, Castle Craig Hospital
This is a very significant study. It's probable that this is not exceptional for Fife. It reflects the expectations of patients that their pain will be dealt with by a pill.
In fact, there is good evidence that long-term use of an opioid resets the pain perception pathways so that they are worsening pain. The lack of maximum dose information on 4% of prescriptions is particularly alarming due to the relatively narrow safety threshold for opioids.
Small increases can cause serious harm, such as death from respiratory depression – not breathing. GPs will argue that they have judged the quality of life for the patient could be improved with the opioid and that the risk to benefit ratio is favourable.
However, this study will not have been able to demonstrate whether the patient was given a verbal warning about addiction and the risk of overdose. It's unlikely that researchers will have been able to find that data in the wonderful study they did. But the fact they were able to look at the prescription data and see no maximum daily dose had been entered for many patients, that is negligent.
I think other health boards should take it very seriously and act on the recommendations in this study of Fife patients, or do their own study, or indeed both.
Dr Jonathan Chick is a consultant psychiatrist and medical director of Castle Craig Hospital, a private residential drug and alcohol rehabilitation clinic, and a former adviser to the World Health Organisation.
---
It's scandalous that heavy drugs are patients' only option

by DorothyGrace-Elder
Campaigner for chronic pain sufferers
Patients in desperate pain are being driven to opioid addiction and accidental overdoses through lack of other treatments.
Heavy drugs are all many are left with and that is an outrageous situation.
It's unfair to blame GPs, they can only renew prescriptions for more drugs. For years, the government has ignored  pleas to help specialist NHS pain clinics, which coped with some 60,000 patients a year before lockdown.
Clinics offer numerous treatments as well as assessing medication. Patients have begged the government to aid clinics, without response.
Specialist treatments most sought by patients – approved by expert clinicians – are lidocaine infusions and pain relief injections.
It's significant that Fife, the area studied, is the only part of Scotland which offers neither treatment.
All other areas treat with either infusions or injections, a few boards offer both. The Scottish Government is promoting "self-management" for chronic pain, cheaper but unsuitable on its own for many serious cases.
Pain clinics were closed for seven months or more during lockdown, leading to outrageous levels of suffering. Re-openings involved infusions. But thousands in Scotland still cannot get their injections renewed. Due every six months, government officials failed to inform patients they could get injections from last year. Some are still left in extreme agony after 15 long, harrowing months.
Former MSP Dorothy-Grace Elder is secretary of the Scottish Parliament cross party group on chronic pain.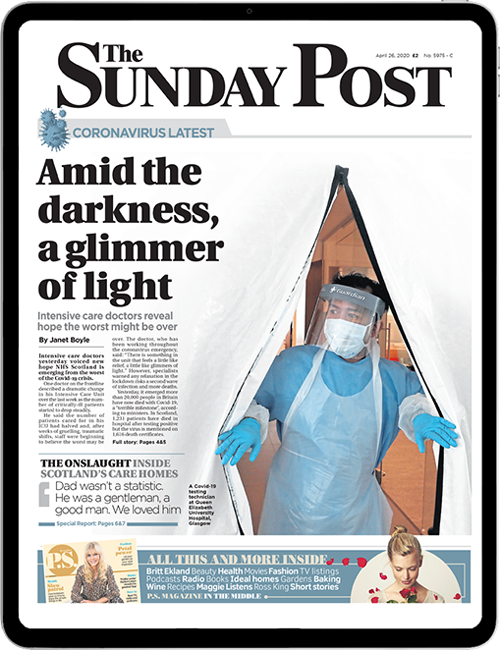 Enjoy the convenience of having The Sunday Post delivered as a digital ePaper straight to your smartphone, tablet or computer.
Subscribe for only £5.49 a month and enjoy all the benefits of the printed paper as a digital replica.
Subscribe