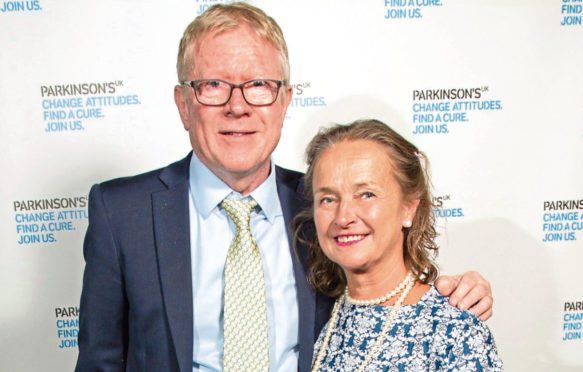 Ozzy Osbourne's recent declaration that he has Parkinson's came almost exactly two years after top disc jockey David "Kid" Jensen revealed that he has the condition.
The former Radio 1 and Top Of The Pops presenter, now aged 69, was saddened to see the obvious devastation Ozzy, 71, showed while admitting his illness in an interview for the US TV show Good Morning America.
"I was taken aback, as a lot of people will have been, because Ozzy is an icon," says Canadian-born David.
"I wanted to reach out and give him a hug… and give (his wife) Sharon a hug. He shouldn't be devastated – there are a lot of people with far worse conditions. Life doesn't end with Parkinson's. You can't physically die from it.
"Having Sharon and the children to help him along is very important. Parkinson's ideally needs to be a team effort. It's very difficult to deal with on your own because there are symptoms like depression for which you need people around to help you.
"You also often find you can't tie your shoelaces and do up your shirt buttons. Menial stuff you previously took for granted suddenly becomes a nuisance, but the key is not to allow it to become a nuisance.
"People are always on standby to help me through, which is great. I'm blessed by that. Ozzy will be surrounded by loads of people to help him on his way.
"I'd also recommend Ozzy gets himself a good, kind and sympathetic neurologist, and he will then have a winning partnership to fight Parkinson's because you need to be steadfast in your commitment to not let it get you down.
"Parkinson's never goes away, but it's important to fight it. And I'd say 'enjoy the ride'. You decide when you wake of a morning whether you then have a great day or not. Positivity is key, as is eating well and exercising.
"You've got to keep momentum going. If you don't do any exercise, you're going to start waking up and feeling rigid and you won't have the mobility you need to be more independent.
"Most days I do the Chinese martial art tai chi for about an hour, as well as other exercises for 45 minutes, and that's extremely helpful to me. I'm delighted the way things have turned out for me through exercise."
Indeed, David even manages to still front shows for BBC Sounds, and The Blues Spectrum online station.
"Life would be really tough if I didn't have that," he concedes. "I like to do as much as I can myself, but if I'm holding people up by being slow I might ask for help."
David, who lives in Surrey with his wife (of 45 years) Gudrun, 67, with whom he has three children and seven grandchildren, adds: "I can't stress enough the importance of having family and friends behind you. I'm so lucky with mine.
"I've been lucky that Gudrun is a carer for me and that's great. She is always after me to do crossword puzzles, even though I'm not a crossword fan, because you need mental exercises to keep everything working and your mind busy. You want to stay sharp.
"If we are out anywhere, she's constantly like a Sergeant-Major saying things like 'lift your feet!' because shuffling along is one of the symptoms.
"She makes sure I lift my feet and don't trip over pavements and things. In the last couple of years I've fallen about 10 times. I'm sure I wouldn't have done that without the Parkinson's. You can be walking along and your vision is slightly altered, and then you're unsure of your balance and just fall over."
Ozzy Osbourne was diagnosed after suffering a fall in February 2019, though there was speculation beforehand that he had Parkinson's.
When David Jensen went public about his Parkinson's on January 16 2018, he admitted he'd had it for five years by then.
"My neurologist at the time said, 'I don't think it's a good idea for you to tell anybody about this diagnosis. Just keep it to yourself. Otherwise you're going to be bugged by people constantly asking how you are.'
"I said, 'Actually, I find that good.' When I did let people know, it was a weight off my shoulders.
"At the beginning I was told that Parkinson's is a very slow-moving disease, and it is. You don't wake up one morning and run into a brick wall. I don't mean that literally, but you have a brick wall of symptoms and then you go for months when nothing changes. It's a difficult one to pin down.
"It's important for people with Parkinson's to know you are not alone. Here, the charity Parkinson's UK are a great help, particularly in the early months when there's perhaps fear, anger, sadness all rolled into one.
"You need people around you, ideally your family, to help as cheerleaders, or find a neurologist to take good care of you.
"I used to be a bit of a hypochondriac. These days I don't look for information as you'll always find something that's bad news. I'd rather hear it from an expert. I like to be around positivity and positive people."
During his stints on Radio Luxembourg from 1968 to 1975, hosting pop shows on ITV in the mid-70s, and as a presenter on Radio 1 and Top Of The Pops from 1976 until 1984, David "bumped into Ozzy a few times".
"Ozzy was always full of life and enjoying rock 'n' roll in all its dimensions. His heavy rock group Black Sabbath were a very credible band, but these days more people are probably aware of Ozzy from The Osbournes TV series, which was brilliant.
"Ozzy strikes me as the sort of person who's not going to take it easy. But you've got to settle down at some point.
"Ozzy shouldn't be afraid to talk to people about it and solicit tips that might put a pep in his step if he's feeling a bit flat.
"If he'd like to get in touch with me, I'd be very happy to help him as much as I can."
Something that makes David feel better about himself is helping others come to terms with Parkinson's.
"Going public about having Parkinson's has reaped benefits for me, in the sense that when I go down the street people are friendly and ask how I'm doing.
"When they say 'you look well', that's really nice to hear and a great lift to me. I often meet others with Parkinson's who want to talk to me about it.
"I'm happy to pass on what I know. It's not everything the medical profession know, but in terms of getting on and being sympathetic… cos I've been there, done it and am doing it.
"There are enough people with it now that I'm sure Ozzy himself knows people who have it.
"It's extraordinary how it's become so well-known a disease because the likes of Neil Diamond, Linda Ronstandt and Michael J Fox have it. Billy Connolly has done a great job as a high-profile ambassador who spreads the word.
"People need to know what Parkinson's is or they'll assume that folk staggering around have been drinking too much. I consider it my job to tell people what the disease is and entails."
David would be first to correct anyone who assumes that Ozzy's colourful past was responsible for him having Parkinson's now.
"It doesn't work like that. It's never even been confirmed that Muhammad Ali suffered from it because of all the blows to his head through his boxing career. That may have had something to do with it but they're not completely sure it was that which gave him the Parkinson's. There's no kind of path you go on.
"Although there are almost 100 symptoms you don't necessarily get them all, and everybody is different. The jury is still out on how people get it.
"Medicine is not gonna cure it – there is no cure – but you find a mixture of potions and solutions, tablets and capsules to take that you end up with quite a menu to get through the day, but they do make your life a lot easier.
"Even if no cure for Parkinson's is found in my lifetime, I will do my bit to raise awareness and funds."