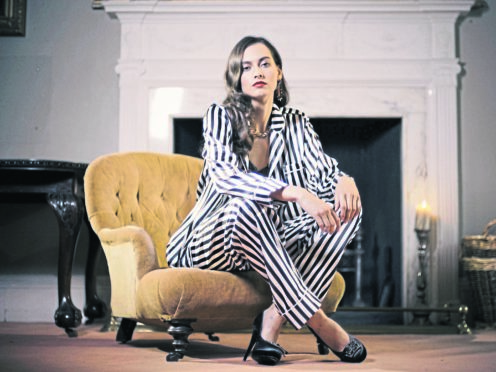 If staying in is the new going out, Scots are still dressing to impress as firms reveal booming sales in luxury loungewear.
Brands that add a touch of extravagance to getting comfy have enjoyed a surge in sales as customers relax in style.
Johnstons of Elgin, which manufactures textiles and luxury clothing, is among the firms seeing a surge with sales of cashmere sleepwear and loungewear up 141% in the last year.
CEO Simon Cotton said luxury cashmere pyjama sets, eye masks, jogging pants, socks and dressing gowns are now best-sellers. Sales of cashmere dressing gowns, which retail at £1,750, have shot up by 120%.
"Initially the main thing was people buying gifts for relatives who were isolating but within a few months we started to see the big loungewear trend building, and that's continuing," he said. "People have gotten used to dressing more comfortable, even when working. People aren't ready to go back to wearing suits and ties in the office but rather embracing a more relaxed wardrobe."
The 200-year-old heritage brand creates its luxurious cashmere at its Hawick and Elgin mills. "Cashmere is a very emotional product," added Simon. "It's something soft you can wrap yourself up in to feel warm and cosy, so I think there's also that element of self-care."
A renewed desire to shop ethically and embrace slow fashion created closer to home is also key.
"People visit our site about seven times before buying, so I think people are spending less, but spending more on items they know will last. Buyers are making more researched decisions, considering sustainability, quality and longevity to justify their purchases."
Fashion powerhouses like Chanel and Dior have also responded by introducing new lines of silk pyjamas with matching face masks.
Bruce Cameron, sales director for Scottish cashmere producer, Todd & Duncan, said the global trend towards more relaxed and casual styles was in motion before the pandemic.
"I was in Shanghai in 2019 and people were talking about the future of luxury being in the home," he said. "Consumers would desire to 'nest' in luxury loungewear and make their homes very comfortable and luxurious. The pandemic brought that trend along sooner than many were expecting."
The luxurious high-end cashmere produced at Todd & Duncan's mill at Loch Leven remains popular with the world's top fashion brands. And while the style industry has felt the pinch of the pandemic, there remains a healthy desire for the most luxe cashmere fabrics Scotland can offer – suggesting that the trend towards luxury leisure and sleepwear is here to stay.
"The very high-end, couture brands seem to have been protected during the pandemic and are doing well," added Bruce.
"The change in consumer behaviour towards the more informal does bring optimism that there will be growth in knitwear in the long term."
Viewers of Netflix comedy series The Duchess will be familiar with the show's lead character, played by its creator Katherine Ryan, looking stylish on the school run in chic silk pyjamas.
Now, rather than what would once have been seen as a fashion faux pas, stylish sleepwear worn outside the home could become a growing trend that a nation used to a more relaxed wardrobe could embrace.
Presenter and designer Alexa Chung is passionate about PJs and recently revealed she bought pyjamas from high-end menswear brand Charvet, adding: "They're the most expensive pair I've ever bought, but I've worn them throughout lockdown and I absolutely love them.
"Pyjamas are 10-a-penny, yet they're really hard to get right. The lapel on these is perfect, and I love that they're oversized. I wear them in the summer over a bikini, and then obviously to sleep in, and you can even wear them with jeans. I like feeling like a grand old man."
Rona Dougall: My husband bought himself a onesie… he looks like a giant toddler
Scottish label, SÒLAS, created by Ruth Mitchell and Ciorstaidh Monk in 2017 is also at the luxury end of the market with printed silk pyjamas and housecoats costing from £180 to £495, and matching silk sleep masks at £45.
Sòlas means "comfort and joy" in Gaelic and Ciorstaidh sees their sleepwear as investment pieces suitable for visiting a cocktail bar or lounging on the sofa, mirroring the blurring of our home, work and social lives over the past few months.
"Loungewear is huge now as people want to be comfortable, but they want to look good, too, by investing in luxury sleepwear that makes them feel good. Our idea was to create something women can wear at home but still feel special in," said Ciorstaidh.
"They are designed to be multi-functional, so you could wear them out to a bar or lounging around the house. The line between life outside and within the home is gone now so wearing comfortable styles and luxurious fabrics in both settings is going to be a big trend.
"We have just released a collection of smaller accessories like printed silk scrunchies and headbands. They've been hugely popular, along with our silk sleep masks, and are often bought as gifts. Specialising in luxury sleepwear has been a saviour."
Katrina Hood, who runs Glasgow-based luxe sleepwear label, fèleil, with her sister, Fiona MacSween, has seen interest in silk slips, nightgowns and pyjama sets increase.
"When we launched in 2016, we saw a gap in the market for luxury pyjamas and tend to have repeat customers who will treat themselves to a new set every year, rather than buy into the fast-fashion cycle," said Katrina, adding: "We have seen a real uptick in the past year and a big increase in visitors to our website."
The fèleil range is designed in Scotland and produced in Portugal. While the double blow of Brexit and a global pandemic has forced a rethink of their business model, the sisters remain optimistic about the future.
With a growing interest in luxurious, made-to-last sleepwear promising to continue post-pandemic, small independent brands like SÒLAS and fèleil are well placed to take advantage of the trend.
Katrina added: "We're definitely in the right sphere. I think there's been a permanent shift in buyers' behaviour.
"It's now a case of how we make our business more sustainable and best serve our customers in the future."
Katrina hopes that a year living within the pandemic bubble, with nights out at bars and restaurants traded in for yet another evening curled up in front of the sofa, will encourage more Scots to see the benefits of investing in quality sleepwear.
She added: "Wearing something comfortable and tactile while still looking good, can make you feel good about yourself. We all need that feeling of a little luxury and self-indulgence right now."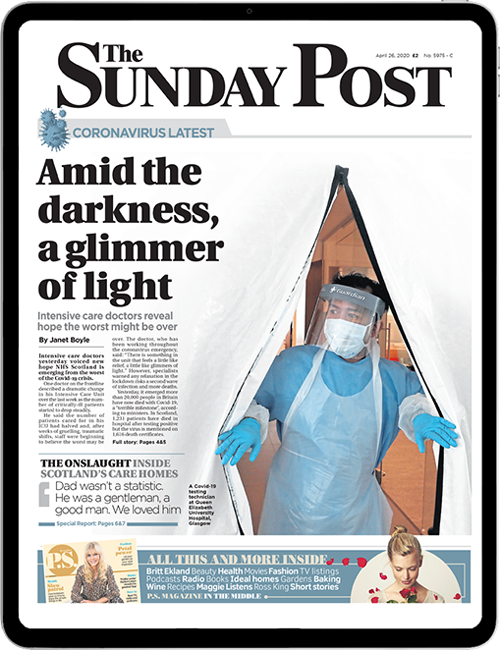 Enjoy the convenience of having The Sunday Post delivered as a digital ePaper straight to your smartphone, tablet or computer.
Subscribe for only £5.49 a month and enjoy all the benefits of the printed paper as a digital replica.
Subscribe