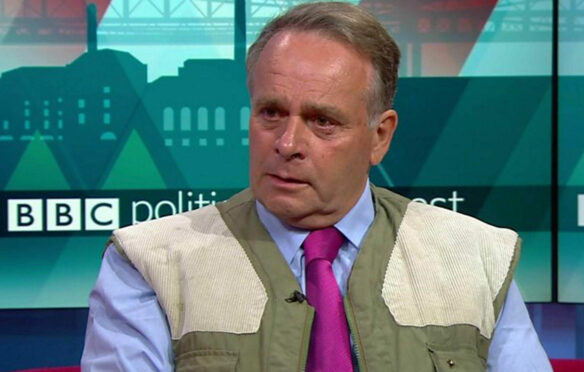 Tory MP Neil Parish yesterday resigned after admitting to twice watching pornography in the House of Commons, saying he first accidentally viewed it after looking at tractors online before returning to the site.
The 65-year-old select committee chair, a farmer by trade, said the second time was while sitting waiting to vote on the side of the Commons chamber in a "moment of madness".
He had vowed to continue as the MP for Tiverton and Honiton after it was revealed he was the politician seen watching porn by two Conservative colleagues, but eventually bowed to pressure to resign yesterday.
The backbencher said in an interview with BBC South West that he recognised the "furore" and "damage" he was causing his family and his constituency in Devon before deciding "it just wasn't worth carrying on".
"The situation was, funnily enough, it was tractors I was looking at, so I did get into another website with sort of a very similar name and I watched it for a bit, which I shouldn't have done," Mr Parish said. "My crime, my biggest crime, is that on another occasion I went in a second time, and that was deliberate.
"That was waiting to vote at the side of the chamber."
Parish said it was a "moment of madness", which he accepted was "totally wrong", as he insisted he was "not making sure people could see it" and was trying to be discreet.
"It was wrong what I was doing, but this idea that I was there watching it, intimidating women… I mean I have 12 years in parliament and probably one of the best reputations ever – or did."
When pressed on why he chose to view the material in the Commons, he said: "I don't know, I think I must've taken complete leave of my senses and my sensibilities and my sense of decency, everything."
Deputy Labour leader Angela Rayner expressed bafflement at the MP's excuse, adding: "Neil Parish must think you were all born yesterday. Boris Johnson's Conservatives are a national embarrassment."
He was looking for tractors but ended up with porn actors? 🚜

Neil Parish must think you were all born yesterday.

Boris Johnson's Conservatives are a national embarrassment.pic.twitter.com/wm3ijan21s

— Angela Rayner 🌹 (@AngelaRayner) April 30, 2022
His conduct first emerged at a meeting of female members of the Conservative 2022 group in Westminster on Tuesday night. Two women said they had witnessed a male colleague watching porn in the Commons chamber.
One of them, a minister, said she had also seen him viewing adult material in a committee meeting. Reporters learned of the allegations the following morning, but not the name of the culprit.
Tory Chief Whip Chris Heaton-Harris responded by calling the behaviour "wholly unacceptable" and launching an investigation.
The senior backbencher's initial silence, followed by insistence he would stay in the job after he was unmasked, helped prolong the torrid affair for the Conservatives.
Criticism has also been aired at the Tory whips for taking days to suspend him.
The Tiverton and Honiton Conservative Association thanked Parish for his "service to our communities" since becoming MP in 2010, adding: "We support his decision to step down as our Member of Parliament."
His departure as the chairman of the Commons Environment, Food and Rural Affairs Committee will pave the way for a by-election in the safe Tory seat, which he won by more than 14,000 votes over Labour in 2019.
Allegations of a porn-watching MP were first aired in a meeting with Chris Heaton-Harris on Tuesday. Parish did not come forward as the culprit, even when asked about the claims in a televised interview, until when the revelations were about to be made public on Friday.
The Conservatives then suspended the whip from him, meaning he was out of the parliamentary party. He referred himself to the Parliamentary Commissioner for Standards, and said he would continue with his "duties" in the Commons pending an investigation.
FM leads action calls after backbencher finally quits
The First Minister yesterday led calls for a sea change in attitudes to sexism and misogyny after an MP resigned for watching pornography in the House of Commons.
Nicola Sturgeon said it was a "societal problem" which has to change as women politicians of all parties demanded change after Neil Parish, a senior Tory backbencher, stood down after admitting watching pornography on his phone in the Commons chamber and in a committee meeting.
The First Minister said: "So this is a moment I think to really say 'enough is enough'. Not all men are misogynists, but all women do experience misogyny.
"And misogyny is by and large about male behaviour. So men have to change, and I hope this is a moment where they really think about that carefully and seriously."
Parish resigned as an MP after admitting to twice watching pornography in parliament, saying he first accidentally viewed it after looking at tractors online before then returning to the site in a "moment of madness."
The scandal comes just days after an anonymous Tory MP accused Labour deputy leader Angela Rayner of crossing and uncrossing her legs in parliament in order to distract Boris Johnson. Meanwhile, 56 MPs are reportedly under investigation in relation to around 70 sexual misconduct allegations.
The scandal prompted a number of women politicians to demand a dramatic change in culture and attitudes and recounted their experience of sexism and misogyny at Westminster.
Anum Qaisar, SNP MP for Airdrie and Shotts, revealed that after arriving at the Commons in May 2021, she has been repeatedly told be wary of certain male MPs.
She said: "How many more stories do we have to hear about Westminster being unsafe for women? Since my election, I have had people from different political parties, staffers and journalists warn me about certain men in parliament. It seems there is an open secret of 'stay away from this person or that person'.
"Being an elected representative is a huge honour. It is such a shame that some are using their status inappropriately. Democracy deserves better."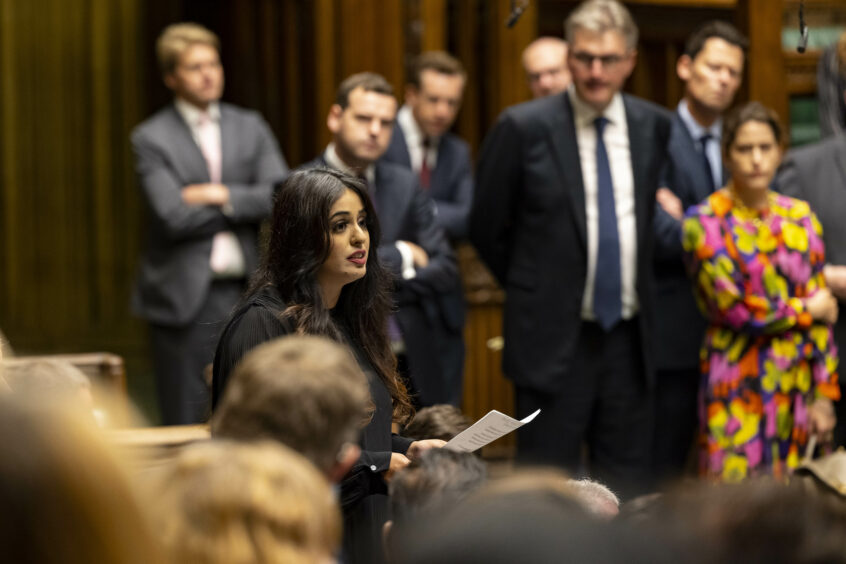 The MP added: "The behaviour highlighted in parliament this week is not unique. The sad fact is it is the norm in Westminster.
"But it is not just for women to challenge. It has to be the responsibility of men too. They have to stand up and be our allies."
Her concern was echoed by Christine Jardine, Lib Dem MP for Edinburgh West, said: "We need a culture change throughout politics. What we are seeing at Westminster is completely unacceptable and we should expect a higher standard of behaviour from our elected representatives."
SNP East Kilbride MP Dr Lisa Cameron said: "It's all about misogyny and power.
"And when that is mixed with being away from home and your family is replaced by spending time at the bar, it can lead, as we have seen, to a culture of alcohol, sexual harassment and undesirable behaviour.
"I've personally experienced a male MP touching my leg.
"It happened three and a half years ago. While it was an uncomfortable experience, I simply moved away and did not report it as I chose to give him the benefit of the doubt.
"However, I do believe that inappropriate behaviour should be properly investigated and dealt with, and the culture at Westminster absolutely needs to change."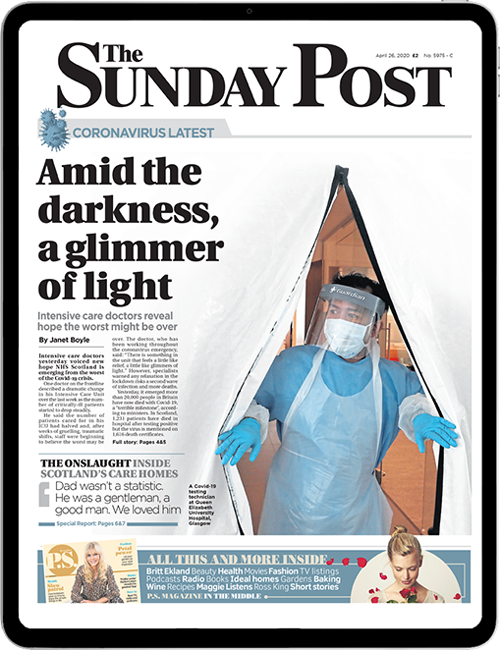 Enjoy the convenience of having The Sunday Post delivered as a digital ePaper straight to your smartphone, tablet or computer.
Subscribe for only £5.49 a month and enjoy all the benefits of the printed paper as a digital replica.
Subscribe