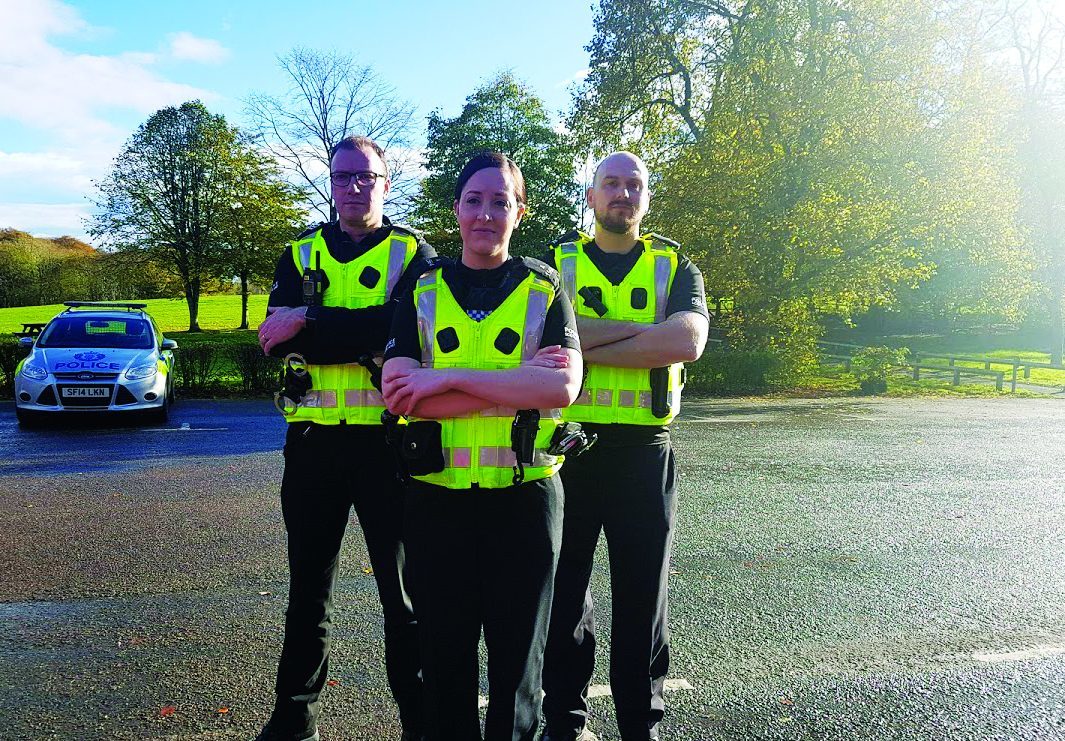 TWENTY THREE police officers were recognised for their bravery last night at the Scottish Police Federation Awards.
The winners of the overall award were six police officers from Ellon, who attended a collision in which a car became submerged in a flooded river.
Sgt Andy Sawers, PC Kirsteen McArthur, PC Carolyn Wright, PC Calum McDougall, PC David Ritchie and PC John Grant rushed to the scene in December last year when a car left the road in Ellon and flipped on to its roof in a freezing cold river.
Two children, Amy Duguid and her sister Kirsten, were trapped inside.
Sgt Sawers, PC Ritchie, PC McDougall and PC Wright all went into the water to try and free the girls.
PC Wright went underwater and managed to prise the car door open with a crowbar and rescue 12-year-old Amy.
Wright recalled: "It seemed to do the trick and the door popped open and the wee lassie sprung out."
Police officer tells of heroism and heartbreak in Ellon river rescue
After realising 14-year-old Kirsten was also still in the car, all four officers then stayed in the river and continued with their efforts.
The team managed to free her, however she was unconscious and not breathing.
PC McDougall and PC Grant administered CPR for some time but despite their best efforts, Kirsten died hours later in hospital.
Sgt Sawers said: "The whole team really pulled together so well, we just got things done that needed to happen.  It was dark, confusing and freezing but everyone worked hard to save those girls."
The team said that while they are honoured to win the award, their thoughts remain with the bereaved family.
PC Carolyn Wright told the Sunday Post: "We're delighted to be honoured, but it's a tragic event.
"We tried our best, but a girl died. It's very sad. In another sense I'm proud we did the best we could that night.
"We were effective, efficient and I'm proud of the job we did — it was just such a shame we never managed to save the wee lassie."
Michael Matheson, Cabinet Secretary for Justice, thanked the officers for going 'above and beyond the call of duty'.
He said: "These heroic attempts, in extraordinarily difficult circumstances, to try to save the lives of two young girls, reinforce everything that we have come to expect from officers from Police Scotland.
"I commend their bravery and thank each of them for going above and beyond the call of duty to protect the public.  Our sincere sympathies remain with the family who lost a loved one in such tragic circumstances."
Lianne and Gary Duguid, parents of Amy and Kirsten, said: "We would like to thank all of the police involved for the bravery shown.
"Their efforts putting others before themselves is highly commendable and resulted in saving our daughters life.
"Special thanks should also go to PC Kevin Ross who provided compassionate support to us throughout."
Other Bravery Award winners were:
PC Christopher Starkie and PC Daniel Gabrielli from Aberdeen – helped save the life of 13 year old Samuel Walker in August last year, following the death of his mother and younger brother in a tragic swimming accident at Aberdeen Beach.
PC Paul Brownlee and PC Greg Gavin from Dalkeith – saved the life of a man who was attempting to jump off the bridge spanning the River Esk, on Newmills Road in Dalkeith.
DC Brian Todd from Leith – while off duty, disarmed a drunken man with an air rifle who was shooting at nearby individuals.
PC Michael Baxter, PC Derek Paton, PC David Robertson and PC Liam Burns from Glasgow, – collectively subdued a man swinging a nail headed baseball bat and who had set fire to the block of flats he lived in.  Not only did they have to tackle a man with a dangerous weapon, they had to do it in a burning – and hence structurally unstable – building.
PC Daniel White and PC Alexander McCullough from Glasgow – involved in the widely publicised incident on West Nile Street in City Centre. They subdued a man, who was covered in blood from self-inflicted wounds and carrying dangerous weapons. He was threatening members of the public and was a danger to them as well as himself.
PC Scott Douglas from Bellshill – was off duty when he helped save the life of a young woman who was planning to jump off the bridge that crosses the M80, near Cumbernauld.
PC Deborah Lawson and PC Robert Fitzsimmons from Glasgow – intervened in a firearm incident in Glasgow, which left both officers with significant injuries.
PC Iain Fotheringham, PC Christopher Wood and PC Andrew Gamble from Edinburgh – saved the life of a 14-year girl who was being attacked by a 'bull mastiff' type dog.