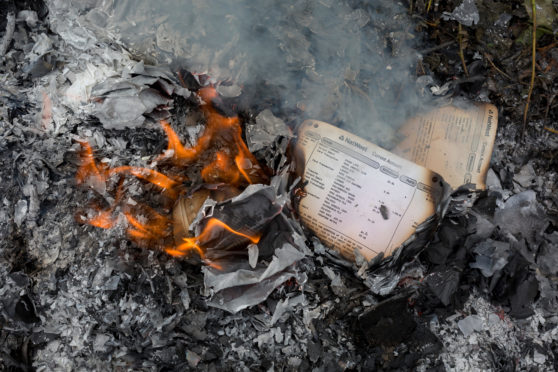 A police probe has been launched into claims about potential cover-up at Scotland's former elite crime agency.
Chief Constable Iain Livingstone has ordered an investigation into claims that undercover officers from the now-defunct Scottish Crime and Drug Enforcement Agency (SCDEA) burned documents to cover their tracks.
The Sunday Post revealed three weeks ago how a whistleblower said officers were ordered to buy a garden incinerator and petrol to dispose of paperwork at the chaotic police unit – including unpaid bills.
In a £1 million legal action, the whistleblower successfully claimed she had been unfairly scapegoated and forced out of her job with the police. Police Scotland intend to appeal that decision.
In a letter published on Friday, Mr Livingstone told MSPs his deputy Fiona Taylor is probing the claims. He said the case had led to "legitimate interest in what took place in this unit" and the review would be complete by the end of March, with an interim report by February 28.
Leading Scottish politicians last night voiced concerns over the prospect of police investigating their own and called for an external inquiry by a force from England or Northern Ireland.
Scottish Liberal Democrat justice spokesman, Liam McArthur MSP, said: "The case for an external inquiry remains as compelling as ever. If Mr Livingstone's letter is a precursor to an independent inquiry then I would welcome that. But if the intention is simply to go down an alternative route then this would not be acceptable."
Scottish Labour's Daniel Johnson insisted an outside investigation should take place.
He said: "The actions taken by the chief constable do not go far enough. The seriousness of the allegations and the questions raised mean that an external police force must be called to investigate as a minimum."
A whistleblower, known in court as Mrs K, raised the alarm when she found bank cards, credit card statements and cash not linked to any undercover operations at the out-of-town unit where the financial infrastructure around covert operations was managed.
When told about it, her bosses described it as a "total disaster". One allegedly kicked a chair in her direction before she was told, "nobody would ever know about this". She was then told the paperwork would be destroyed.
The Scottish Government said: "It is important to let Police Scotland and the Scottish Police Authority determine their response before considering any further options."
The retirements of the national force's deputy chief constable, Johnny Gwynne, who was number two at the SCDEA at the time, and Stephen Whitelock, lead investigator at HM Inspectorate of Constabulary, who was number three, were announced just before the judgement was published but both deny any link between those events.
Police Scotland say Mr Gwynne had informed the Scottish Police Authority of his retirement just before Christmas last year. His retirement was announced at a SPA public meeting on January 30, a day before the judgement.
The force says any implication of a link to Mr Gwynne's retirement would be "completely inaccurate and misleading".