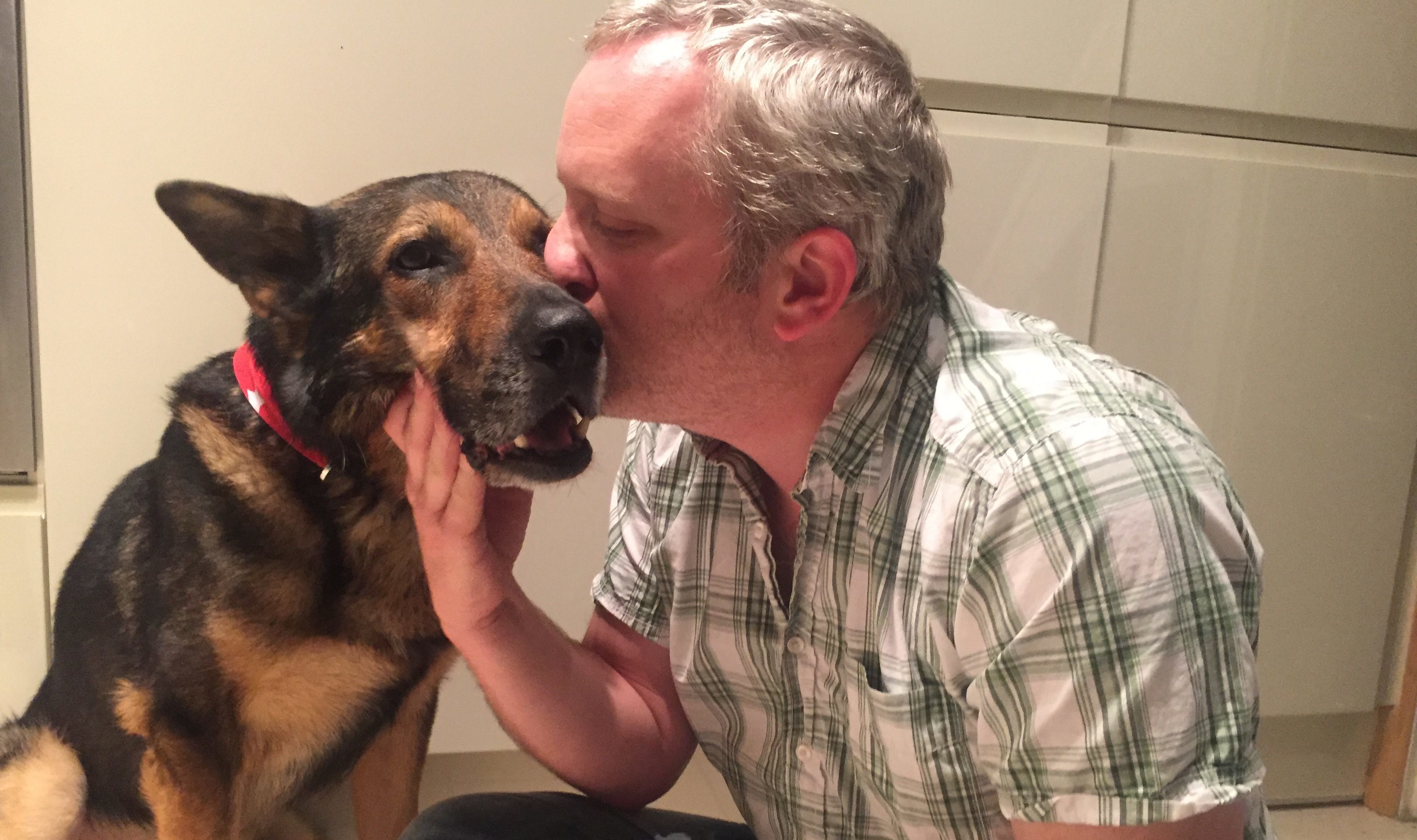 A POLICE officer whose service dog almost died from stab wounds has called on the Scottish Government to be the first part of the UK to introduce "Finn's Law".
PC Dave Wardell is fighting for new legislation that makes it a specific offence to attack service animals after his police dog, a German Shepherd called Finn, was stabbed by an armed robber.
A 10-inch blade was plunged into the dog's chest, yet he still managed to save Dave's life by blocking another lunge with the knife, suffering a serious wound to the head as he did so.
Against the odds, Finn pulled through and recovered, but the perpetrator wasn't charged for the assault on Finn in October 2016 because there was nothing appropriate to charge him with.
After the incident in Stevenage, a petition calling for a change in the law garnered 120,000 signatures and was raised in Parliament. In effect, it would give service animals the same status and protection as officers if they are assaulted on duty.
But it hit an obstacle 10 days ago when MPs questioned the need for extra legislation. It will be debated again in Westminster on March 16.
Dave has written a book about his life with eight-year-old Finn and, ahead of a trip to Glasgow this month to take part in the Aye Write literary festival, has challenged Scotland's politicians to lead the way in protecting these brave animals.
"We've been talking to a few people from the SNP and I think it would be great if the Scottish Government can get in there first," Dave said.
"The public appears to want it."
Dave and Finn were chasing a suspected robber when tragedy struck.
"I thought he was carrying a baton, which we're used to dealing with," Dave said. "It was only when the blade came out of Finn's chest that I realised what it actually was — the biggest knife I've ever seen on the street.
"I thought there was no way it hadn't gone through his heart.
"Yet he was still happy to stay there and protect me and wait until we'd disarmed the young lad, even if it took his last breath to do so.
"I heard a horrible hiss as air rushed out of his stab wound. I scooped him up and rushed him to a vet as his oxygen levels plummeted. As I lay on the vet's floor with him, he sought out a cut on my hand and started licking it. He was still looking out for me – that's a moment I'll never forget."
Dave and Finn suffered Post Traumatic Stress Disorder in the aftermath.
"PTSD is to be expected when you see that happening to your best buddy," 41-year-old Dave continued.
"It messes with your mind and I didn't sleep for two weeks. The next two weeks weren't great either.
"The guilt was huge – I wouldn't have sent him after a person with a knife, not unless someone else was in serious danger. I suffered claustrophobia as a kid and that came rushing back.
"Finn was very subdued and couldn't bear to have me out of his sight. He directed everything in his recovery – when he wanted to pick up his ball again, start training again, and so on. If I had seen anything that made me think his heart was no longer in it, I would have retired him then and there."
But Finn was soon back to work. He chased down and apprehended a criminal on his first night back and retired a few months later, having reached the retirement age of eight.
In his time on the force, Finn was involved in 300 arrests and saved around 40 lives.
Dave now works with a new service dog, while Finn – who received the International Fund for Animal Welfare's Animal of the Year award – is relaxing in the family home alongside five other dogs, a cat, a parrot and the three daughters that Dave and his police officer wife, Gemma, have together.
Fabulous Finn is out now from Quercus. Dave and Finn will be at the Aye Write festival on March 18.