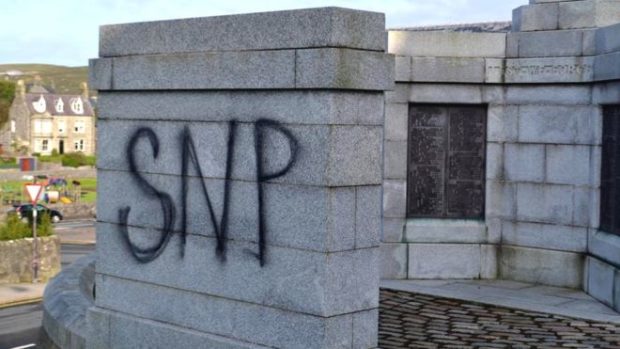 An investigation has been launched by police in Shetland after a war memorial in Lerwick was vandalised with graffiti.
The letters "SNP" were spray painted on a concrete block at the side of the memorial which sits opposite the town hall at some point on Wednesday night and Thursday morning.
The slogan appeared last night just hours after Nicola Sturgeon made her third campaign visit to the islands in a month.
The party have however expressed outrage at the graffiti on the memorial.
The lettering has since been scrubbed off but police are urging anyone with information to come forward.
Chief Inspector Lindsay Tulloch said: "Vandalism is never acceptable in any circumstances and damaging a war memorial is a particularly disrespectful act.
"This has caused considerable upset in the local community.
"Our enquiries are ongoing and at early stage. We would urge anyone who may have seen anything suspicious overnight in the area or has any other information which could help to come forward."
Anyone with information can contact police in Lerwick on 101.