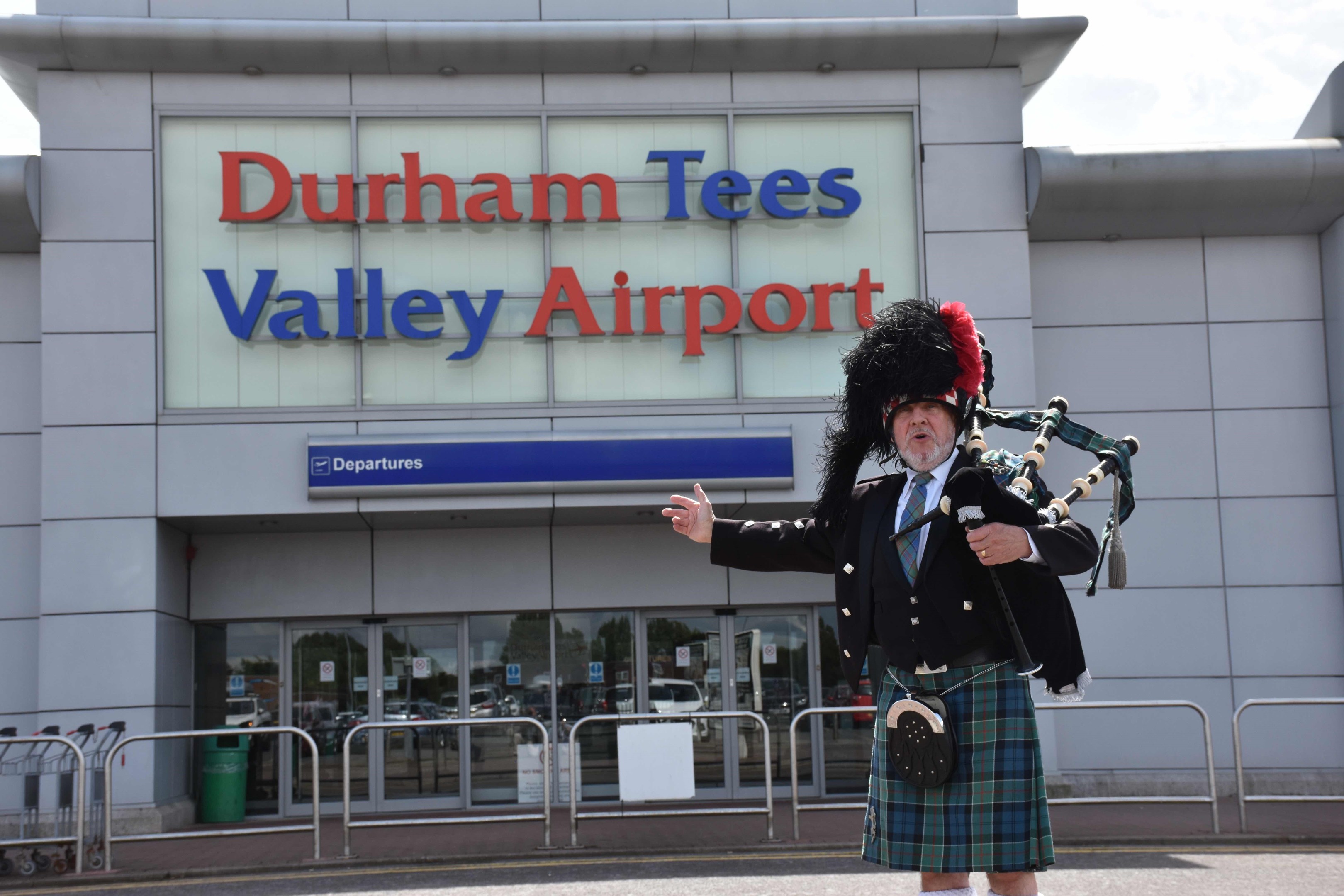 WEARING full Highland dress and carrying a set of bagpipes, it was hard to mistake Derek Millmoor.
But when he turned up at Durham Tees Valley Airport to pipe in a new scheduled service from Aberdeen, he was not allowed on to the tarmac – because he couldn't prove who he was.
Derek was hired to play for VIP guests at the launch of the new route last Sunday.
But the 72-year-old instead had to perform solo to bemused travellers outside the terminal after being denied access.
"I thought it was a wind-up," he said. "I was in full Highland dress and carrying bagpipes so it was pretty obvious who I was and what I was there for."
Derek, from Crook, County Durham, has been playing the pipes for more than 20 years.
He had forwarded copies of his passport and driving licence to Loganair beforehand.
"The whole thing was pretty top secret and I wasn't told in advance who I would be playing for, or why," he said. "I was just told to make sure I wore something with red in it.
"I wondered if that meant I would be playing for the arrival of the likes of Vladimir Putin, Jeremy Corbyn or Nicola Sturgeon but when I got there I found out I was to pipe in an aeroplane."
After he was refused entry, Derek decided to put on a lone piper performance in the car park outside. "Some Irish guys approached me and asked for a tune so I blasted out a bit of The Fields Of Athenry.
"The whole episode was a bit embarrassing."
A spokesman for Loganair said the incident was down to a misunderstanding.
"It was unfortunate but security at airports is very strict and the piper had not brought his driving licence with him so he wasn't allowed through," the spokesman said. "He will still be paid in full."
Last month, a Scots pensioner was thrown off a flight for refusing to place her bagpipes in the hold.
World champion piper Jennifer Hutcheon was frogmarched across an airport building by armed police officers and soldiers.
The 67-year-old had been returning from Belgium after playing a lament at the grave of her grandfather, 100 years to the day since his death in the First World War.
But the emotional pilgrimage was ruined by the incident at Charleroi Airport as she tried to carry her pipes on board.