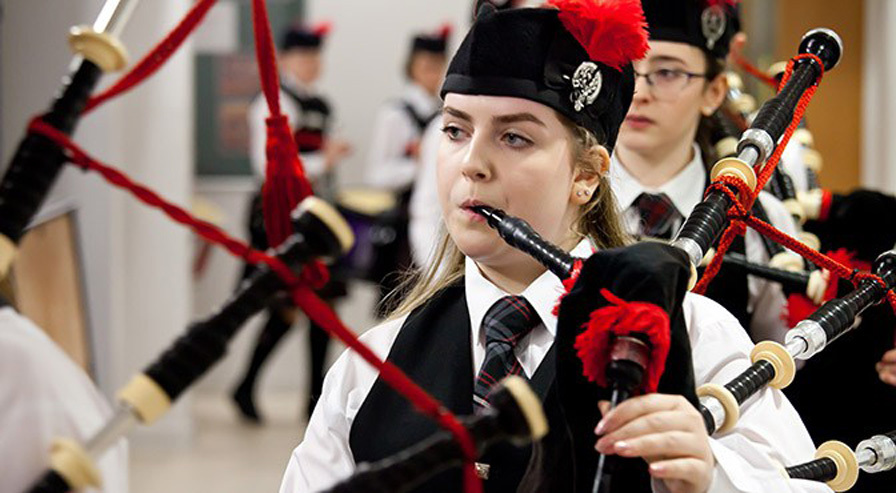 SOME of them have never left Scotland, or stepped foot on a plane.
Yet yesterday, teenage musicians from the Hebrides performed in the heart of Manhattan in a touching tribute to the memory of one of their own.
Pipers of the Sgoil Lionacleit Band delivered a stirring turn as part of the 20th annual Tartan Day Parade in New York in tribute to Eilidh MacLeod, their bandmate who died in the Manchester terror attack last year.
The young musicians took their place among thousands to march through the streets of the city.
John Daniel Peteranna, chairman of Sgoil Lionacleit's organising committee, said: "I imagine Eilidh's spirit will be here with us.
"She'll be looking down on us, laughing the way she always was, laughing and thinking: 'Enjoy yourselves, that's what it's all about'.
"There probably wouldn't be this level of interest in the band if it wasn't for the tragedy.
"But the way our kids have coped with that is really phenomenal. Eilidh was a senior piper in the band, and was always keeping our young ones right.
"She was such a happy soul, and nothing was a problem to her. That's the thing that has been instilled in the band.
"In the last two days the kids have had about six and a half hours sleep. They have been performing day and night with no complaint, which has been fantastic. The kids want to make Scotland and the islands proud of them."
He spoke movingly of how the prospect of playing at Tartan Day became an incentive to lift the band after Eilidh's death at the Ariana Grande concert in May last year.
He said: "We'd had a discussion at the World Championships in Glasgow last year about the fact that the band were very low. There was even debate whether to go to that competition after everything that had happened. It was then we decided to come over to Tartan Week. We were looking for a star in the sky to aim for. We knew it was a big ask, but we decided to go for it."
Eilidh was one of 22 people who died in the terrorist attack at Manchester Arena after a concert by pop star Ariana Grande on May 22 last year. The 14-year-old, from the Isle of Barra in the Outer Hebrides, had been at the concert with her friend Laura MacIntyre, who survived but suffered serious injuries.
John Daniel said: "Half the band haven't left Scotland before, a quarter of them have never been on a plane and the band itself has never performed outside Scotland before this trip. So there have been a lot of firsts for us this week."
The band, made up of youngsters from Uist and Barra, had to raise £60,000 to cover costs of flights and accommodation for 47 people from the Uists and Barra, as well as transporting their instruments across the Atlantic.
John Daniel said: "We had to raise it in four months. We had a crowdfunding page, which raised £10,000 and the rest was donations of £500 here, £1,000 there. Money came in from all over the world."
The pipers, all aged between 13 and 17, live in six different Hebridean Islands and attend school at Sgoil Lionacleit.
They sported a special tartan for the event donated by Stornoway kilt makers Celtic Clothing for the week-long celebration of American-Scottish heritage, which also saw them perform at the Ellis Island immigration museum and at the exclusive Explorers' Club, as well as on New York breakfast news channel Pix 11.
John Daniel said: "It's a real contrast between the peace and quiet of the home islands and laid back timeless way of life back home compared to the full-on adrenaline of the New York lifestyle with its diversity of population.
"But the New Yorkers have been incredibly friendly, as if you had met someone in Uist."
The Tartan Day parade is being led by KT Tunstall, the first female Grand Marshall in its 20-year history following the likes of actors Alan Cumming, Tommy Flanagan and Sean Connery.