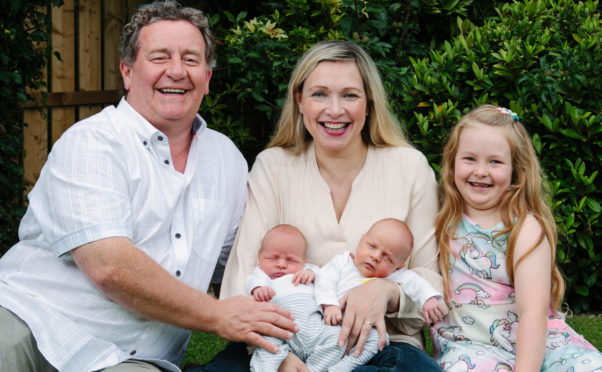 The look of love between Juliana Queen and her twin babies is unmistakable and, by her side, five-year-old daughter Amelia beams with pride.
But each one of this trio of children is a miracle of pioneering medical science and all have been freed from inheriting a cruel genetic legacy. Embryos for all three were genetically selected in a laboratory to make sure they did not contain the gene that causes Huntington's disease.
Juliana's family has suffered from Huntington's for generations and she watched helplessly as the condition, which causes dementia and tremors, slowly took over her dad.
But now generational progress of the rogue gene, which is normally passed on to about half of all sufferers' children, has been halted after Juliana and husband Graham became the first couple in Scotland to have the treatment.
Juliana and Graham, 55, a lawyer, applied to take part in pioneering genetic screening treatment at Edinburgh Royal Infirmary – Pre-implantation Genetic Testing (PGTM), which selects an unaffected embryo and implants it into the mother to grow into a healthy baby. That led to the birth of Amelia, now a healthy, bubbly five-year-old.
"We were overjoyed to be able to have a beautiful healthy baby, especially when we knew any naturally conceived child would have a 50% chance of inheriting Huntington's," said Juliana, 43, from Glasgow.
"I wanted to spare any child this. To have one healthy baby is wonderful but two more is amazing. We are incredibly lucky.
"It's not been easy and has taken 10 years of fertility treatment, but I hope this offers hope to any couple hoping to become parents like us."
Graham, who is ­celebrating a very special Father's Day today, is overjoyed with his ­growing family which now includes twins Harris and Louis.
"We didn't dare hope we could have a second child after Amelia was born," he said. "However, we went ahead with the treatment and were overjoyed when Juliana became pregnant.
"At her first scan the ­sonographers lingered on the screen. I just thought they were being meticulous. I didn't know but they were looking at twins. Life couldn't get any better!" Juliana remembers the moment she found out Amelia was going to have two new siblings.
"I was just seven weeks pregnant and undergoing my first scan," she said. "The blob on the screen looked much larger than I remembered Amelia being at that age and for a few moments I feared something was terribly wrong.
"Then the sonographers said, 'We've got news for you. You are having twins!' I just pulled my jumper over my face and screamed with surprise and joy, realising at that moment our lives were going to change massively with two more wee ones about the house.
"When I turned round to look at Graham he was ecstatic. However, it took until I was 25 weeks for him to finally accept he was going to be a dad of twins."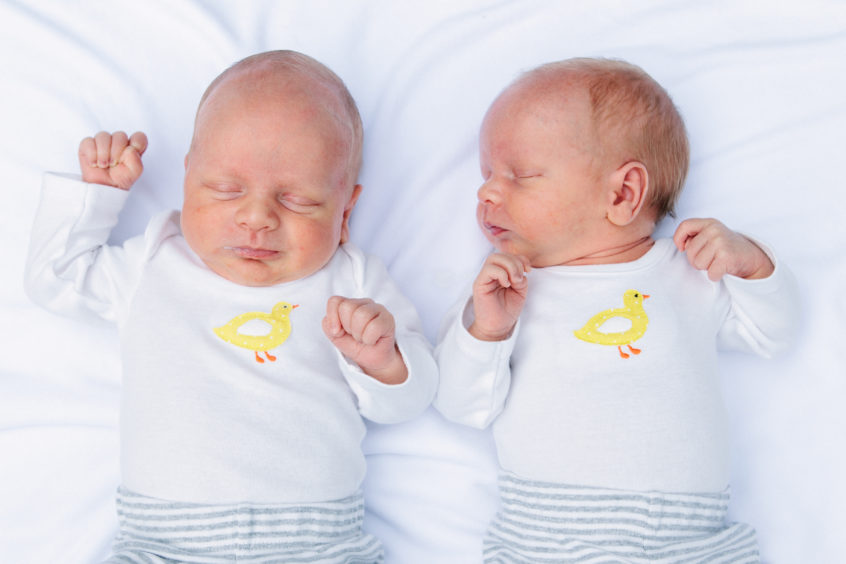 Graham has a daughter from his first marriage and these were his first sons. "I knew life was going to be very different with boys around the house," he added.
The boys were big and were delivered a month early by caesarean section at Queen Elizabeth University Hospital in Glasgow in May.
Louis was 6lb 13oz and Harris 6lb 10oz – both the size of single, full-term babies. But the toll on Juliana was ­considerable. Her womb didn't contract as normal after delivery and she suffered a haemorrhage.
"The doctor had to push down forcefully on my chest to complete the delivery," she said. "I was unable to see or hold the boys." She was quickly transferred to a high dependency ward where she was given a transfusion of four-and-a-half pints of plasma to recover from the blood loss.
After two days in high ­dependency she was transferred back to the maternity ward and was home with her babies in a week.
"It was a difficult ­delivery," said Juliana, "but I am home now and Amelia is thrilled to be spending time with her wee brothers."
Juliana conceived Amelia with NHS fertility care but did not qualify for further treatment because the couple already had a healthy child and she was over 40.
For the twins, their fertility treatment was carried out at the Glasgow Centre for Reproductive Medicine (GCRM), with the embryo selection ­technique undertaken at a ­laboratory in Oxford. Treatment cost £25,000.
Juliana said: "I just want others to know that becoming a parent is possible, whether you opt for the test to see if you have inherited the gene, or not."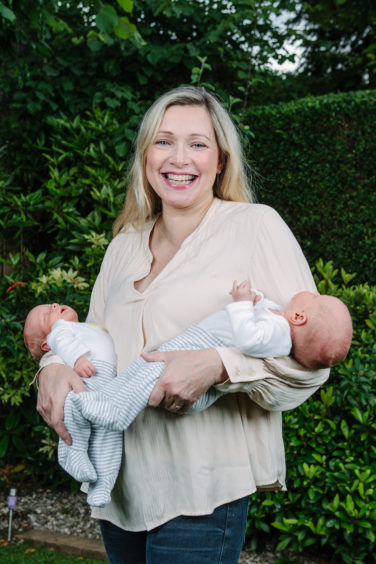 Diagnosed with Huntington's at 25, Juliana has faced her future with optimism and strength. So far she has shown no signs of the disease, which is caused by a faulty gene and affects the body's nervous system – the network of nerve tissues in the brain and spinal cord, influencing movement, learning, thinking and emotions.
Onset of Huntington's usually occurs between 30 and 55 years of age. Once symptoms begin, the ­disease gradually progresses. Hope for a cure lies on therapy to replace the faulty Huntington's gene and doctors speculate this could be five to 10 years away.
Marco Gaudoin, medical ­director of the GCRM, said: "We are delighted that Juliana has given births to healthy twin boys. Juliana had PGTM that is looking for the Huntington's gene mutation.
"She also had simultaneously PGT-A (Pre-implantation Genetic Testing Aneuploidy – general chromosome abnormalities, which increase with maternal age). This first technique offers parents to have a child who does not carry Huntington's."
Dr Gaudoin added: "Around 1% to 2% of these single embryos split to become identical twins."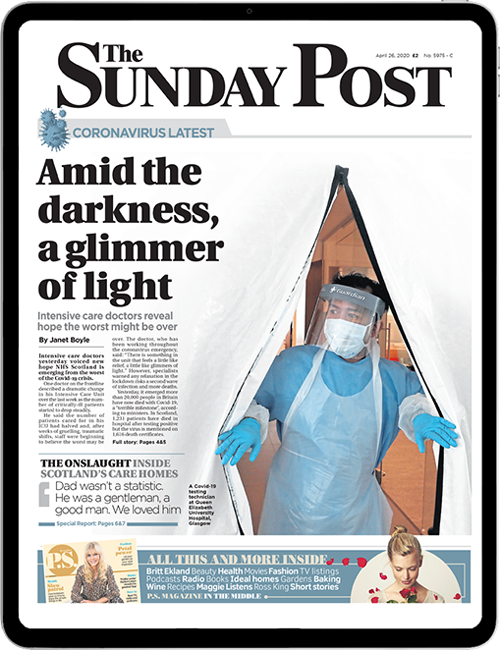 Enjoy the convenience of having The Sunday Post delivered as a digital ePaper straight to your smartphone, tablet or computer.
Subscribe for only £5.49 a month and enjoy all the benefits of the printed paper as a digital replica.
Subscribe