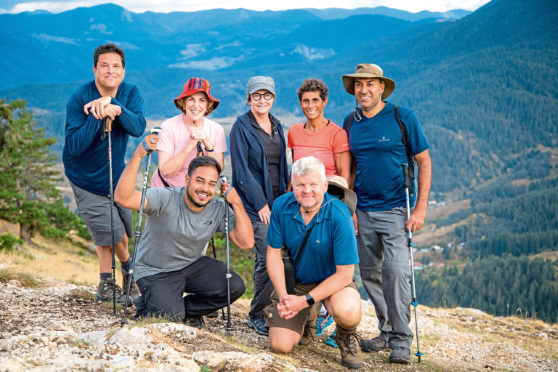 If you enjoyed the previous two series of BBC2 travelogue Pilgrimage, you'll love the third.
Hot on the heels of their famous predecessors, who journeyed to Santiago and Rome, seven new celebrities are set to embark on their own journey of discovery – this time to Istanbul.
Taking part is journalist Adrian Chiles, a converted Catholic; former politician Edwina Currie, a lapsed Jew; Olympian Fatima Whitbread, a Christian; broadcaster Mim Shaikh and TV presenter Amar Latif, both Muslims; and two confirmed atheists, comedian Dom Joly and actress Pauline McLynn.
Donning backpacks, the group will spend just over two weeks living as simple pilgrims following an ancient 1,000km military route, which has been transformed into a modern-day path of peace.
Starting in Serbia's capital city Belgrade, the pilgrims will travel through Bulgaria and the mountainous Balkans, before crossing the border into Turkey, with their goal of reaching Istanbul and the Suleymaniye Mosque.
So why did they sign up and how – if at all – has the experience changed their beliefs?
EDWINA CURRIE, 73
"First of all it's an area of the world I'd never been to. I knew it was beautiful, but it was stunning. And it's also an area that borders between countries with shifting allegiances, religions, so we were going to be exploring how people have treated each other over centuries. So I thought, 'This is going to be interesting!'
"I learned that there's a heck of a lot of change going on in that part of the world that we're not aware of.
"We saw villages that were virtually empty – people had gone to work and live in other countries.
"We saw areas where a lot of effort is being made to raise standards, giving hope – and we learned some places which are still very cut off, like Serbia, are still in a mindset that we, perhaps, wouldn't find very comfortable."
PAULINE McLYNN, 57
"These were three countries I've never been to before! Mostly, which I was glad to see in the first episode, was just how funny it all was.
"We all did a master interview before we went off on our travels, and I'm afraid I quite shallowly said that I like walking, a little bit of an adventure and I was hoping to have a right laugh. That is indeed what happened.
"All [the trip] did for me was cement the fact that I really have no time for organised religion of any sort.
"We visited an awful lot of places where the most extraordinary atrocities occurred, and it's all in the name, really, of religion… I was glad to be an atheist at the end of it all."
AMAR LATIF, 45
"For the last 15 years, since I've become blind, I've travelled the world. Why I went on this adventure was because in our day-to-day lives we're working hard, and religion is just pushed to one side.
"So I thought, 'Wow, two weeks of going away from work and contemplating exactly my thoughts and exactly where religion falls into it – or it doesn't.'
"Apart from the historical stuff that Pauline and Edwina alluded to, I felt I was experiencing such joy from most of the places that we went to.
"There was just a feeling of contentment. It just made me realise that religion does bring people together and it provides so much peace to people. I was getting a lot of that from this trip."
DOM JOLY, 52
"I'm totally non-religious and I just wanted to spend two weeks arguing with religious people and telling them how ridiculous they were, but actually they were all quite reasonable, so that didn't really happen.
"I travel a lot – I write travel books and I like dark tourism. I walked across Lebanon last year so I thought that I needed another walk. My big hero is Patrick Leigh Fermor, who walked in the 1930s from London to Istanbul, so the idea of being able to do the same-ish journey as he did was just unbeatable.
"Everyone we met along the way was lovely and friendly, and yet you knew the things that they believed in are used to divide. That's my problem with religion. I think it's just the extraordinary contrast between the friendliness of the people but knowing that there's this really deep-set division underneath it."
MIM SHAIKH, 28
"I've got this curiosity… of just wanting to learn about other cultures, religions and people, primarily, because I feel that's how I'm able to learn in the best way.
"I hoped that I would be able to feel something in regard to myself, where I'm pushing towards, what I want to do, and just seeing if I grow in any way.
"I felt like, as a Muslim who practises and who is devout, that I have a duty to show, 'Look we're not all fundamentalists, we're not all extremists, we're good human beings.'
"It's our form of meditation or yoga or what everybody else is able to do. I realised that all of us, no matter what our religions are, our ethnicity, our class, our gender, what jobs we have, there's more common in us than there is different."
ADRIAN CHILES, 52
"I just thought, 'Well, I do really like talking about faith' and I think there's a misconception that people who come on and talk about faith get hammered for it.
"I did a little series called My Mediterranean, which was about God, and I never got any stick for it at all. I'm quite relaxed talking about faith and I thought there would be interesting things to learn and discussions to have.
"I found it spiritually dispiriting, if I can put it like that. Every place we stopped, there was evidence of unspeakable things that had been done to people in the name of religion, which was nothing to do with religion.
"I've been asked, 'Could you be a Muslim? A Jew? But it's a meaningless question. It's not about which religion, it's where you are on the loony spectrum."
FATIMA WHITBREAD, 59
"I am Christian – however, I am not devout. I believe in God and a higher power. I find that praying helps me in times of need. [This] was a spiritual and eye-opening experience, both religiously and culturally.
"I thoroughly enjoyed the mountaineering, as well as walking through the villages and seeing local life in its simplicity.
"Experiencing a religious journey first hand has deepened my faith [but] I feel that it hasn't changed me as such, it's just increased my understanding of other people's faiths. It was an emotional journey that culminated in a powerful wholesome feeling when we arrived in Istanbul. It was one of my best experiences ever."
Pilgrimage: The Road To Istanbul is available on iPlayer.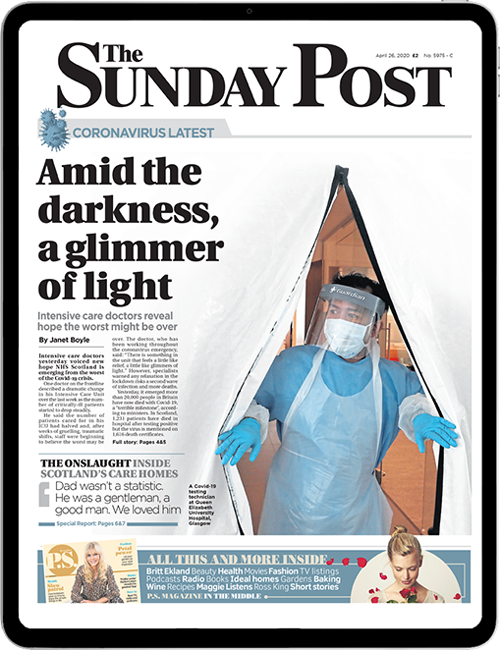 Enjoy the convenience of having The Sunday Post delivered as a digital ePaper straight to your smartphone, tablet or computer.
Subscribe for only £5.49 a month and enjoy all the benefits of the printed paper as a digital replica.
Subscribe