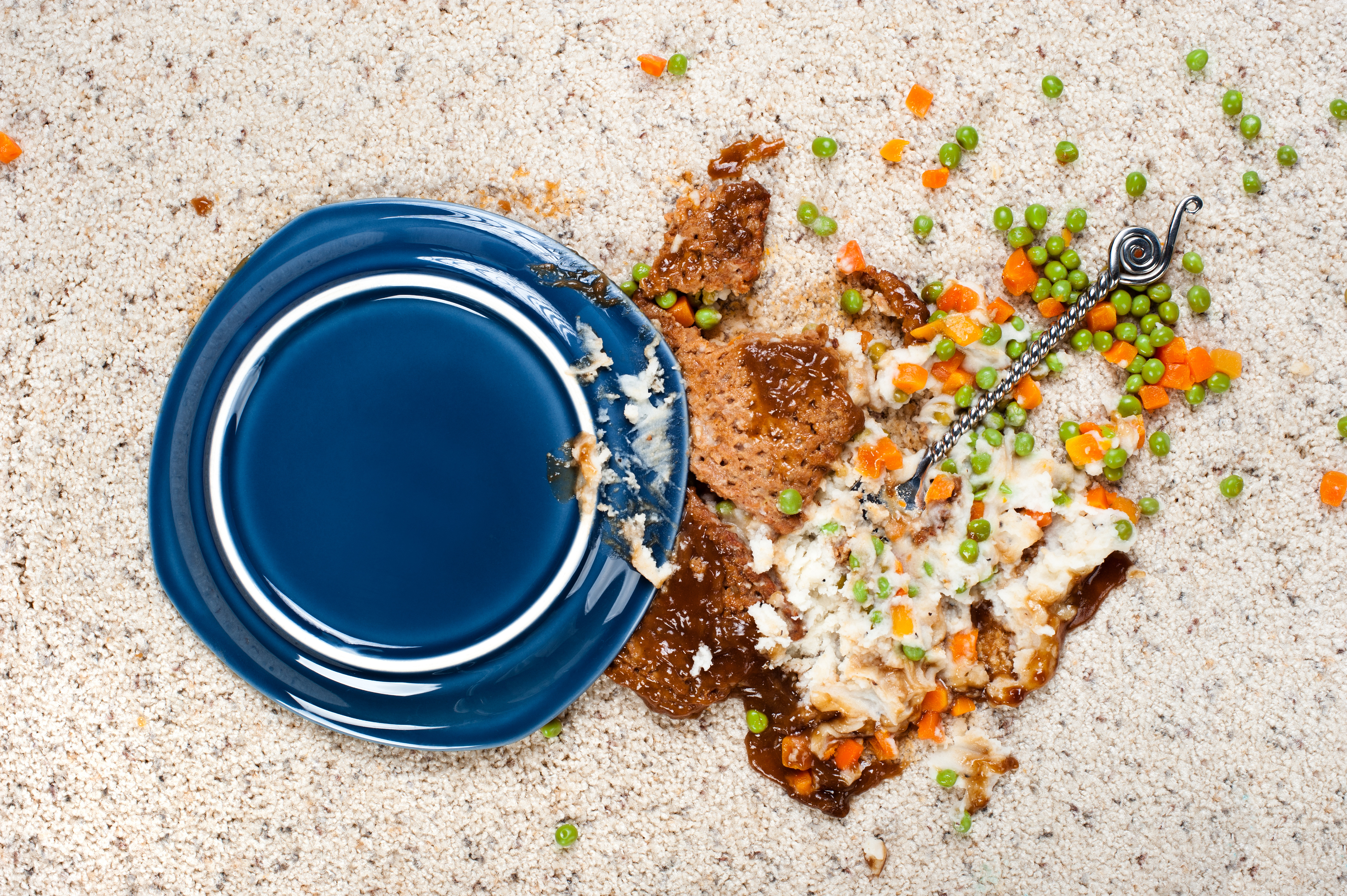 CHRISTMAS catastrophes, a spaghetti-covered baby and a rogue budgie are among the entries in a competition to find the UK's best dinner time disaster.
To celebrate the launch of its new dining and living room collection, furniture shop ScS is asking people to submit photos and stories of their funniest foodie fails and mealtime mess-ups and has already received a heap of hilarious entries.
There's a whole host of ruined carpets, daft decisions and calamity casualties all in the running to win a new dining table and chair set.
Here are some of the top entries so far, and find out how to enter below.
Picture not so perfect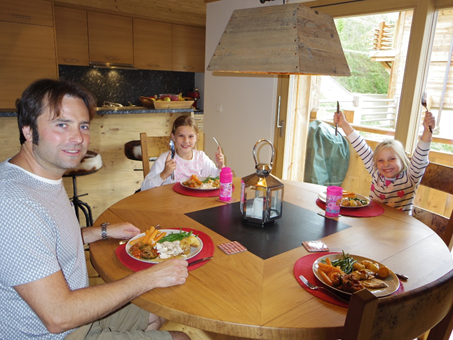 Caroline Elmhirst, a 44-year-old project manager from Nottingham submitted this family photo and said: "This picture may look like the perfect Sunday roast, however it doesn't show the full story! We were on holiday and the weather wasn't great so we decided to cook a roast with all the trimmings. The chicken had been roasting for two hours and we were ready to serve, with veggies timed to perfection.
"Imagine our horror when we opened the oven door to find that we had not turned it on! We did get our roast, but two hours later than planned with slightly soggy vegetables."
Jokes on you
John Mackie, 62-year-old Engineering Lecturer from Stonehaven, said: "When in South Africa with the Royal Navy, we booked a room in an old colonial hotel for dinner. Half way through the meal our colleague roared with laughter at a joke and leaned back in his chair which promptly snapped.
"He fell backwards but unfortunately his legs were under the table and it went with him, depositing the contents of our dinner on top of him. We couldn't move for laughing and the only thing that saved us was the fact that the waiter had popped his head around the door just in time to witness the whole thing. Sailors eh?"
Cake-tastrophe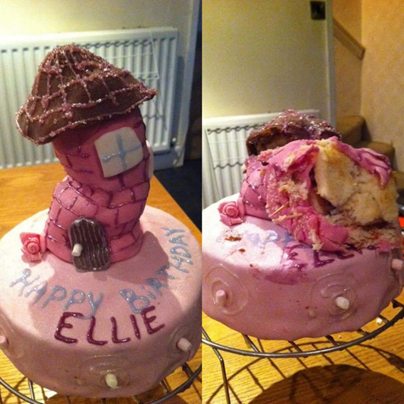 Deborah Parker, 32-year-old social worker from Crook, submitted these photos to show her unfortunate attempt at baking a cake for her daughter's birthday.
She said: "I invited family and friends over for a birthday tea and thought it would be a good idea to bake a cake. I made a pink princess cake with a castle and took a photo of it looking party ready. Then I turned around and accidentally knocked the table with my hip, causing the cake to tumble to the floor. It was not the big hit that I wanted!"
A curry at Christmas
Paula Maher, from Manchester, submitted her story: "Last year we hosted our first Christmas dinner for my family. There were 15 of us and everything was perfect, the table looked amazing, the food was all laid out and everyone was seated. Just before we tucked in to the dinner, my 8-year-old daughter threw up all over the turkey and vegetables! Needless to say, the dinner was completely ruined and we had to order a curry for Christmas dinner."
Meatball mayhem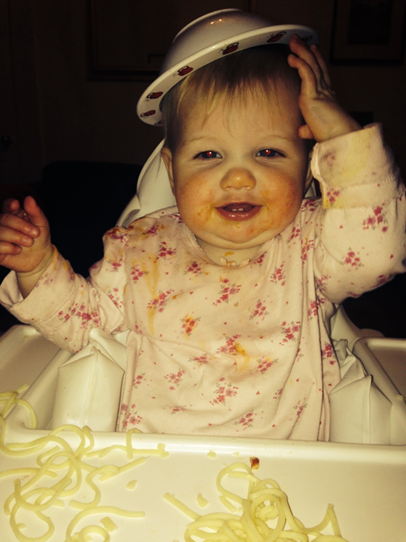 Jill Mutch, a 35-year-old teacher from Dundee, submitted this adorable photo of her daughter enjoying her dinner a little too much! She said: "My daughter was trying meatballs for the first time. Things were pretty messy as she was enjoying the feeling of the spaghetti between her fingers. It got even messier when she poured the bowl over her head and smeared it all over her face."
A Christmas blow-out
Lindy Windship, a 53-year-old housewife from Essex, won't forget this particular family Christmas.. She said: "It was many years ago but not one to forget in a hurry. It was a particularly cold day and my two young children, husband, brother and sister in law and two sets of grandparents were at our house. The children were opening presents and the turkey and veg were all prepped to go in the oven.
"As the oven was heating up we heard an almighty bang – the glass door had blown and fallen out! We had to accept that there wasn't going to be a Christmas dinner for us that day. To make it worse, the house seemed to be getting colder and colder. It was then that we realised the heating had broken and everyone had to go home!"
Pasta pile-up
Emma Wheeler, a 34-year-old pharmacy dispenser from Lincolnshire, describes her dinner time disaster, she said: "I was walking from the living room to the dining room carrying two plates of spaghetti Bolognese when the contents of one plate fell onto our cream carpet. I spun round to catch it (as if I could!) but the contents of the other plate fell on top of it!"
Chaos at Christmas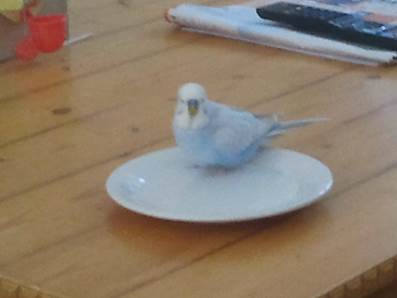 Sandra Cope from Birmingham submitted this photo of her budgie after he'd caused chaos during Christmas dinner. She said: "My sister and I had spent hours in the kitchen carefully timing and cooking Christmas dinner to perfection. We plated it all up in the kitchen and carried the plates into the lounge with the rest of the turkey and put them on the dining table. We sat down, pulled a few crackers and put our paper hats on.
"Just then, our budgie (called Chicken!) swooped down onto the turkey! I jumped up to try and get him as he landed on my plate right in the gravy! He must have burned his feet as he flew straight up, flicking gravy everywhere, and landed on his cage. I had to leave the table to bathe his feet in cold water – hence, cold turkey dinner for me with an essence of budgie!"
Family fiasco
Aaron Howlett, from Hull, described the disastrous moment he spread out a buffet for a family gathering. He said: "We had one large dinner table in the lounge that we used to place a buffet on for a family gathering. The table had a drop leaf at either end which made the table bigger. We set it out really nice for the party. As we welcomed our guests at the door we heard a crashing sound only to find both ends of the table had given way and there was food everywhere! It was a disaster for everyone except the dog."
Floored!
Christine Taylor, from Birmingham, described her Christmas dinner disaster last year. She said: "Last Christmas we were all excited to sit down for dinner when my brother let out a huge cry. He'd gone to sit at the head of the table when his chair legs gave way and threw him to the floor. Luckily, he wasn't hurt, just shocked and the whole table laughed!"
---
To enter the competition visit http://blog.scs.co.uk/competitions/have-you-had-the-uks-worst-dinner-time-disaster/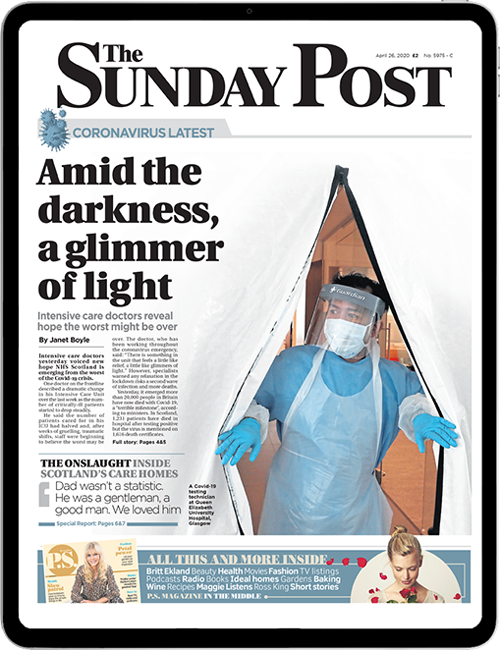 Enjoy the convenience of having The Sunday Post delivered as a digital ePaper straight to your smartphone, tablet or computer.
Subscribe for only £5.49 a month and enjoy all the benefits of the printed paper as a digital replica.
Subscribe