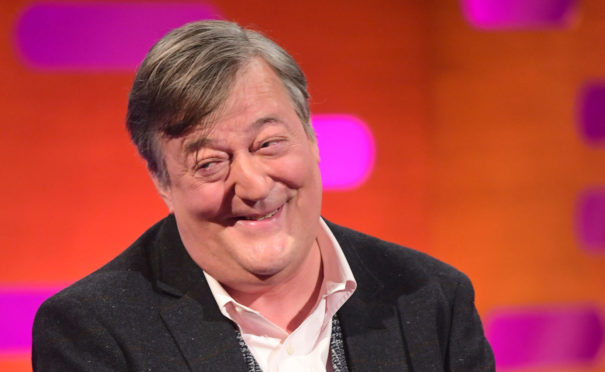 There are seven deadly sins that we all know – pride, lust, wrath, greed, sloth… leaving the toilet seat up and putting your bag on the inside seat on the train so no one can sit down. Probably.
Perhaps it's time for a refresher on sinful behaviour. And who better to take us through it than Stephen Fry?
Stephen is a man who has been called a national treasure so often it's surprising he's not locked away in the National Gallery but luckily for us, he's recorded this snappy seven-episode podcast series.
It's a sequel of sorts to last year's Great Leap Years which wasn't about interesting leap years at all. Instead it focused on scientific inventions and the impact on our lives, from the Gutenberg Press to the communication technologies that created our world.
This is an attempt to lay human transgressions out on the surgical table to poke, prod, pry and provoke in an attempt to try to anatomise and understand them, according to Fry.
"There have always been, I think, alternative ways of thinking about our goodness or badness," he explained.
"One is to compare our actions to a list laid down by authority in the form of scripture or law.
"Another is to be a little more independent-minded and judge for ourselves our conduct, perhaps on the basis of its effects on other people.
"Do my actions ever hurt others, myself included, I might ask myself, do they hurt those close to me or society or the wider world as a whole?"
Stephen Fry's 7 Deadly Sins (Acast)
---
No Body Recovered (BBC Sounds)
Six-year-old Mary Boyle went missing from her grandparents' small dairy farm in a remote area of Ireland in 1977. A man was eventually convicted of her murder, but Mary's family remains divided. This podcast explores the chilling case and the repercussions which last to this day.
---
Caught Off Guard (Apple Podcasts)
YouTuber Patricia Bright is the big deal you may not have heard of. Her insanely popular channel on the video streaming service is being augmented with this new podcast. Patricia asks the questions everyone – well, younger people mostly, all really want to know the answers to by delving into everything from relationships and failures, to money, success and everything in between.