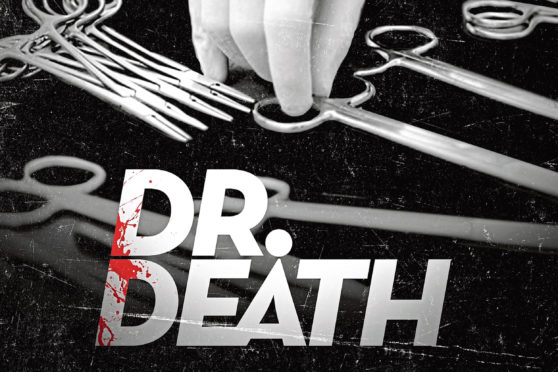 How much do you trust your doctor? It's something we almost take for granted that, in this age of fake news and shameless politicians, at least our medical professionals remain trustworthy.
In the United Kingdom they do – for the most part at least.
But what about American medics, with their private health care system? In such an environment there's no all-powerful overseeing body like the British Medical Council.
Bad apples can sometimes inveigle their way into the medical community. Dr Death, a podcast from Wondery, explores one particularly alarming case.
Those who have listened to podcasts like Dirty John will be able to see similarities between that imposter and the subject of Dr Death.
Christopher Duntsch was a spinal surgeon – one of the most elite areas of medical practice – in the state of Texas.
His career was mercifully short but in two years, Duntsch operated on 38 patients.
Of those, 33 are either paralysed or living in constant pain. Two others have died.
Dr Death investigates what went wrong, and why Duntsch – the Dr Death of the title – was allowed to operate.
A story about one man's dogged determination to become a surgeon in face of his clear limitations is exposed.
The medical system which allowed Dunstch to operate on so many people is exposed, too.
Many people were prepared to cover for the man whose shoddy work with people's internal organs was jaw-droppingly terrible…
Dr Death (Wondery, Apple Podcasts)
---
Blackout (Apple Podcasts)
Podcasts aren't all about grim true crime mysteries or friends swapping quips about popular culture. There are drama podcasts, too. This apocalyptic thriller will transport you into the world of Simon Itani (Oscar-winner Rami Malek), a small-town DJ forced to become a hero and protect his family when civilisation comes to a complete halt.
---
Binge Mode: Harry Potter (Apple Podcasts)
This is one for the Harry Potter fan in your life or maybe even yourself. Come on, there's no shame in liking JK Rowling's boy wizard. Hosts Mallory Rubin and Jason Concepcion meticulously recap every single Harry Potter book, chapter by chapter. They explore Rowling's careful plotting and discuss how her themes of tolerance and resistance feel more relevant than ever.Dr Death (Wondery, Apple Podcasts)