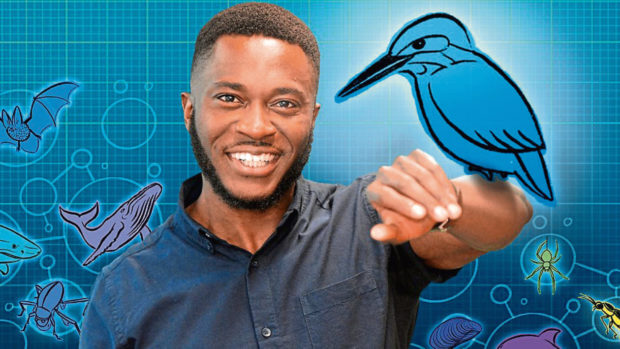 Animals, it turns out, are much more useful than potential food sources or fodder for Sir David Attenborough documentaries.
It turns out helpful fauna have helped construct the world we use around us.
That's the premise of a new podcast from the BBC World Service, presented by one of the rising stars of natural history programmes, Patrick Aryee.
He's with the BBC's Natural History Unit and, over the years, he's been free-diving with sperm whales and has had close encounters with Komodo dragons and cheetahs.
Patrick also studied biology and has presented TV series about the biggest animals on earth.
Each episode of 30 Animals That Made Us Smarter tells the story of a technological or scientific breakthrough that has come about as a result of humans learning from animals.
In episode one, Patrick explains how the designers of the bullet train took inspiration from a bird. When the bullet trains were introduced, passengers would complain about the feeling of the train being compressed when it whizzed into a tunnel.
Engineers discovered the shape of the front of the train was to blame.
They looked to the way the kingfisher bird sliced through water to hunt fish – now superfast trains come with that distinctive nose shape.
Patrick also explains how the energy efficient construction of termite mounds inspired the ventilation systems in buildings in Harare and Melbourne.
30 Animals That Made Us Smarter (BBC Sounds)
---
The Dream (Stitcher)
We featured the first series of The Dream here, which explored the bizarre world of multilevel-marketing schemes and their grip on American society. The series returns tomorrow with more dirt on more charlatans who are trying the old pyramid scheme trick, but with a shiny new hi-tech veneer.
---
Hooked (BBC Sounds)
Melissa and Jade host a new podcast that won the first ever Rachel Bland New Podcast Award, named after the late Radio 5 Live host who died last year. Hooked is about destructive addictions to drink, drugs or anything. The hosts share their stories of incredible highs, to the rock-bottom lows and will be joined by guests along the way. Richard Bacon is one of them, and he's very good.