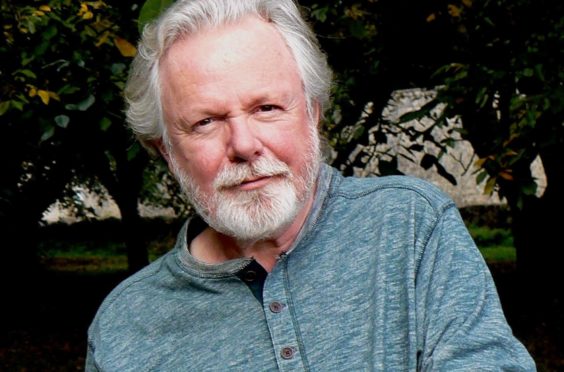 For most of us, the global devastation inflicted by Covid-19 would have been unthinkable a month ago.
But best-selling novelist Peter May has revealed how he predicted the invisible killer in Lockdown, a book written 15 years ago and dismissed as too far-fetched, which has now been published as our current, dark times mirror those in his forgotten thriller.
It was only when a fan suggested to the author that he write a book about the pandemic that he remembered he had already done so, recalling the unpublished manuscript still tucked safely away among his files.
In Lockdown, London is the epicentre of a global pandemic, as a killer virus sweeps through the city.
Shops are shut down, while temporary hospitals are built to help a health service stretched to breaking point cope – and even the Prime Minister catches the deadly infection.
"It's very spooky how similar it is to what we are experiencing now," said Peter. "And how much this book hadn't occurred to me at the start of the coronavirus crisis.
"It was tucked away at the back of my files – and my mind. It was only when someone suggested to me on Twitter that I should use it as a backdrop for my next book that I thought, 'Hang on a minute… I've already done that'."
The former journalist and BBC screenwriter, from Glasgow, said: "Thankfully I'm very computer literate and have kept a copy everything I've ever written on file. My files on the computer go back to the early 1980s, when I got the first Apple Macs in Scotland.
"Lockdown had been despatched to a metaphorical drawer – a file in my Dropbox. It was the only book I have ever written that was never published."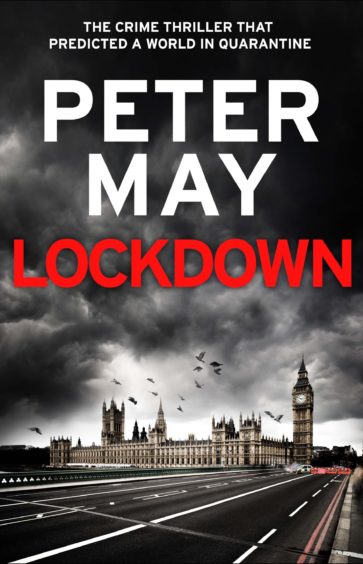 The initial idea stemmed from research back in 2001 for a previous book, when Peter was studying the Spanish flu.
"At that time, that was the biggest pandemic in history. It meant people stopped leaving their homes," he said.
"Shops were shut, funerals were banned, there were armed guards patrolling towns and villages. By the time I got to writing Lockdown, scientists were predicting bird flu would be the next big pandemic, so I decided to centre the book around that.
"I read pandemic planning documents from the British and Americans in the early 2000s and based it on the available science and how something like that would affect society.
"When I showed it to my publishers, they said it was ridiculous… a lockdown in London would never happen in modern day Britain.
"Nobody wanted to publish it. They thought it was too OTT, too far-fetched from reality. To be honest, I wasn't too upset about it. I was going through a period when I couldn't find a publisher for anything I wrote.
"Blackhouse was universally turned down, as was Extraordinary People, but the weird thing is they were published later and sold millions of copies worldwide. Lockdown, though, never made it into print."
Last month, a decade and a half after it was written, he showed the manuscript to his publishers, who decided to release it immediately.
"My editor was speechless," he said. "The publishers wanted to put it out straight away because it's something that people can relate to right now. I was pleased it was eventually being published, but I wish it never had to be – and that the coronavirus had never happened.
"Popular culture always has and always should reflect the world around us. But at the same time, I didn't want to profit from other people's misfortunes, so I donated my advance on the book to charities supporting health workers, victims and others suffering as a result of Covid-19. It's nice to know that publishing it will do some good."
Peter has written a string of bestsellers, including Entry Island, Runaway and the acclaimed Lewis trilogy, while Lockdown, his 26th published novel, which is out now as an e-book with a paperback to follow soon, has already received a positive if somewhat counter-intuitive response.
"A lot of people are saying they have found it comforting in a weird way and, of course, so relevant to what they are experiencing," said Peter.
Curiously, Lockdown isn't his first work to later prove prescient. He said: "When I first started doing book tours about 15 years ago, one of the things I talked about a lot was the strange coincidence that things I had written about seemed to happen.
"In the early days of writing for Take the High Road, I wrote about one of the characters falling off a ladder and breaking his leg, and a few weeks later, this is exactly what happened to the actor. In another story I wrote about a character becoming pregnant. The actress became pregnant. Actors hoped I wasn't going to kill off their character – and not just because of loss of earnings."
Impressed by Peter's uncanny knack of predicting future events, one soap star even nudged him to write a lottery jackpot storyline for his character.
"Strangely, spooky coincides have also happened with storylines in a few of my books," he said.
Peter, now 68, and screenwriter wife Janice Hally quit Scotland for France 20 years ago – and are currently in lockdown, just like millions of us around the globe.
"Because of my age, I'm classed as vulnerable, so I'm barely leaving the house except for a 20-minute sprint round the supermarket and a walk to the local butchers," he said.
"I just don't see the point in taking risks – and I think my research means I know more than most about viral pandemics and how they unfold, so we've been cautious.
Listening to audiobooks and writing are filling the long hours for Peter, but he can't bring himself to watch TV – as no one seems to be following the new rules.
"I find myself shouting 'don't shake hands' and 'keep your distance'. We've got used to such a 'new normal' that it's just quite strange to see."
He added: "Like everyone else, our plans have had to change. We've had to refocus. I tend to bring out a new book every January and for the next one I was due to travel to the Arctic Circle for research, but that has had to be put on hold. I can't go any later than September as then its 24 hour darkness, so this one will have to wait.
"But I'm now working on another idea for a book set in France. That's easy because I know it, so there are no research trips needed. Aside from writing, I'm busier than ever.
"Everything I write is to entertain and inform, and Lockdown was no different. I can only hope there is a better outcome than the book might predict."
---
Peter May's favourite things
The book I read again and again
A Moveable Feast by Ernest Hemingway was one of my earliest inspirations while nurturing my youthful ambitions to become a writer. It's Hemingway's autobiographical account of his impoverished life as a writer in 1920s Paris. His ambitions to write the perfect sentence were honed in cafés where he made a coffee last all morning, because he couldn't afford to heat his tiny flat.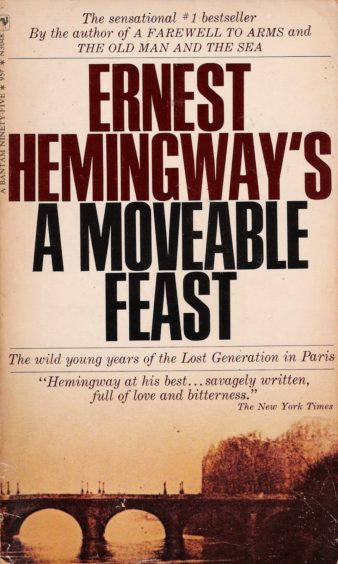 The song lyric that speaks to me
Hello, Friend by Chris Rea from his On The Beach album. I found the lyrics of lost friendship and wasted youth achingly poignant. When I took a sabbatical from Take The High Road to write a book (The Noble Path), I played this endlessly.
My ultimate dinner party
Sir Billy Connolly, Dorothy Parker and Sir Sean Connery. A pre-requisite of any dinner party is having an assembly of guests that make you laugh and can tell a good story. All three of these fit the bill, with Parker probably topping the list – if you could keep her away from the wine!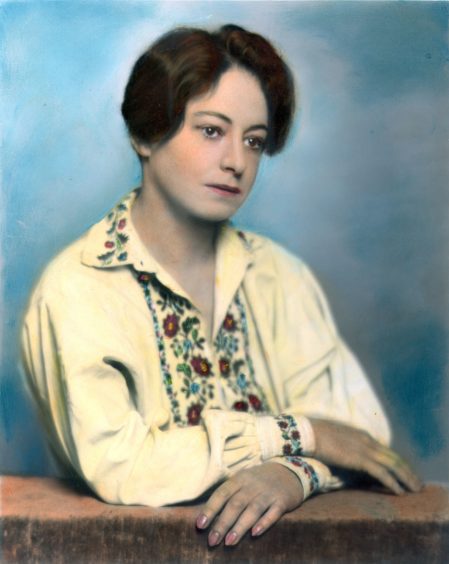 My favourite movie scene
So many, but one favourite is the courtroom confrontation between Tom Cruise and Jack Nicholson in A Few Good Men. This film was just so full of (much quoted) good lines and gripping scenes, from the writer of The West Wing. I have found myself watching it again and again, and could quote the Cruise/Nicholson scene line for line.
My boxset binge
Breaking Bad. In my view, this is quite simply the best television drama of the last 30 years. It broke all the accepted rules of short, quick-cutting scenes and fast dialogue, to return to the writing of the theatre, with scenes lasting sometimes more than 20 minutes. I couldn't stop watching this, and would find myself propping my eyes open with matchsticks at 5am.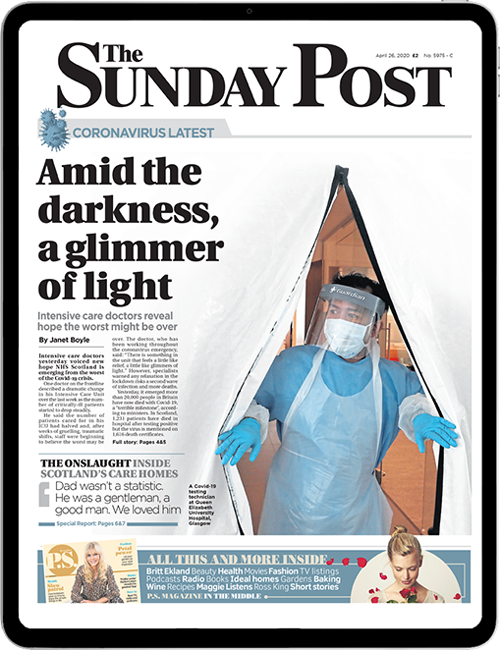 Enjoy the convenience of having The Sunday Post delivered as a digital ePaper straight to your smartphone, tablet or computer.
Subscribe for only £5.49 a month and enjoy all the benefits of the printed paper as a digital replica.
Subscribe