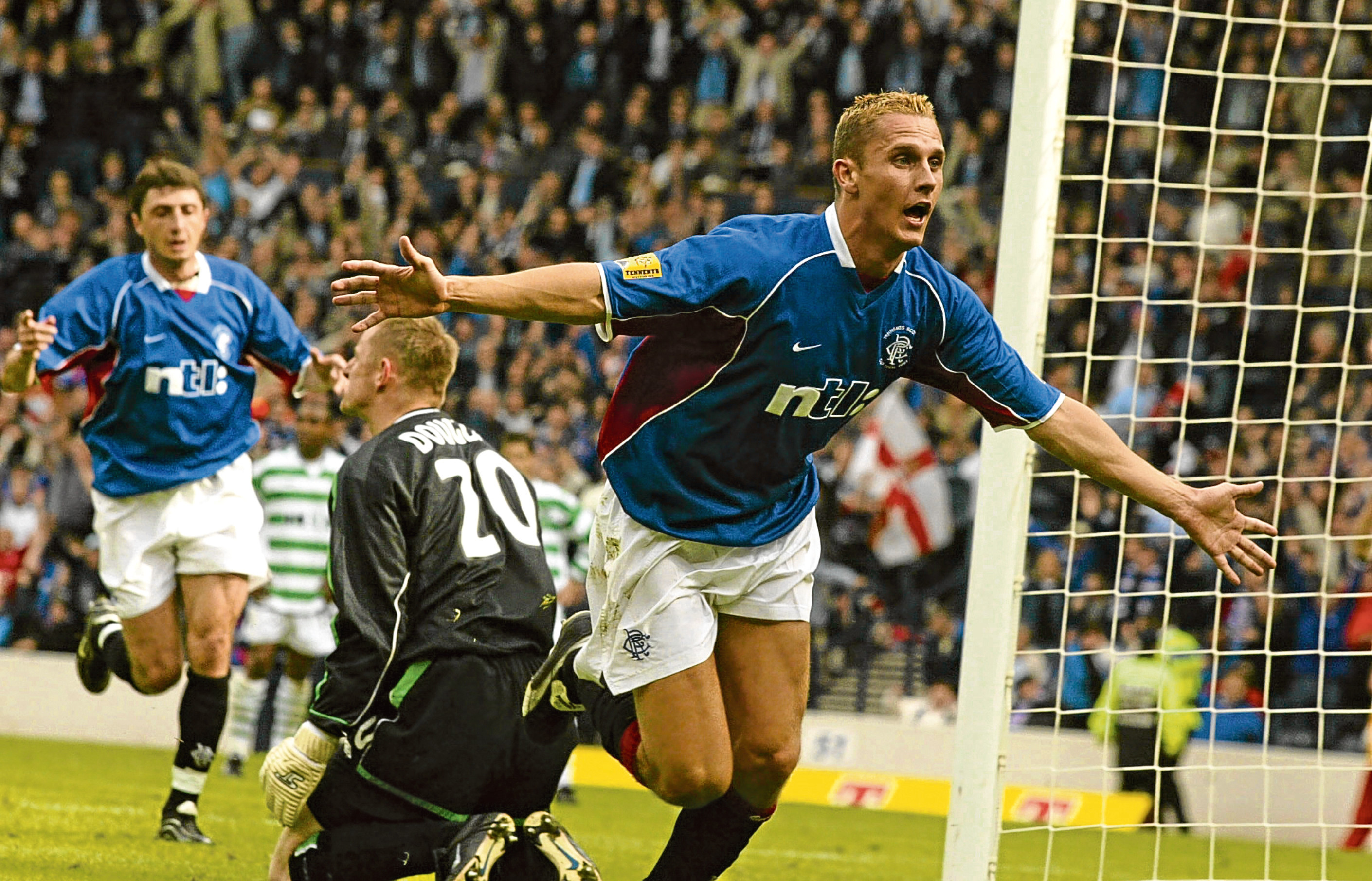 THE memories will come flooding back for Peter Lovenkrands next Sunday.
Rangers take on Celtic in the Scottish Cup semi-final at Hampden, scene of two of his greatest moments as a footballer.
The injury-time winner against the Hoops in the tournament's Final back in 2002, and a similar feat when the Old Firm met in the CIS Insurance Cup Final the following season.
However, the Dane was already strolling down Memory Lane in midweek after Cristiano Ronaldo's spectacular overhead kick away to Juventus in the Champions League earned him plaudits from the home support.
While history shows Lovenkrands didn't receive a standing ovation from the Aberdeen fans for his bicycle-kick goal at Pittodrie in 2005, the mere thought he could have done tickles him.
He quipped: "I don't know what I would have had to do to earn that!
"To be fair, I think it is one thing for a crowd at a big Champions League match to publicly recognise a piece of skill from an opponent.
"It's another thing altogether to do so in a Scottish league match between two strong rivals.
"And, remember, those were different times. You couldn't just check the goal out on YouTube or Instagram after the game.
"So although I knew what I had done was pretty good, it was only when I got the chance to see it on television that I realised quite how special it had been.
"It is a wee while ago now, but I can still remember it clearly.
"Steven Thompson got to the by-line and whipped a cross into the box.
"It was behind me, so I had to go out to meet it and the only way I was going to get a shot in was with an overhead kick.
"As a professional player, especially as a striker, you practise these things in training again and again throughout the course of your career.
"So when the same situation comes up in a match, you don't hesitate. You just go for it.
"From that point on, the question is whether you can execute the technique properly or not, because it is a far from easy to thing to do.
"Sometimes you catch it right and they fly in. Others you don't, and the ball can go anywhere.
"This time, of course, was perfect, right down to the way my shot went down into the ground and up into the net as if it was a header. That was exactly what I was trying to do.
"It was a brilliant moment because it brought us level at 2-2 (with Lovenkrands' team-mate, Fernando Ricksen, red-carded, Aberdeen ran out eventual winners 3-2).
"I watch it now and, I have to say, in terms of technique it was the best goal I ever scored.
"Ronaldo's goal was unbelievable. But one of the main reasons it was so stunning was the scale of the match he was playing in.
"To score that goal in a Champions League quarter-final away to Juventus is a feat that deserves applause from everyone in the football world, not just the Italian fans who applauded on Tuesday night.
"Ronaldo is a fantastic player, one who deserves all the acclaim he gets.
"I do believe, though, that from a technical perspective, my goal was just as good as his because it had the same skill with the same outcome."
That's up for debate. A safer claim, arguably, for the 38-year-old is that he managed a trick even the five-time Ballon d'Or winner might struggle to pull off.
Namely, scoring that winner in the dying seconds of an Old Firm Scottish Cup Final 16 years ago with a spectacular diving header.
"If the overhead kick at Pittodrie was the best goal of my career, that has to be the most important one," said Lovenkrands, who is now back with Rangers as a youth coach.
"It had been a fantastic match, especially for the neutrals, because it went one way then the other.
"John Hartson gave Celtic the lead, I equalised. Bobo Balde put them back in front, then wee Barry (Ferguson) pulled it back to 2-2 with a great free-kick.
"Then, right at the death, I managed to get in at the back post and head home the winner.
"To do that in a cup final, against your greatest rivals, was the kind of thing you dream about.
"The feeling was just tremendous. At the time, it was almost too much to take in. I was in the dressing room, thinking, 'What I have just done?'
"It was the perfect end to the season.
"By beating Celtic, we not only denied them the Double, but did one of our own as we had won the League Cup earlier that season.
"So that one header was hugely, hugely important."
That fact was to be hammered home to him through the sheer weight of repetition of congratulations in the weeks, months and, indeed, years that followed.
"I scored in our League Cup semi-final win over Celtic that same season, and also got the winner in the League Cup Final in 2002-03. But my winner in the 2002 Final is the only one people talk about," Lovenkrands confirmed.
"Even my earlier goal in that Final doesn't really get a mention. It's as if I only got that last one.
"It is not something that bothers me because, the way I look at it, that just goes to show what a special moment it was and how much it affected everybody.
"I was lucky enough to have my share of success against Celtic.
"Martin O'Neill liked his big defenders, and with my pace I used to fancy myself to do OK against them because you don't get that many players who are really big and really quick, too.
"And, of course, when you are at Rangers, or Celtic for that matter, how you perform in the derby matches is such a big part of whether or not you are perceived as doing your job properly.
"The expectation for all Rangers players is that you beat Celtic. It might not always happen, but that is always the expectation.
"If you are going to be at Rangers, it is something you have to be able to deal with.
"I am fortunate enough to have a role working with the Academy kids (he helps coach Rangers Under-20s and also works with the Under-15s) and preparing them for the mental challenge of playing for the first-team is a big part of what we do.
"It is very rewarding as they are a great bunch, with a hunger to learn the game, which makes me wish I was more like them when I was their age."
The progression of the Academy's star pupil, Ross McCrorie, to the first-team will, Lovenkrands believes, be hugely beneficial to the club. In more ways than one.
"Ross is a great young player who should have a big future," he said.
"But more than that, he will be a great inspiration for all those at the Academy.
"I say that because he is someone who never stops trying to learn the game and doing every single thing he can to improve.
"That is exactly the sort of attitude the club is trying to foster."
How McCrorie and Co. will fare in next Sunday's Scottish Cup semi-final against Celtic the Dane doesn't know.
But he is convinced the gap between the rivals is getting closer.
"I don't think anyone can argue with that because it is there for all to see," he said.
"If you look at the last two derbies, Rangers were competitive in both games and unlucky not to take more from them.
"This is a one-off game and we will be going in to win it and put the club within 90 minutes of a trophy.
"It is a chance for the current Rangers team to become heroes."
And if anyone knows that, 16 years down the line, Peter Lovenkrands does.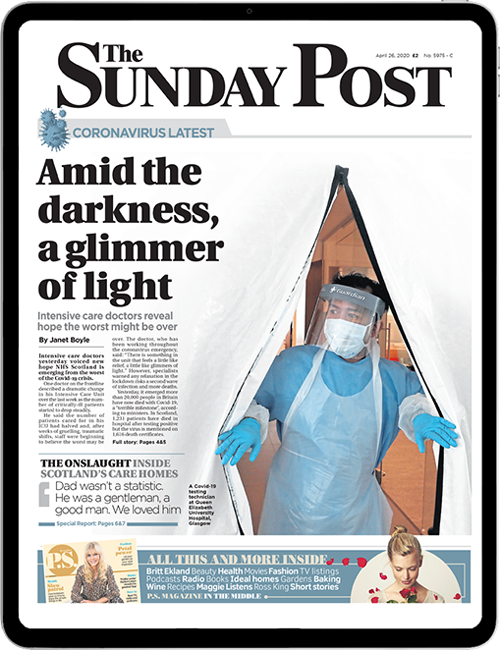 Enjoy the convenience of having The Sunday Post delivered as a digital ePaper straight to your smartphone, tablet or computer.
Subscribe for only £5.49 a month and enjoy all the benefits of the printed paper as a digital replica.
Subscribe