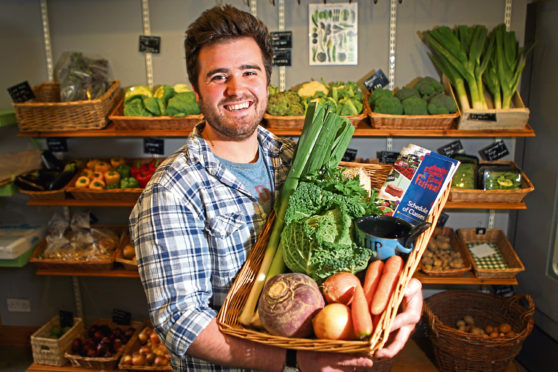 Homemade soups like those our grannies used to make are proving a hit with hungry families stuck indoors.
Greengrocer Fraser Reid, celebrating the 10th anniversary of his shop in Dundee, has been on a mission to revive soup-making.
His "soup bags", containing ingredients from his store and printed instructions attached, are being snapped up by customers. And his recipe book, Seasonal Soups, with ideas for every week of the year, is equally popular.
"People now have more time for cooking and experimenting with flavours and, with the children at home, you can hide vegetables in soup," added Fraser, who has children aged four and two.
"We've been busier than ever in the shop – open seven days a week rather than four, and with our new home delivery service.
"Soup is a great way to feed a family as it's easy to make, fills you up, as well as being healthy and cost-effective," said the grocer, who owns Fraser's Fruit & Veg in the city's Perth Road.
He has created 150 recipes – 52 of them in his book – for soup, using seasonal ingredients easily found in supermarkets.
"I wanted to keep the recipes simple. Some cookbooks are full of exotic ingredients you might find in some Lebanese shop in London but nowhere else," he said.
For the past decade, Fraser has been working hard to encourage a new generation of soup lovers – and makers.
"We've got used to eating out or buying lunch, but that cost really adds up," he said. "You can make a pot of soup for £3 that lasts you all week.
"My granny always had a pot of soup on the stove and I'd like to see more of us do the same. But my recipes are updated for modern tastes with Spanish, Thai and Middle Eastern influences."
Fraser hopes people will stick with the soup-making habit.
"Making soup with your children is a lovely way to bond, as well as boosting the immune system with vegetables.
"If something good can come out of this time, it's that people are beginning to appreciate the small things like sitting down to eat with the family, rather than the luxuries."
Fraser hopes his book and his £2.95 soup bags will inspire people, but he also recommends experimenting with whatever ingredients are to hand.
"Some of the best soups are made from whatever veg is left in the fridge. You just need to get the weight of vegetables to liquid right, which is 1½lb to two pints of stock.
"And you don't need to boil up stock for hours – a cube is perfectly fine, or a ham rib if you have the time and eat meat. Adding a bit of acidity from a tangerine, orange or lime gives a soup depth. And orange soups are always more appealing to kids than green or red soups."
Fraser suggests beginners start with his recipe for Thai sweet potato soup, reprinted here. "It's our most popular recipe. It has lots of ingredients but it's super easy to make – you just throw them all in."
---
Thai sweet potato soup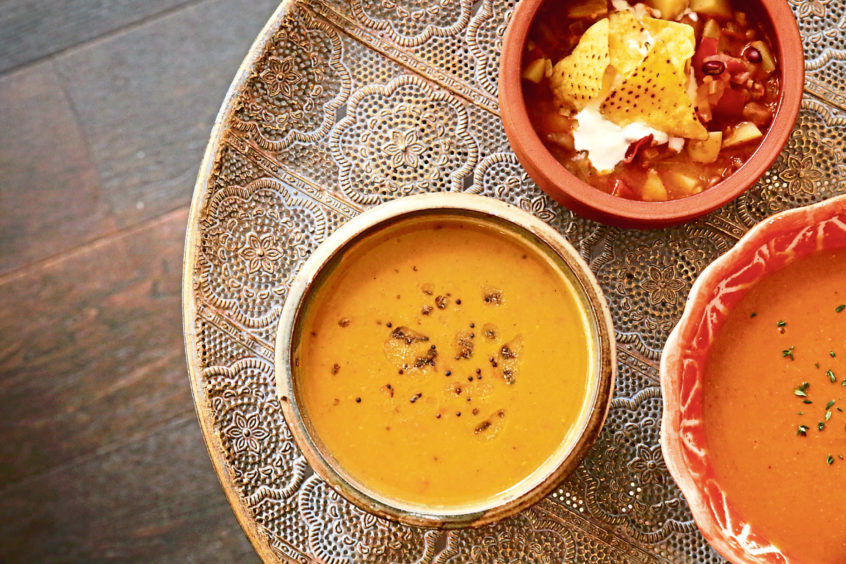 It's the kaffir lime leaves that really make this soup sing, but if you don't have any you can use a stalk of lemongrass. Either way, feel free to garnish each bowl with some chopped fresh coriander.
Serves 4
Ingredients
1 tablespoon olive oil or butter
One onion, peeled and roughly chopped
Two cloves garlic, peeled and finely chopped
One large sweet potato, peeled and roughly chopped
One chilli, finely chopped
2cm fresh ginger, peeled and grated
One or two kaffir lime leaves
Two stock cubes
One tablespoon creamed coconut
Salt and freshly ground pepper
Method
Heat a pot on a medium-low heat and add the oil or butter. Fry the onions and garlic for 5-10 minutes until soft.
Add the sweet potato, chilli, ginger and lime leaves and stir.
Pour in 1.2 litres of boiling water and then add the crumbled stock cubes and creamed coconut. Bring everything to the boil. Turn down the heat and simmer for 20 minutes.
Remove the lime leaf, season the soup and blend until smooth.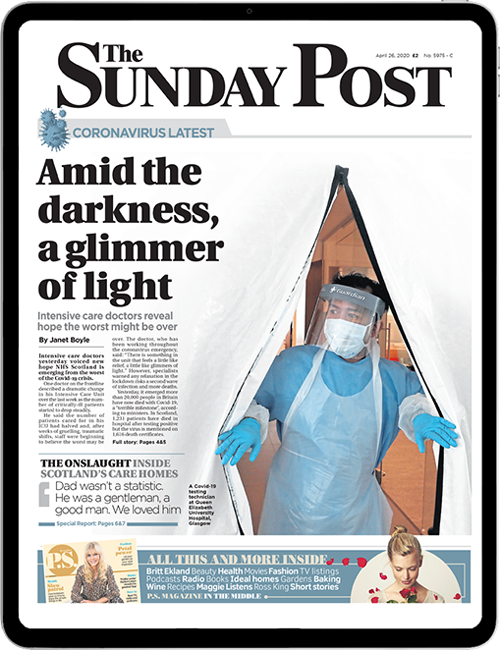 Enjoy the convenience of having The Sunday Post delivered as a digital ePaper straight to your smartphone, tablet or computer.
Subscribe for only £5.49 a month and enjoy all the benefits of the printed paper as a digital replica.
Subscribe